Geert from Old Windsor, UK
With the signing of Bennett and Kendricks, has the addition of a thumper like Lacy become more important for scheme reasons over a scatback (like Monty or potentially McCaffrey)?
I like pounders. I believe power backs force defenses to commit extra defenders to the line of scrimmage – the theory is it takes size to stop size – whereas utility-type backs can be schemed. Whether it's Eddie Lacy or a big back out of this draft class, I'd like to see one in the Packers' backfield next season.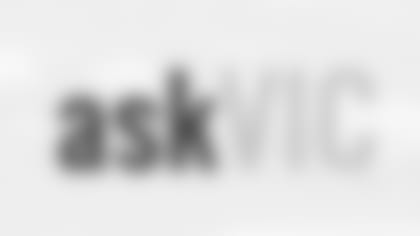 Safe to say Mr. Thompson will draft according to need in the draft and then stock up on other depth needs in undrafted free agency?
I don't expect the Packers to change their draft philosophy, which is to select the best available player. In my opinion, free agency is all about need and the draft is all about value, and those two platforms for personnel acquisition should be treated fundamentally irrespective of each other. If you can address need and stay true to your board, do it; just don't reach. When you reach, you allow a better player to be drafted by the competition.
Well, I never would have guessed the Packers would sign Lance Kendricks before Lacy or Lang. What do you make of the Packers' moves in free agency so far?
Obviously, there was a perceived need at tight end, which shouldn't be surprising when you consider the coach's fascination for the position and for having a big pass catcher in the middle of the field. Kendricks and Martellus Bennett are players the Packers like and believe will address the need at tight end, and they came at a price the Packers were willing to pay. I'm not surprised by the signings. A couple of weeks ago I acknowledged the thinking of fans desperate to get the most out of Aaron Rodgers' career. I think the Packers have acknowledged the same. Be that as it may, it must be at the right price.
Chad from Tarpon Springs, FL
Vic, as a sportswriter, do you analyze culture or football?
In the 45 years I've covered the NFL, football and culture have become one and the same. They are now inseparable. When I began covering the NFL, that wasn't true. Baseball was the national pastime and football was the college sport.
What are your thoughts on how a team with enough talent to win it all finds the intangibles to put them over the top? What are some of the triggers that get the team focused and of a mindset they cannot lose.
We witnessed the answer to your question late last season. A team and a coach under fire steeled itself against its critics and began a dramatic run to the NFC title game. It was them against the world. That was the intangible.
When will the defense in general and, more specifically, the defensive backfield be addressed? It seems no real effort is being made to shore up a very porous defense.
Be patient. The process is just beginning.
With all the juggling Capers had to do with the defense, all the injuries, lack of cornerbacks, and now with a healthy Peppers gone, do the Packers play a 3-4, 4-3 or whatever's going to work? I'm wondering, because they need cornerbacks bad, as well as a good pass rusher, so do you think the Packers will draft for need or best available?
I expect them to draft the best available players and then use the talent on their roster in whatever scheme fits best. Coach Capers is a 3-4 guy, but he's played a lot of two-down-linemen nickel in recent years. Frankly, I think that's become the Packers defense's identity.
Vic, right out of the gate the Packers sign two free-agent tight ends. Would that be a direct result of Aaron Rodgers' influence?
It's the direct result of the Packers having a quarterback with a keen eye for the tight end and for having a coach who knows how to use talent at the position to massage the offensive scheme and create mismatches. Did the Packers ask Rodgers for his opinion? I wouldn't doubt it.
Kevin from Louisville, KY
My girlfriend and I love Micah Hyde and were dismayed when he signed elsewhere. Then I saw the deal he got and I texted her to say we never really had a chance. She is a fairly new NFL fan and is emotional, but she got it. How long do you think it takes people to embrace and understand the business side? Do some never get it?
In 2016, the average American household held $16,748 in credit card debt. I would say most never get it.
Vic, if ever proof was needed that many fans want to sign a free agent simply to sign a free agent, these past few days have provided it. We went from angry Thompson needs to sign a veteran cornerback, to those very fans being ecstatic over the signing of two tight ends.
Free agency is perceived by fans as a competition, and fans want their team to win every competition.
Do you believe, given how poorly Randall and Rollins played this past year, we can go into camp with them as our first line? I have to believe we need to add some experience back there. Thoughts?
Gary from Tompkinsville, KY
I thought Fackrell played well as a pass rusher before getting hurt.
He's one of those tweeners on whom Coach Capers has long depended to provide pass-rush depth and scheme creativity. Nick Perry is also one of those tweeners. The Packers need more of them. I love tweeners. They rush the passer, play special teams and make your roster more athletic overall.
With the signing of two tight ends, is that an indicator the Packers will also draft a tight end? That seems to be the modus operandi.
If a tight end is at the top of their board, pick him.
Rishit from Clarington, Canada
Are the Packers interested in any linebackers or cornerbacks or are they just focused on the offensive side of the ball?
They're interested in affordable talent. Their salary cap discipline is what's kept this team at the top of the league for a long time.
Craig from Janesville, WI
If the Packers don't resign Eddie Lacy, do you think they will draft Christian McCaffrey?
I think the Packers will have a mouth-watering crop of running backs from which to choose when they go on the clock, and that might be the case into the middle rounds of the draft.
Pat from Collierville, TN
I read the remark that we need to understand the Patriots' situation. I also heard several analysts remark the Patriots, after two days in free agency, are a better team than the one that won this past Super Bowl. How does that organization keep putting itself in the lead position to win championships?
George from Hutchinson, MN
Vic, what was it like wearing your leather helmet back in the day? Just kidding, dude. Lighten up already. Geez!
Morgan from Fort Collins, CO
Vic, are the Patriots (very responsibly and deftly) going all-in for Brady's last year?
It's possible. Why not? When the sand in that hour glass runs out, it ain't gonna be as easy as turning it over and starting again. Brady is very, very special sand.
Dennis from Rhinelander, WI
Do teams budget their cap space with regard to offensive and defensive players?
Offense is the expensive side of the ball. If a team gets carried away on that side of the ball, there won't be much money left to build a defense.
Chris from New Canaan, CT
I understand this is 2017, not 1962. Cook makes one of the most dramatic catches in Packers history and then, poof, after one season he is gone. Call me old school (or just call me old), but I long for the days when a team stayed together season after season. Is it OK to be hopelessly stuck in the mindset of a different era, or should I find a way to move on?
You're not the only old-school football guy who prefers the old way. Chuck Noll said one of the reasons he retired from coaching is because he didn't want to work in a system that had a graduating class every year. Try to embrace the new way. There's some charm to it. It's loaded with intrigue, which means it makes us think, and I like stories that make us think.