Vic, I listened to Jimmy V's speech again last night and he referenced a quote by Vince Lombardi in which Lombardi recalled his first speech he ever gave as a head coach: "There are three things important to every man in this locker room. His God, his family and the Green Bay Packers." I couldn't help but smile when I heard that. What's the greatest locker room speech you can recall?
Coach Lombardi would not have touched me with those words. They just don't resonate for me. I need something more personal, and that's why Weeb Ewbank's speech to his players prior to the 1958 title game would get my vote as the best ever. The Giants were loaded with media stars: Frank Gifford, Sam Huff, Kyle Rote. They had a movie star quality to them. In contrast, the Colts' roster was loaded with castoffs. In his pregame pep talk, Ewbank went down the roster of his players. He had something to say to each one of them. He told Raymond Berry, "They said you were too slow, Raymond, and that's why you weren't drafted until the 20th round." Ewbank reminded Gino Marchetti that he had fought at the Battle of the Bulge. Marchetti recalls these words to defensive tackle Art Donovan: "Dunny, the Cleveland Browns didn't want you. They traded you here. Show them how good you are." Of course, Ewbank saved his quarterback, Johnny Unitas, for last. Unitas was the quintessential castoff. He was cut by his hometown team and signed by the Colts off a sandlot, where he was playing for a semi-pro team named the Bloomfield Rams. I'm not big on pep talks, but I would like to have been in the Colts' locker room that day, when Ewbank touched each and every one of his players before they went out and played the "Greatest Game Ever Played" and, in the process, gave birth to the modern era of professional football.
Wouldn't it be a great story if Eddie turned that burned-up chair into a centerpiece of the living room?
It's a good quality item.
I am actually disgusted that you are disgusted at our fans for wanting to quit this season. You don't get it. You are not from Wisconsin. We come from 94 years of playing championship football. We have more titles than anyone who has played this sport. Some may say we are a spoiled franchise. Going from Favre to Rodgers almost seamlessly doesn't help that belief, but the logical fans are the ones that don't want to see the Packers win another game the rest of the year. I get it, we aren't very far removed from a Super Bowl title, however, this franchise will always be in purgatory if we don't start rebuilding again. Our window with Rodgers is slowly closing. Maybe five more years. We need to win now. Going 9-6-1 does not win the division or a wild-card berth, but it does give us a late draft pick that does nothing. Going 5-10-1 almost guarantees us a top 10 pick. If the suits want to continue to do things the Packer way and draft and develop, then save the franchise by protecting our key players and get an extremely high draft pick. It's one lost season out of many. Save the quarterback, save the future. It worked out well for the Colts. One losing season does not define 94 years of being the best franchise in sports.
I have a feeling a lot of people from Wisconsin are going to take exception to your words of wisdom.
Kramer from Saint Charles, MO
Can we win without Aaron?
That's the $64,000 question, and I have a feeling it's going to be answered this Sunday.
Steve from Stevens Point, WI
I understand the importance of waiting until a player is fully healed before letting him go back in, however, the big question lately is: If Aaron Rogers says he can play, should the Packers let him play? I think they should. Once again, I get the fact that the team won't want him to play unless he's healed, but if he really wants to, isn't that his risk to take?
The doctor's word is sacrosanct. That's the way it is and that's the way it will continue to be. There's a disconnect on this with the fans; they're not getting it. Rodgers won't be subjected to risk because he won't be permitted to play until the injury is healed. That's what it means to be medically cleared to play. They'll let a guy play through pain, but they won't let him play if the risk of re-injury is greater than it would be under normal circumstances. He has to be medically cleared to play. At that point, it's his call. That's the way I interpret it to be.
Mike Smith says he believes Dom Capers is one of the best defensive coordinators in the history of the NFL. Why would he think that?
He believes that because as a former defensive coordinator, Coach Smith has spent the majority of his coaching career, if not all of it, studying the schemes and concepts Capers' defenses have executed with great success. Coach Smith has studied Capers' blitz schemes, his coverage schemes and especially how the two have been blended together. Coaches study other coaches. They steal from each other, and imitation is the greatest form of flattery.
Kyanna from Oklahoma City, OK
Vic, I'm tired of all this talk about should we or shouldn't we implement the 4-3 defense. Why can't the Packers use a hybrid 3-4/4-3 defense? Wouldn't that help solve some of the issues with this defense?
They probably do blend the two schemes. Capers coached a 4-3 in Jacksonville and used 3-4 concepts by using Tony Brackens as a linebacker playing defensive end. It's not the scheme. I keep saying it but nobody believes me. This is a difficult time in football history to make people believe those words because video-game football has become real football. It is not real football because it does not include human frailty.
John from Port Edwards, WI
As I went to read yesterday's "Ask Vic Extra" and see if I got picked, which I didn't, seeing that picture with the joy on Ron Wolf's face as he hugged Reggie White made me forget all about my question.
Joy makes us forget our issues. Just win, baby.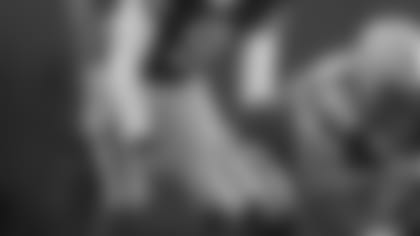 QB Seneca Wallace
Thank you for a truly wonderful column. I enjoy reading it every day. I believe that while Rodgers' injury started the Packers' current slide, it was Wallace's injury against the Eagles that sent the Packers into their current decline because I believe Wallace would have won a couple of the past five games that the Packers won or tied.
I agree. Seneca Wallace's injury is underappreciated because it happened before we had a chance to see the value of the investment the Packers made in him as their backup quarterback. I think he would've won a couple of games and this team would be in good shape for the playoffs right now.
In this new era of passing that we're in, what is your take on the adage that offense wins games and defense wins championships?
The Seahawks are going to test that old adage this season. I don't think it's held true in recent years. We are in an age of dominant offense.
John from Grand Forks, ND
I was reading a ranking of coaches around the league. It culminated with Pete Carroll leading the pack. I've always thought of this prestigious honor to go to a coach like Andy Reid for taking a poor team and bringing them back from the brink. Who would get your vote for coach of the year?
Hippolyte from boat on Lake Geneva
Vic, I go to school to Switzerland from France by boat. Boat rides can be boring, but you're here to entertain them for me. I read your "Ask Vic" column on the way back from school and I read "Ask Vic Extra" on my way to school.
Hippo, put down the column and look around. Find a young woman from France with whom you might enjoy the view. "Ask Vic" is not meant for people like you. It's meant for people who aren't sure if the Packers should play the 3-4 or the 4-3.
Andrew from South Saint Paul, MN
While watching "Christmas Vacation" last night, Clark went off on his "where do you think you're going?" speech and it made me think of Packers fans that want to quit. "No, no! We're all in this together. This is a full blown, four-alarm emergency here. We're gonna press on."
That's right. No one's walkin' out on this fun, old-fashioned football season. And when Roger Goodell comes to Lambeau Field for a wild-card round playoff game, he's gonna find the jolliest bunch of football fans since Vince Lombardi told Bart Starr to run it and let's get the hell out of here.
Randy from Lakewood Ranch, FL
Yesterday, you said December would define this defense. I say the defense was defined in November. Why do you and a lot of other people hold out hope that somehow this defense, which is awful, will somehow rise up because the calendar changed months? That somehow because it's December, the defense will start to tackle, start to cover receivers, start to play with intensity? Your expectations are too high. As you like to say, "There is no help coming."
I know, Randy, and thanks for noticing.
All this talk about fundamentals, staying low, wrapping up, finishing plays, etc. is embarrassing. These are players at the height of their profession. Why can't they do the things my six-year-old players do on a consistent basis?
Because they're trying to do them against other players who are also at the height of their profession. It's a game of human confrontation.
Andrew from South Saint Paul, MN
Vic, I am 31 years old and watched "Christmas Vacation" for the first time last night. After getting to know you through reading your column for almost three years, I now feel like, having watched this film, I actually know you.
It was Christmas morning, 1993, and I was on a team plane bound for Seattle. It would be a six-hour flight and I was sinking deep into depression, and it was easy to see that a lot of other guys on that plane were feeling the same. It was one of those classic gray, half-rain, half-snow, mid-30s Pittsburgh days, and as the plane rolled into the de-icing area and the spray washed Christmas completely from my soul, I began to have a panic attack. I have to get off this plane! I have to find a new job! This is nuts! I should be home with my kids! Now, I'm not a Christmas kind of guy – my friends and family know that about me – but the spirit of the season got to me that morning and I was sliding deep into depression as the plane began its roll. It was about an hour into the flight that the TV monitors dropped from the ceiling. I figured they would show another one of Bill Cowher's everybody-gets-killed movies, but not on Christmas. They showed "Christmas Vacation," and within 15 minutes the unhappiest airplane in the sky was bursting with laughter. The movie saved the day. It turned one of the worst days in my life into one of the best and most memorable. It taught me that laughter cures sadness. Let's give it a try, OK?