Leonardo from Las Vegas, NV
Per Tony Pauline's mock draft, he projects the Packers to select David Yankey of Stanford in the first round. With all the help needed on defense, I don't know that the Packers would invest a first-round pick in an offensive lineman, but what can you tell us about Yankey?
In all of the time I spent with Tony at the Senior Bowl, he never once mentioned Yankey. You've caught me completely by surprise with this one. I'll ask Tony about Yankey at the combine this weekend.
What's your take on Louis Nix and Ra'shede Hageman?
Hageman is a puzzle. The first time I looked down on the field at the North's practice at the Senior Bowl, I metaphorically said to Tony Pauline, "Who dat?" I mean, Hageman not only passes the eye test, he makes your eyes pop out. So you watch, and on the first play he does something spectacular and you think to yourself, "Why haven't I heard more about this guy?" So you watch some more, and five plays later you say to yourself, "Who stole the guy that was in that uniform?" I don't know what to think about Hageman. If you love him and pick him, I think you need to cross your fingers and bless yourself when you do it. Nix is a no-brainer. He's a powerful and athletic interior defensive lineman. He's a nose tackle with some wiggle, and that's a rare combination. Nix got overweight and then had meniscus surgery late in the 2013 season, which was not up to his 2012 standards. A lot of mocks have him going to the Steelers at pick 15. If Nix slides, he's a steal.
I don't see how the Packers can be a huge player in free agency. It shows that we have $28 million in cap space, but to my reasoning about $8 million of that will be needed for this year's draft picks. Also, we have almost 20 free agents of our own and we may want to try and keep a few of them and not let all of them walk. We also need to look ahead at extending contracts such as Jordy and Randall. Looking at this, I don't see the Packers making many moves in free agency. What is your take on it, Vic?
A team can make as much room as it wants. It's all about how aggressive it wants to be. You can sign a free agent to a contract with a big signing bonus and then spread that bonus out over the life of a contract that voids before the years expire. That's one way of creating room in the current year. On top of that, you can give that player a minimum-wage salary that spikes to a huge salary in year two (Mike Wallace), and then guarantee that salary, which means the player is getting huge real-money pay days in each of his first two years with the team. Your cap hit in year one, however, will be minor, and the fans and a lot of media will say it's genius. It's not genius. It's often self-serving because guys do stuff like that to preserve their jobs, not the franchise's future. It's all about how reckless you wanna get. The Packers aren't reckless, and that's why this team will begin every season as a playoff contender and with hope of winning it all.
Vic, you say other teams should be wary of players the Packers let go in free agency, but aren't many of them exactly the type of ascending players Ted Thompson would strongly consider if he were looking to sign free agents?
Then why hasn't he signed them? Teams not only have to make decisions on other teams' players, they have to make decisions on their own players. In the salary cap era, you must be discriminating. You must be willing to let players leave.
Curtis from Brookfield, WI
Vic, do you think Ted has a board with all of the free agents on it, like the draft board? They have a player or players in mind and see how it pans out when they approach them with a contract?
They absolutely have a free-agent board. That's something that's traditionally done by pro personnel in December, when there's a lot of tape of free-agent prospects for teams to evaluate. The Packers have a plan that likely includes targets and how much the Packers would be willing to pay for those targets. That's standard operating procedure around the league, but some teams aren't as disciplined as the Packers. They'll pay more than they planned, or they'll change their opinion of a guy because the guy they really wanted at that position is no longer available to them. That stuff doesn't work.
I was wondering if any cap money not spent one year can be used the following year, or is it use it or lose it?
It used to be use it or lose it, but not anymore. You can move cap space from one year into the next.
Caraun Reid
Vic, I haven't heard much about prospects for a good nose for the defensive line. What do you know about a good nose guy in the draft so far?
We talked about Nix. Here's another guy I like, and he won't cost you a high pick: Caraun Reid of Princeton. He was impressive at the Senior Bowl and seemed to get better as the week wore on. Level of competition is a concern and, for that reason, you might get him in the fourth round. He's short and squatty and has the pad level of a nose tackle, but he also displayed the quickness of a three-technique tackle at the Senior Bowl.
How can you afford Jerry Jones' plastic surgeon on a sportswriter's salary?
I come from a wealthy family. Sports writing is just a hobby.
Vic, I was wondering why no teams (besides Baltimore) are busy signing players? It would seem to me locking up Cobb and Jordy would be a priority. Are teams only providing contracts to people that are freeing up cap space at this time?
Again, it's not about cap room; the Packers have plenty of cap room and they can make more, if they wish. It's about value. It's about finding the right guys in the draft and staying within their plan in free agency. Decisions were made a long time ago. A plan for the offseason was in place by season's end or shortly after that. I think that's where the focus is right now.
Vic, regarding Packers fans and class: I think those who use that word actually mean superiority. We wouldn't fight at a victory parade because, as football fans, we are superior to Seattle fans. We don't think getting all jacked up and screaming for three hours is the way to watch a football game; we'll still be supportive fans during an ebb in the team's success, whereas Seattle fans will retreat to Starbucks for another decade of mocha lattes if Russell Wilson or the Legion are lured away; we know more about the game; we adore our players more, often to a fault.
There would seem to be a fine line that divides class from superiority, would it not? True class doesn't celebrate its superiority.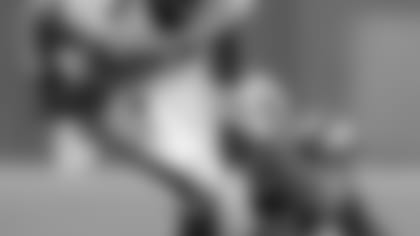 LeSean McCoy
Of the many scouting combine drills and timed events, which do you think has the most direct correlation to football and a draft prospect's success in the NFL?
For wide receivers and defensive backs, the 40 is the combine's equivalent of the men's downhill skiing of the winter Olympics. For quarterbacks, the throw outside the far numbers from the far hash is the women's freestyle figure skating. For linemen, all eyes are on the bench press. For linebackers, the cone drills are important. In my mind, the broad jump is skiing with guns. The broad jump is supposed to define explosion, and it's supposed to be especially important for running backs, but LeSean McCoy was the most explosive back I saw all last season and he had a terrible broad jump of 8-11 at his pro day. Teams passed on him because of his broad jump, which is ridiculous. All you had to do was look at the tape of his games to see the explosion.
It seems to me the desire of Packers fandom and NFL fans in general to sign high-priced castaways in free agency stems from their measure of success. Anything less than a Lombardi Trophy is failure, and mortgaging the future may not seem like such a bad idea following an unsuccessful season. I don't think NFL front offices share that view. What say you, Vic?
You're forgetting something. If teams mortgage their futures, the general manager and coach will likely be fired at some point, and fans really like that because it gives them an offseason of entertainment and false hope. That is not an attempt at sarcasm.
What if an NFL prospect intentionally performed poorly in the combine and certain pro days for his stock to fall so he could possibly be selected later by his desired team? Is that possible and would anyone risk doing that? Are there consequences?
And the team agreed to give him a contract that would pay him above the slot at which he would be drafted, right? That's hilarious. That might be the funniest thing I've heard since that sturgeon asked me if I had a cigarette. Tom, it's professional football. It's the money that keeps everybody honest.
Steven from Minneapolis, MN
Vic, so if I change my name to Matthew, you'll start answering my questions, right?
Mathew from Amsterdam, NY
Let's keep it football only, Mr. Ketchman. If you had a fantasy scout, would it be Kiper or Pauline?
I'll take Tony over anybody. I can't wait to hear about Yankey.