Cliff Christl started gathering oral histories with former Packers and others associated with the team in 2000 and will continue to gather them as Packers historian. Excerpts from those interviews will be periodically posted at *www.packers.com*
Zeke Bratkowski was nicknamed "Super Sub" for his success as backup quarterback to Bart Starr when the Packers won three straight NFL championships under Vince Lombardi. From 1965 to 1967, the Packers were 8-1 in games, including playoffs, that Bratkowski started or entered for an injured Starr with the score tied or the Packers trailing by no more than seven points. Bratkowski played for the Packers from 1963-68 and again in 1971, and also served as an assistant coach from 1969-70 and 1975-81. He was inducted into the Packers Hall of Fame in 1989.
Memories of any lasting messages from Lombardi: "He always told us. 'We don't have the best players, but we have the best team.' I'll always remember that because it was so true."
On what it was like when Lombardi addressed the team: "The biggest talk was on Thursday. He'd tell us, 'This is the last time I'm going to talk to you.' On Sunday, he'd turn the team over to the two captains. He'd give (his pre-game speech) Thursday or (maybe) Friday. Max (McGee) used to say to me, 'I could run through the wall after this meeting.' He'd say something on Sunday, maybe to remind us of something, but then he'd turn it over to (captains) Bob Skoronski and Willie Davis. Then we'd have a meeting by ourselves."
On Lombardi's halftime talks: "There was no time."
On the key to Lombardi's success: "You know I read a quote by a golfer. He said simplicity is the ultimate sophistication. That probably says it best. Everybody said about the Packers, 'It was a simple look. You knew what they were going to do.' But they couldn't stop it."
On whether Lombardi ever yelled in quarterback meetings: "No. He was calm and collected because he was teaching. We were being exposed to new things. Now, watching game film, he might turn and say something. He'd get on everybody."
On film review sessions with Lombardi:"Sometimes he'd run a play back 25 times. He got everybody. He'd point out this guy didn't do this, that one of the 11 on the field broke down. Most of the time he wouldn't get on people with physical mistakes, but on mental mistakes."
On the key to Bart Starr's success as a quarterback:"Tremendous preparation. He didn't have the strongest arm, but it was plenty strong for what he had to do. Sunday was easy for him because he was prepared."
On his relationship with Starr: "Bart and I never thought about one and two. We prepared together. Took a lot of notes and compared notes. There was no jealousy between us. We were great friends. When he was playing, I was on the phone helping him and vice versa. It was really a good match."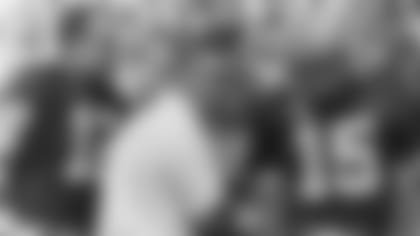 Bratkowski (left) with Lombardi and Starr during a game versus the Detroit Lions, 1967
On how Lombardi motivated him as a backup quarterback: "I remember during practices I'd go to (backfield coach) Red Cochran and say, 'Coach, why is he on me? He's wearing me out and I'm doing pretty (darn) good.' Red would say, 'He's just keeping the bit in your mouth, Zeke. If Bart goes down, you've got to be ready to go.'"
On what Lombardi meant when he said a quarterback should never get knocked down by a defensive lineman: "You had to get rid of the ball. We had carte blanche at the line of scrimmage. If you read blitz and called an audible and it didn't work, you almost got a plus because you recognized it and you threw it. He'd tell the team: 'Blitzing is a sign of weakness.' And I can't tell you how many times Bart took advantage of that by calling an audible. It was into a pass and it wasn't always quick passes. He'd throw a deep slant and that type of thing."
On Max McGee's playmaking ability: "Max was a great athlete. He had been a halfback and punter at Tulane. He could play golf. He was confident about his talent. He was solid. He was a great fast-pitch softball pitcher. He could hit a softball. He could play ping-pong. In the Air Force, he'd play everybody and was really good."
On receiver Boyd Dowler: "He had great height and great speed. He was a high hurdles champion. He was a great athlete. And he was football intelligent. When Boyd said something to you about how he was going to do it or what he could do in a game, he was telling you exactly the way it was. He wasn't fishing, looking for statistics. He was looking to move the football."
On flanker Carroll Dale: "He gave us additional speed on the other side. We had people who could run on both sides. He was a good route runner and he could go inside and catch the ball – crossing routes, things like that. Again, he was smart and he could run by people."
On tight end Ron Kramer: "A super-stud. You start with his athletic ability. I mean he was a nine letter-winner at Michigan. He was a very, very smart guy. And he was tough."
On tight end Marv Fleming, who succeeded Kramer at tight end in 1965: "Marvin was taller than Ron and maybe a little bit faster. And Marvin was a smart football player."
On winning the 1967 Western Conference championship against the 11-1-2 Los Angeles Rams, maybe the best playoff team the Lombardi Packers ever faced: "That was an excellent game plan that Coach Lombardi and the coaches had for us. It was a game plan based on the fact the Rams didn't press the wide receivers and we double-teamed Deacon Jones. Then we'd throw the ball out on a hitch-type pass and let Carroll and Boyd run with the ball. Then we pounded them. We ran at their strengths. You run away from the strength and the defense has carte blanche with its pursuit angles and everything. If you get after them, they have to play football."
On Travis Williams having a big game against the Rams and then not playing much in the Ice Bowl the next week: "The footing was so bad and Travis was just speed. You had to have your feet underneath you. Sometimes the slower runner is better in those conditions."
On Ben Wilson, who took over at fullback in 1967:"Wilson was more of an inside runner. He'd pound you between the tackles, but he could bounce it outside with some speed. He was no pack mule. He could move."
On how often Lombardi's teams ran a quarterback sneak at the goal line before the Ice Bowl:"Not much. Our play down there (had been) a real tight trap for (Paul) Hornung (who had retired before the season). If you watch a lot of old Packers films, you'll see us running split backs and Paul diving in."
On the key to Lombardi's power or strong-side sweep where the halfback almost always carried to the right side:"In training camp, we'd have the quarterback, two running backs, the two guards would pull and the tight end would be there. The tight end would block on the linebacker. If he kicked him out, the first guard went out and got the safety. The second (guard) turned up and looked back inside to pick off anybody trailing it. So it was put together in pieces, almost like a puzzle. Every section was a separate entity from the standpoint of teaching it. That's why it was so good. Everybody knew exactly what to do down to the steps by the different people."
On Lombardi's touch to teaching the sweep: "Coach Lombardi put that play in every year like we had never heard of it. It was like it was a new play. The sweep was the first play (Lombardi) put in every year."
On what prevented teams from overplaying the sweep when the tight end would line up nine feet from the right tackle, but play tight to the tackle on most other plays:"That's why you had to run things off (the sweep). (Defenses) figured that was the highest percentage play, but the trap looked exactly (like it). There were a lot of things we did off that play. First, let me explain one thing. The defensive end was blocked by the fullback (on the power sweep). So the fullback would put his head across the outside hip (of the DE) and kind of pin him in there. That was a crucial block. My point about the fullback was that there was a trap play from the same lineup. The fullback would go for the outside hip and the defensive end thought sweep. Well, when we'd run a trap where the offside guard would block (the DE) out, we'd do an underneath handoff to the halfback. There also were passes off that formation."
On the weak-side sweep, a play where the fullback almost always carried to the left: "It demanded that the weak-side end, Dowler or McGee, had to come in and block. They lined up nine feet (from the left tackle) and had to take a linebacker one-on-one and turn him in or out. That was a difficult block for them. But it set up some of our weak-side passing game."
On whether McGee cut it as a blocker in Super Bowl I when the Packers ran several weak-side sweeps to take advantage of weaknesses in Kansas City's defense: "I think he did. Boyd was bigger and stronger. When he hurt his shoulder on the first play, Coach Lombardi wasn't going to ruin the game plan. But he went to Max on a lot of passes out of that formation. We had play-action passes off that look. We had Max in tight in that game and he ran a lot of little hook passes about 10 yards deep. So that was something they had to be aware of. The look was there, but they couldn't pinpoint pass or run until the quarterback dropped off."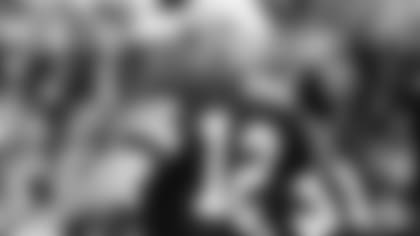 On the precision and practice time that Lombardi devoted just to the center snap in the power sweep:"The center, Kenny Bowman, had to do what was called a reach-block to get the defensive tackle. With the center taking that quick step to the right, the ball is going to be coming off that right leg or that part of the body. So the quarterback, in a sense, had to follow him with his hands so you don't have an exchange fumble. That was crucial and we always worked on that."
On Hornung's knack for running the power sweep:"He was fast enough and slow enough. If you watched the play, the guards pulled and lost ground. When the back got the ball, he kind of lost a little ground. Jerry Kramer would go outside to take the first safety to come in. Fuzzy (Thurston) would turn up in the hole. Hornung would lose a couple yards and then could cut either wide or go in there. He was able to read the two guards. Great patience. He had some quickness about him and could plant his feet."
On Tom Moore, Hornung's backup from 1960 to 1965: "High-stepping. Great speed. He was really a good football player. He was an unsung guy. He caught a lot of key passes. He'd go inside, catch the ball and run with it. When he got going, he could step it off. He was kind of a long-strider, but when you tried to tackle him all you got were those knees bouncing. He would step over people. Very good running back. Smart. Caught the ball well. Returned kicks. Everything."
On Elijah Pitts, who replaced Hornung as the starting halfback in 1966: "He had about the same talent as Paul, but Pitts was faster. (Both) came under control. They ran with patience. All good backs read the blocks and then explode to the hole. That's what those guys had."
On whether Lombardi's coaching methods would work today: "Everybody always asks me, could coach Lombardi coach today? I say better than what he was. He was smart and he'd adapt. He could have kept up with (the passing game.) No problem with that. He changed the game plan every week. I'm not so sure (the sweep) wouldn't be one of the best plays. The reason I say that is that the defensive ends, who everybody talks about being so talented, can rush the passer. But they never get blocked on running plays unless you bring the tight end down on them. I think that's one of the missing links in pro football. They're not slowing those ends down."
On whether NFL teams have run the sweep in the years since Lombardi: "When San Francisco was in its heyday (in the 1980s), it would run the weak-side sweep just to keep the defense honest so it couldn't pursue. And they were successful doing it."
On whether an NFL team could run the strong-side sweep today: "I think you could. Again, it would be the personnel. You've got to have two backs who can block. Halfbacks don't block anybody anymore. They just run the ball. You need a tight end who can block linebackers. A lot of tight ends line up outside wide like a wide receiver. A lot of guards now are 320 pounds. They're not going to be like Jerry and Fuzzy. So the demands of that play were pretty strong on personnel. You (also) have to spend a lot of time on the sweep. Today, with the open formations, you get (defenders) out of there and basically run inside zone read plays. You don't see many traps or anything else like that. The fullback very seldom carries the ball. You get a lot of one-back formations. Everybody says the split-back formation is gone because linebackers can cut wide plays off because of their speed. It's totally different. There's something to that, but I still think there'd be a spot for it in the right situation." Bratkowski, 84, lives in Santa Rose Beach, Fla. The excerpts here were taken from interviews conducted in 2004, 2012, 2014 and last week.