Do you think J.J. Watt and Aaron Rodgers actually care where they were ranked? I'll bet they didn't care what the ranking was before Wednesday and didn't care after Wednesday.
They care. Professional football players are competitive men. They want to win at everything. I don't think the ranking meant as much to Rodgers as his MVP does, but I think he cared enough about the ranking contest to find out who won it. I'd like to know who the voters are. It's said the players vote, but I've yet to know a player who's voted. Is there a panel of player voters? I'd like some transparency on that issue.
Mark from Stewartville, MN
Vic, don't you think it's a bit much that the networks have all that information scrolling at the bottom of the TV screen during an NFL game?
I always love seeing where your "Ask Vic" questions come from. Packers fans live around the globe. Did any of the other teams you've covered have such a widespread fan base?
Yeah, one of them has a pretty good following.
Vic, what is your favorite Packers memory of all time?
The Ice Bowl. The first time I ever covered a game at Lambeau Field, the first question I asked was what end zone is it?
Jerry from Des Moines, IA
Vic, any Kenny Stabler memories you'd like to share with us?
He threw the most beautiful sidearm pass I have ever seen. The ball came out of his hand with grace; it was a beautiful sight. Something that is seldom mentioned about Stabler is that he replaced Daryl Lamonica late in the Immaculate Reception game and led what should've been the game-winning touchdown drive. His scramble was the drive's defining play. Had the Steelers not rallied to win, would Stabler have remained the Raiders' quarterback for the AFC title game against the Dolphins? I think he might've and I think the Raiders would've won that game, which would've ended the Dolphins' quest for a perfect season. I also believe the Raiders would've beaten the Redskins in the Super Bowl, and Stabler would be in the Hall of Fame today. That's the fine line between winning and losing. One goofy play changed the course of history for at least three teams and one great player. I'll also remember Stabler for the horribly violent games I saw him play against the Steelers. They were the real thing. They were real hate. You never see the men from those two teams hugging or clowning around with each other at NFL alumni events or the such. I was a radio partner of Pete Banaszak's in Jacksonville. We talked often of this. All these years later, the bittnerness remains.
Steven from Milwaukee, WI
If players were asked to play every position, who would be the greatest all-around football player of all time?
Bobby Douglass comes to mind.
I've been watching Ken Burns' history of baseball and one reporter described Dizzy Dean's fastball like this: "He threw so hard he could throw a lamb chop past a wolf." Why don't we see this type of creative writing anymore?
I prefer "He could throw a strawberry through a locomotive." It's a different age. We're much more serious about sports today. Analysis is king.
Do you think free agency helped or hurt the fans? We know the players wanted it.
As much as I dislike free agency, it has greatly increased pro football's popularity. It's another draft.
What is the biggest mistake you see other franchises make time and time again?
Vic, what strikes you most about Coach McCarthy?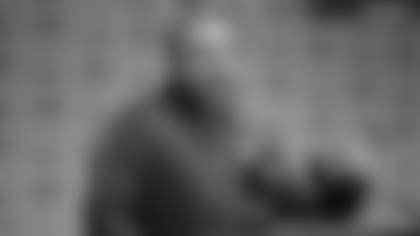 His creativity. You expect someone with his creativity to come from the West Coast wine country, not from a run-the-ball steel town. There's a reason Bill Belichick ran across the field to congratulate Mike McCarthy. Belichick was respectful of the coaching job McCarthy did in that game.
Nick from Golden Valley, MN
Knowing your work background, what did your kids end up doing, and did you push them into anything?
One of them is a getting a graduate degree in accounting. The other one is getting his PhD in engineering. I'm lost for an explanation.
Vic, I remember a headline from late in the 2013 season that read "Seahawks announce they'll plant undercover cops wearing opponent's jerseys in crowd." Do you think there was a reason they felt the need to do this?
It had to be bad sushi. Seriously, though, glorifying the 12th man can be perceived as permission to go too far. That's why I'm a little reserved when it comes to celebrating the fans' part in the outcome of a game. My concern is it might embolden fans to take their support to a dangerous level. We must remember what we are: spectators.
Vic, when you're watching the ball get hiked, are you focusing on a particular player or are you watching the play unfold? I ask because I sense I end up spending too much time watching the quarterback.
Once the ball is snapped, I have to watch it; that's the nature of my job. I try to get a feel for where everybody is in pre-snap. Find the safeties and true middle linebacker; it always starts with that for me. The number of wide receivers in the huddle pretty much tells us what the offensive design will be. If you start with those basics, you can watch the ball and then get what else you need to understand the play from the replay of it.
My father has always been a Raiders fan and told me stories of them growing up. He glorified Jack Tatum; there is an excitement when he talks about Tatum. Is the only thing keeping Jack from the Hall of Fame the 1978 preseason event?
The Darryl Stingley hit? No, not the hit, the lack of remorse afterward; it didn't help Tatum's cause. I'm not a Jack Tatum fan. He was an ambush hitter, but so were most of the safeties back then. My regard for Tatum declined dramatically in the 1974 AFC title game. Find tape of Franco Harris' touchdown run in the third quarter. Tatum rolled off his blocker away from Harris; he turned his back on him.
You know you are just a hack; get a real job. Who cares who the top 100 are? These polls are meaningless. And who cares that your boy A-Rod was No. 2? That's what I think of your articles. They are No. 2.