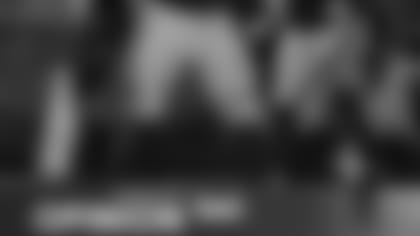 DL Mike Daniels
The regular writer of "Ask Vic," packers.com Editor Vic Ketchman, is on vacation. Staff Writer Mike Spofford is temporarily filling in to answer your "Ask Vic" questions. Vic will resume writing his daily column on Monday, Feb. 10.
If the Packers bring back Mike Neal for next year, the pass rush looks to have some potential. Daniels, Jones, Worthy, Matthews, Perry, and Neal all could really do some damage. My question is why don't the Packers consider using Matthews at inside linebacker more on third down? I know it isn't his natural position, but he could really add some push up the middle on third downs. I'm not saying this should be a permanent move, but if Perry and Neal are healthy it gives the Packers options across the board.
The Packers have moved Matthews around on third downs plenty, and he'll often attack inside on certain rushes or in some packages. There was just very little of that this past season because of the seven games Matthews played with a cast. His injury, on top of others' injuries, limited creativity a bit. Health and development of those young players will both be keys in the front seven. James from Madison, MS, asked about an increased role for Daniels, and the next step for him is to become an every-down lineman. But there could be a tricky balancing act between using Daniels more against the run and keeping him fresh for passing downs for that inside push. He's a driven, determined dude who wants to lead the unit. We'll see.
Denis from Philadelphia, PA
Vic, since John Schneider had his fingerprints on the Packers Super Bowl, how much of the way Seattle has built its team resembled Green Bay's process, how much is different?
Schneider has made a number of solid to home-run picks in the draft, made trades that required subsequent big-money deals for Lynch and Harvin, and added free-agent signings like Avril and Bennett on the defensive line. As has been mentioned several times, without having to pay QB Russell Wilson just yet, the free-agency budget was there. As a number of Schneider's astute 2010 and 2011 draft picks head toward free agency this year and next, and with Wilson likely due an extension after next season (before he hits the final year of his rookie deal in 2015), it will be interesting to see which core players he's able to keep and which ones he'll have to let go.
Mike, I think the Packers offense has a chance of being the best offense in the league. Do you think there is a chance of that happening next season?
In a word, yes, but I want to see how the tight end position looks heading into Week 1.
Mike, you wrote the article about backup quarterbacks and mentioned the possibility of Tolzien and/or Flynn returning. It will be fun to see what route the Packers take after last season's quarterback fiasco. What I was wondering though, is there any particular reason Seneca Wallace's return was left out of that discussion?
Bagley, wow. That's down near my ol' neck of the woods. Thanks for reading that story, which allows me to inform everyone that it's the first in a position-by-position review of the Packers' roster I'll be doing over the next few weeks, leading up to the scouting combine. Installments will appear every few days (maybe more frequently once Vic returns to this chair), so keep an eye out. Lance from Chicago, IL, asked about the backup QBs, too. I didn't mention Wallace because given what the Packers like with Tolzien, plus the chance to either re-sign Flynn or draft another prospect, I don't see a mid-30s QB coming off a season-ending, surgically repaired groin injury as a prominent part of the plans at the position. I still wonder, though, if the Rodgers-less Packers might have done better than 2-5-1 had Wallace not gotten hurt.
Jonathan from Waupaca, WI
Vic often talks about how they could create a rule for defense to force them to play within 10 yards of the line of scrimmage at the snap. I think that could have two great effects, one being to limit the players' ability to come up with big hits and another to make defense more challenging to possibly help prevent Super Bowls like the last one. What do you think and do you think the league might consider such a change now?
I am not a fan of Vic's idea and I don't think the Super Bowl we just witnessed will have anything to do with that whatsoever. The Seahawks dominated the way they did precisely because they had all (or most) of their defenders within 10 yards of the line of scrimmage and the Broncos couldn't get deep with the pass rush in Manning's face all night. I do not dismiss Vic's idea out of hand, though, as we have seen nowhere near the last of the rule changes in the name of player safety.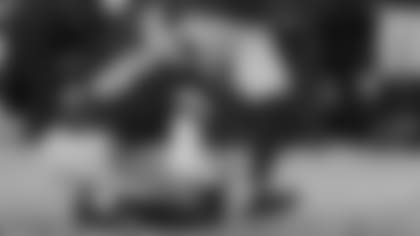 K Mason Crosby
Brian from New Richmond, WI
Mike, with the restructuring of Mason Crosby's contract this year, and the success he had, wouldn't it make sense to have kickers (and maybe punters) work from an incentive-based contract? Pay-for-performance makes sense to me. Do you feel this had anything to do with Crosby's success this year?
It might have had something to do with it. The offseason and training-camp competition probably had more to do with it. But remember, ask any punter or kicker to sign an incentive-based contract and he can always turn it down and look for more guaranteed money elsewhere. Given his 2012 season, Crosby wasn't going to get more money elsewhere when the Packers came to him to restructure last summer, so he took the incentive-based deal and it worked out for both sides. Only 2013 was restructured to incentive-laden, not the rest of Crosby's deal, but if he needed it, Crosby would have far more negotiating power now, wouldn't you say?
Mike, great job filling in for Vic this week. It seemed to me that once the playoffs began, the officiating crews (in all games) were suddenly allowing a much more physical game to be played by the defenders on the receivers. Throughout all the games, it appeared that much of what went on was being flagged frequently during the regular season. Better officiating crews, a mandate to the officials from the league telling them to allow the defense to play in order to even the playing field, or something else? All games (except Indy/KC) outdoors on natural turf making it harder for receivers to get separation? Would like to hear your take on this.
Others (Gary from Austin, MN, and Ryan from Minocqua, WI) have asked about the physical play in the secondary as well. It seems this issue comes up every year in the postseason. It could be a combination of all the things Eric mentioned, though to what degree for each is debatable. What I seem to notice in the playoffs is the disappearance of the 5-yard illegal contact penalty – contact with a receiver downfield before the pass is thrown – and I think the game is better for it. That's not a penalty in college, and I don't think the pro game would suffer without it. I also think the better officials only call pass interference when there's been clear obstruction or a clear advantage gained by one player while the ball is in the air. Lesser officials just look for contact and don't use their judgment, and maybe those guys don't get postseason assignments.
Heisenberg from Albuquerque, NM
Hi, Mike. I read Tuesday's question from Miriam from Butte, MT, and it reminded me how we were one play away at least a half dozen times in 2010 from getting knocked from the playoffs. Maybe the 2010 team wasn't as good as we think it was.
Any team that puts it all together to win it all, the Packers in 2010 included, deserve all the credit in the world. But this discussion thread is precisely why I subscribe to the "crapshoot" theory of the postseason, despite the objections of Brian from Fond du Lac, WI. Yes, you build the best team you can and fight for the best playoff positioning you can, but beyond that, anything can happen. That's why, as Vic has often said, the annual goal is to get into the playoffs and see how it goes. I don't mean to imply that events are random, just that the differences amongst teams at that stage are often so small that one or two moments can sway the outcome. Not every time, as Super Bowl XLVIII showed, but plenty of times. It's why we watch.
J.D. from Indianapolis, IN
Mike, we've heard our coaches talk about postseason evaluations and designing a system that fits our personnel, and we've heard Vic talk about no plays being a secret and that all the coaches in the league all having knowledge of the same plays and formations. Players, not plays, I'm on board. I get it. But can you take us into that evaluation process? Have you had experience with any teams or coaches that went out on a limb to try something new? Something that hasn't been seen before? Something that your opponents have never defended or tried to attack before? Something completely original that specifically caters to the skill set of the players available? Or is every system a regurgitation of something that's already been done before with minor tweaks contingent on the personnel on-hand?
It wasn't completely original, and it was only one sub-package, but the best example that comes to mind covering this team was the defense's "Psycho" package it revealed in 2009. It was nickel personnel with one down lineman and five rush/cover linebackers – with anywhere from two to all five planning to rush – that took advantage of the Packers' depth at linebacker at the time. They didn't reveal it until Week 14 that year, at Chicago, and I'll never forget seeing Jay Cutler at the line of scrimmage stopping in his tracks with this completely dumbfounded look and calling a timeout. But even that was situational, not a system, and it was something Dom Capers and Dick LeBeau had used before in Pittsburgh. Anything truly "new" these days, like the wildcat or the read-option, is bound to become a slice of a playbook, not the foundation.
Dan from Huntington Beach, CA
Mike, since it's a copycat league, will we now see more teams (and maybe even the Packers) pitting ones vs. ones in training camp to match the intensity and competitiveness of the Seahawks? Seems like it might make a difference.
The Packers practice ones vs. ones all the time in training camp. All teams do. They are the best practices of the year to watch, by far, when players are in pads. During the regular season, when 11-on-11 work is mostly starters vs. scout team, the Packers (and I assume other teams) run ones vs. ones in the two-minute drill, too.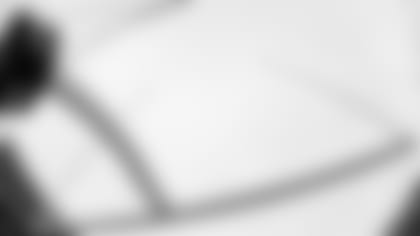 Mike, now I'm all kinds of confused about field goals. If they cannot be blocked on the way down, how can the missed ones be returned? What if the returner muffs the catch – is that considered an illegal block attempt? Could the returner jump in front of the crossbar to make the catch? This is a grey area that I'd like to exploit, if I were a coach.
You and Scott from Memphis, TN, are thinking too much. Once the ball is below the crossbar and it's no longer possible for the field goal to be good, it can be returned. Just like an airball in basketball that comes up short and is never going to hit the rim can be snagged on the way down without goaltending being called.
It's easy to forget that not even two years ago how good our secondary was and how dominant it could have been. You think of Nick Collins and Burnett at safety (Burnett playing a more ideal position) and then Tramon Williams and Sam Shields at cornerback with the transition from Charles Woodson to Micah Hyde and Casey Hayward. The Collins injury was devastating to this team. A perennial Pro Bowl, All-Pro safety. I was watching highlights of Collins, and what stood out was his relentless pursuit to the ball and how he flew around the field. That's who this defense misses, ball hawks, guys who can fly around the field, have a relentless pursuit to the ball and make plays. Tough not to think about, oh, what could have been.
I recall a press conference, either last year or the year before, during which Mike McCarthy referenced the Collins injury as the toughest one – from a personal, emotional standpoint – that he, Ted Thompson and others involved have ever had to deal with, and one that they still hadn't gotten over. He didn't really mention much about Collins the player, because he didn't have to, but the prevailing, unspoken thought was Collins was possibly on his way to a Hall of Fame career.
Martin from Brookfield, IL
Mike, Collins ready for a comeback? Sounds like help could be on the way. What are the odds Ted Thompson takes a look at him? Do we have first dibs on him or is he an UFA?
Nick Collins was released by the Packers on April 25, 2012, and has been free to sign with any team since then. For those of you who lit up Vic's inbox with Collins inquiries, I'm not going to speculate. That's why I asked the question yesterday if the medical risks had changed in the intervening time. If they haven't, I don't see how Collins gets medical clearance that he couldn't get two years ago.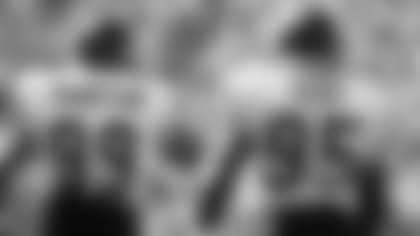 Former Bears DEs Dan Hampton & Richard Dent
John from Casselberry, FL
Hi Mike. As Vic says, it all starts during the playoffs. Talking about "greatest defenses ever," the '85 Bears gave up 12.375 points per game in regular-season play and 3.33 points per game in the postseason. The Bears pitched back-to-back shutouts against the league's top contenders before winning the Super Bowl by 36 points in a blowout, 46-10. Which team has the greatest D ever?
I've always been partial to that '85 Bears defense because at the time I was growing up in Platteville, where the Bears held their training camp, and I was a young teen starting to really get into football. But that's an admitted bias. Based on defenses I've seen play (I was too young to appreciate Vic's '70s Steelers and their Steel Curtain), I've always thought the greatest was between the '85 Bears and the 2000 Ravens. The Ravens gave up less than 11 points per game in the regular season, and then surrendered just 23 total points in four postseason games. Flip a coin. As for Paul from Farnborough, UK, asking about the greatest defenses of more longevity rather than one season, in this day and age of the salary cap, free agency and roster turnover, I think you're forced to look at individual seasons because each one can be so different personnel-wise, even on one team.
Hey Mike, I completely understand how the NFL schedule works, the rotation, alternating home and away games between divisions every three years (NFC) or four years (AFC). I understand how the remaining games are decided as well. However, I would have thought the NFC North teams would have hosted similar-seeded teams from the NFC West this year. Two years in a row the Packers have had to travel to the winner of the NFC West. How are the home and away games decided for the other two games? Thanks.
I believe it's a rotation as well, but you're right about the double-up with the NFC North visiting the NFC West in those positional matchups (first vs. first, second vs. second, etc.) in both 2013 and '14. The Packers traveled to San Francisco last season and will travel to Seattle this coming season. A similar double-up happened with the positional matchups in two AFC divisions, with the South hosting the East in both 2013 and '14. I'm not good enough with algorithms to know for sure, but with all the different things the formula attempts to rotate, it must inevitably spit out a double-up once in a while to keep the league's computer from crashing.
Mike, what is more important: a top-notch safety, or a dominant cornerback?
Forced to choose, I would take the dominant corner, because he's capable of shutting down up to half the field and/or taking away the offense's biggest playmaker. Top corners get paid more than top safeties, and the top corners generally go higher in the draft than the top safeties, so NFL GMs clearly value the corner position more.
Mike, how different are the two safety positions? Seems to me like the free safety should be the absolute last line of defense ball hawk and the strong safety should be someone roaming the space between the free safety and the linebackers, picking up tight ends, running backs, and possibly slot receivers. Are they very interchangeable?
It depends on how a team runs its scheme. The Packers consider their safeties interchangeable and train them as such, which allows for more flexibility and less predictability with defensive calls and packages. If you want to play both cover two and single high effectively, you need at least one safety who can do it all, and you'd better have more than one in case that guy goes down.
Chance from Las Vegas, NV
Mike, during the NFC Championship, San Francisco and Seattle played a brand of smash-mouth, violent football we rarely see anymore. Seattle managed a win due mostly to a last-minute San Francisco turnover. Seattle went on to absolutely dominate in the Super Bowl. With how closely the two teams played in the finals, it begs the question: how good, really, were the 49ers? With that said, the Packers – with a huge injury list and a rusty Rodgers – matched the 49ers well, too. With a healthy Packers, how good could they have been? I guess that's two questions.
This is one of the most common questions I've received all week. Regarding the Packers, we'll never know. The team had won four straight and appeared to be hitting its stride, even with the injuries to Cobb and Finley, when Rodgers went down. As many readers have pointed out, the defense was playing well at that time. Then it all changed, a win was not to be found in five November games and it was a mad dash just to get a shot in the playoffs, which the Packers entered with a banged-up defense that only got more depleted when Shields and Neal went down in the first quarter, and their availability would have factored into Green Bay's chances going forward had the wild-card game gone the other way. As for the 49ers, I think if you look at the last three years collectively, they've been the best team in football, yet they don't have a league title to show for it. As a fan, that to me would be harder to swallow than all the what ifs with the Packers, but it should make everyone appreciate the championship from three years ago even more. A lot has to go right to win it all.