Was the loss of Morgan Burnett the difference in the second half?
It didn't help, but today's game is about offense. You win with offense. You win with a great quarterback. If you leave 35 seconds on the clock, you lose the game.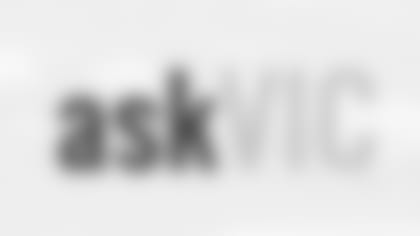 Ignoring the outcome of the game, why did the Packers refuse to run the ball? They were having success running Montgomery, but instead our offense became one-dimensional. It looked like the 2013 comeback game against Dallas in reverse.
The Packers throw the ball because that's what they do best. They control the clock with the pass. They remind me of Bill Walsh's first Super Bowl team in San Francisco. The Packers make opponents play the pass. The run becomes a surprise and it's usually against defensive linemen trying to rush the passer, not trying to hold the point of attack. Yesterday's game plan was masterful, and that's mostly because the Packers have a quarterback on whom they can depend to execute such an aggressive and precision game plan. Aaron Rodgers turned in another amazing performance.
Do the zebras need glasses?
I can't imagine how any Packers fan could complain about yesterday's officiating.
Our QB1 is better than your QB1.
That's the name of today's game. Look at the quarterbacks in the conference title games: Aaron Rodgers, Matt Ryan, Tom Brady and Ben Roethlisberger.
Jason from Loganville, WI
Vic, if you would've told me we would have the ball with 35 seconds left in a tie game, I would've taken it. No matter how many times he does it, Aaron Rodgers still amazes me with how he wills this team to win. What a game!
Wills the team to win? He didn't complete that pass to Jared Cook with will. It was a product of the kind of talent we only see a few times in our life. I've never seen a better throw. He was rolling to his left. He threw it with ease and touch. The advantage Green Bay has is the same one New England has enjoyed since 2001. It would only be fitting for Rodgers and Tom Brady to meet in the Super Bowl. It should've happened two years ago. I'm still having trouble letting go of that one.
This one is for Vic Ketchman. I am going to come out and say I was one of those asking for McCarthy to get fired during our slump and maybe bench Rodgers a couple of games. I want you to know I believe now.
I gave myself a game ball.
As we look ahead, what are the chances Jordy, Burnett and Rollins play and Perry loses the club?
We'll begin finding out on Wednesday, but you're not hurt until your quarterback is hurt.
Thomas from El Dorado Hills, CA
It seems that when any Packers player is interviewed they constantly praise their teammates with great respect and frequently use the term love. Seems so genuine. Is this respect and care for each other possibly the intangible that sets this team apart from others?
I've covered a lot of teams that loved each other but lost, and nobody cared about their great respect and love. Why not? Because they lost. Just win, baby.
Vic, resilience is the identity.
Vic, looks like this Packers team is taking what it wants.
The Packers want to throw the ball. Everybody knows what's coming but nobody can stop it. It's the mark of greatness. Don't take what they give you; take what you want.
I'm sure, as professional sportswriters, you avoid the hurt and hysteria of losing by being able to detach yourselves. Is it possible that maybe you've forgotten how it feels after a big, euphoric victory? See, by keeping my feelings 100 percent in it, when the Packers win, I win. It's not your fault, but I know you don't feel that. Right now, I get to, and it's sheer fun. I'm going to have a good day.
Jerry from Wilmington, NC
Vic, do you think Dom Capers and the Packers defense will take a bend but don't break defensive scheme game plan against the Falcons in an attempt to hold them to field goals in an offensive shootout?
Thoughts on the matchup with Atlanta?
It's Rodgers vs. Matt Ryan. It's the quarterback who many believe is this season's MVP against the quarterback generally regarded to be the No. 1 guy in the league over the last six seasons. It's a team with a young defense on the rise against a team that finds ways to play around its injuries on defense. The Falcons' advantage is a dependable power running game. The Packers' advantage is their postseason experience and poise.
Herb from Palm Desert, CA
Vic, please comment on McCarthy's decision to let Crosby attempt a 56-yard field goal with 1:33 left to play in regulation. A miss gives the Cowboys field position and the opportunity to win the game. It was a bold move, which showed incredible confidence in his players. I've never seen a man who understands the essence of competition like him. How in the world did he ever get labeled a conservative coach?
Mike McCarthy is a bold coach, but the decision to try the field goal is commonplace in today's game. This isn't your father's football, to steal a phrase. Today's game is about aggressive decision-making. Bill Belichick started it. He's the first coach I can remember going for it on fourth down at awkward places on the field. Now, all coaches do it. Look at some of the bold decisions Mike Tomlin makes. I thought the Texans tried to win with a very conservative approach on Saturday night, and look what happened. They won the turnover battle and lost by 18 points. Belichick, in my opinion, is the father of salary cap era coaching. His forward thinking has defined the new game.
Have you seen anyone throw so well off balance?
Rodgers is the best passer I've ever seen.
What does it take to knock off the No. 1 seed in their own house with everything on the line?
I don't view this as an upset. There was no doubt in my mind the Packers would win; I said it on the pregame radio show. When a team has a quarterback playing at the level at which Rodgers has been playing in this winning streak, it's difficult to imagine that team losing to anyone anywhere.
How does this taped together defense stop Atlanta's offense?
On defense, it begins with stopping the run. The Packers must get the Falcons into predictable down and distance.
Juan from San Antonio, TX
Vic, it appears Ted knows what he is doing in free agency. I feel Peppers and Cook have been key to our winning streak. Do you think fans will now believe in draft and develop with a key signing now and again?
The savvy fans get it. They understand the nuances of the salary cap and roster turnover, and the devastating long-term impact a big free-agent contract gone bad can have on a team. The I-want-it-now fans will never get it because they lack appreciation for the total game. Their vision is narrow. They see only player-acquisition and play-calling.
I firmly believe that any man's finest hour – his greatest fulfillment of all that he holds dear – is that moment when he has worked his heart out in good cause and lies exhausted on the field of battle victorious. – Vince Lombardi
I feel the same way after cutting the grass on an especially hot day, knowing I'll have to do it all over again next week. Cutting grass is kind of like football: Keep your blade sharp and your motor running because you're only as good as your last cut.