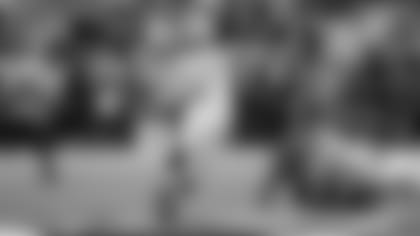 Vic, got any good Alan Page stories? He was commencement speaker at my Master's graduation ceremony a few years ago; gave me goosebumps.
I was present at his Hall of Fame induction. He chose as his presenter one of his former teachers. Page is a man of education and sophistication.
Vic, do you have any ideas regarding how Packers fans can organize to keep our home game tickets within Packer nation?
Best-of-10 Oklahoma drill: Which all-time lineman would you pick to face Watt? Who wins?
Mike Webster is the best Oklahoma-drill offensive lineman I've ever covered. Remember, it's not a gap drill, because there is no gap. It's a defeat-the-block drill, and I don't think I ever saw anyone beat Webster head up. I'll go with Webster.
Jamie from London, Ontario
Do you think Adam Schefter made a professional mistake by tweeting out Jason Pierre-Paul's medical records? Legal or not?
I don't think it was necessary, but it's tough to find a judge that doesn't favor the media's first amendment rights. The words I remember from my "Law of the Mass Media" class are "public figures are subject to public scrutiny."
A.J. from Carol Stream, IL
Vic, I have noticed a higher rate of people writing in and letting you know they are unhappy with the column due to history and off-topic questions. I want to let you know I actually like the offseason column better – the questions during the season are too focused on particular plays and fans spend too much time worrying. Don't change the way you are doing things.
On my tombstone, it will be written: "He never changed."
I'm extremely curious to see Vic's NFL top 100. Could you give me something like your top 10?
1) Aaron Rodgers, 2) Andrew Luck, 3) Tom Brady, 4) Ben Roethlisberger, 5) Russell Wilson, 6) Tony Romo, 7) Drew Brees, 8) Joe Flacco,  9) J.J. Watt, 10) Matt Ryan. The importance of the quarterback position is overwhelming.
Felix from Hamburg, Germany
Vic, what is Max from Seattle's issue?
Justin from Los Angeles, CA
If you had to pick one game for the NFL Network to show in order to get across what the NFL was like before the 1978 rules changes, what game would you pick?
The 1975 AFC title game. I can't believe I covered something that violent.
Bob from Oosterhout, The Netherlands
The Packers shirt is looking good on you. Do you wear them at home?
That's the new look for our videos and you'll be seeing it all season long. It marks the first time in my career I have ever worn a logo shirt of a team I was covering. Why are we doing it? It's for two reasons: 1) Promote the Packers brand. 2) Dress up our videos. It had been detected that several of the shirts I was wearing in recent videos had been worn in videos from my first season covering the Packers (I wore them in Jacksonville, too). The shirts and sweaters we'll be wearing in videos this year can be purchased in the Packers Pro Shop, so I guess we're models of sorts.
When did TV stations start putting the score constantly in the corner? And why didn't they start it earlier? Was it the technology or did no one think of it?
It happened at some point between the creation of instant replay and the robot. Everything evolves, right? The TV product is sensational. In the days before color TV, you had to go to the game to really see it; that's how bad the TV product was. Now, it's becoming more difficult every year for teams to provide a viewing product the equal of what they can get at home on TV.
Laundry day, Vic? Your socks are missing. Nice video on the NFL Top 100 list. Watt had a season for the ages, but we're lucky to have Rodgers.
The Packers Pro Shop also sells socks. I hate socks.
I live in Washington and watched the NFC Championship Game surrounded by Seahawks fans. When the Packers looked like they were in full control of the game, they stopped rooting. I tend to avoid generalizations but, from my experience, Seahawks fans are fair-weather fans, and they are fans because it's popular to be a Seahawks fan in Washington right now. That's why I'm proud to be a Packers fan. The passion isn't linked to their success. It's just there, baby.
And the sushi just isn't as good here as it is in Seattle.
Tony from River Falls, WI
Will we ever see the NFL create brand-new player positions outside the traditional QB, LB, WR, etc.?
How about WE for wide end instead of TE for tight end, which is a lie if he's not tight to the formation?
Vic, what made the AFL successful? Where did the teams get the money to start the bidding war with the NFL for top players?
Vision is what made the AFL successful. Men such as Sid Gillman had the vision to see fans wanted a wide open game, so they gave it to them. Men such as Lamar Hunt and Ralph Wilson bankrolled the league. They were committed to the long haul. Wilson helped keep the Raiders alive.
Kevin from Asbury Park, NJ
I think some of the hypersensitivity to the way players behave off the field has a lot to do with the media. The media completely runs away with stories and they often feel the need to report every little detail of every little story. The media tries very hard to create a story where there shouldn't be one, and the fans often eat it up. There's something unsettling about this whole thing.
Stop "eating" and the media will stop writing.
When my wife and I were dating while attending UWGB, we used to grab a snack and just sit on a bench outside the Atrium to watch the sunset. There was just something special about the summer sun fading on the faces of Curly and Vince. Lambeau Field has been a special place for many fond memories in my life. Is there a view at Lambeau you really like?
The sun setting on Curly and Vince, huh? I like the Atrium on a snowy night at the Christmas season. Everything seems to sparkle. I also like it because I'm inside instead of being outside in the miserable, stinking snow.
Blake from Sioux Falls, SD
Vic, I'm winsome. My brother-in-law wants to go to the game in Oakland. Is it actually safe to wear Packers gear?
I don't want to blunt your fun, but I don't want to see anybody get hurt because I told them to fly their "flag" with pride. Please be careful.
How do you feel Vince Lombardi would've reacted if his players started the Lambeau Leap?
Even in a day when that stuff was frowned upon, I think Lombardi would've understood its value to promoting professional football and the Packers. The coaches from that era were very cooperative with the media and marketing people who helped promote the game's popularity. Remember, football was the college game, and baseball was the national pastime.
The question of whether J.J. or Rodgers is the top player: Would you agree Rodgers makes almost any team win more games? I don't know if you can say that about J.J.
J.J. Watt is a great football player and I congratulate him and his fans on his selection as the NFL's No. 1 player.