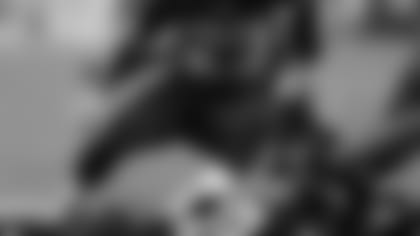 Seahawks S Earl Thomas
Kylon from Talofofo, Guam
Nobody ever looks back fondly on years they stunk. Like, "Remember that year we tanked? I'm so glad we did that when we could still make the playoffs." There's gotta be something in the players that will not make that happen.
You're right, nobody looks back fondly on embarrassment, and that's what quitting is, an embarrassment. I've covered lots of bad teams, and I can remember a couple of them that are fond remembrances for the effort with which they played. The 1995, inaugural-season Jaguars finished 4-12, but they played harder than any team I've ever covered. They remember what you do in December. If the Packers fail to make it into the playoffs, November will be the month that defines this team, but how the Packers respond in December will either confirm or refute what they did in November. This is a chance for redemption. Should the team rally to win the division title, however, December will both define it and distinguish it. There's far too much to be gained to quit on the season now. This is a chance to deepen the Packers' legend. Packers fans love to refer to themselves and this team as classy. What's classy about quitting?
Vic, good defenses don't just hit, they tackle and cover effectively. The Seahawks defense put on a clinic out here on Monday night, getting their arms around runners and batting away pass after pass against one of the top offenses in the league. Coach McCarthy has bemoaned the lack of good fundamentals in the Packers defense now for the third season in a row. I know it's players, not plays, but what about fundamentals, and what do you think the Seahawks are doing the Packers aren't?
A large chunk of the Seahawks' success was built in the 2010 draft, Pete Carroll's first as head coach. The Seahawks were No. 6 in the order. They selected Russell Okung, Earl Thomas, Golden Tate and Kam Chancellor in that draft. They were No. 15 in 2012 and they selected Bruce Irvin, Bobby Wagner, Russell Wilson and Robert Turbin. Being high in the draft has its advantages.
Ramiro from Mira Loma, CA
Vic, with the release of McMillian, that's now four of the eight 2012 draft picks cut in Green Bay, with Perry's inconsistency, Mike Daniels a situational player and Hayward and Worthy out with injuries for most of the year. Could this draft class be a major cause why the defense is so lackluster?
It doesn't help that the Packers have played most of the season without much help from that draft class. Nick Perry looked like he was about to turn the corner with that sack-strip in Baltimore, but he was injured on that play and it was back to square one. It was nearly a carbon copy of what happened in his rookie season. Casey Hayward and Jerel Worthy were two of the stars of that class as rookies, and injuries have largely canceled their sophomore seasons. Daniels is more than a situational player. He has become this team's most productive defensive lineman and I think he has a bright future.
After reading "Ask Vic" this week, it all of a sudden hit me. What the Packers need is to win without Rodgers.
This team needs to prove to itself that it can win a meaningful game without Aaron Rodgers. It needs to do that for its own esteem.
Adam from Minneapolis, MN
I noticed that Antonio Dennard played on the Jaguars. I also have noticed that Jarrett Boykin, Chris Banjo and DuJuan Harris have all been released by Jacksonville. How can a team that is not successful this season miss on so much talent?
S Chris Banjo
The Jaguars didn't miss on that talent. They identified it. They got that part right. What they missed on is the development part, and that's the tough part because it requires patience, and patience is very difficult to practice when you're losing. You feel the hot breath of ownership breathing down on you. You hear and see the words of angry fans and media. There's a tendency to rush the evaluation, to move on and find more talent, so you quit on guys too soon. There are players from Jacksonville all over this league: Derek Cox in San Diego, Terrance Knighton in Denver, Rashad Jennings in Oakland, Dan Connolly in New England, Josh Gordy in Indianapolis, Tiquan Underwood in Tampa Bay, Rashean Mathis in Detroit and more. They're accomplished NFL players and their talent was properly identified by the Jaguars, but the panic that often accompanies losing demanded their departures. Patience is more than a virtue as it relates to building a football team. Against the ever-increasing explosiveness of fan criticism for the most minor of failures, patience is saintly.
Vic, you should have been here in December, 2010. Rodgers was recovering from a concussion and the Packers were 8-6. These same so-called fans were calling for Ted, Mike and the entire coaching staff to be canned. I'll never forget the outrage from these short-sighted psychotics. I said it then and I'll say it now, there's no man I'd rather have trying to right this ship than Mike McCarthy.
I'm a big-picture guy; I always have been. What I see is a league that lacks coaches with old-fashioned esteem. Where are the Lombardis and Browns? Why doesn't this league have a coach with the esteem and distinction of a Noll, Shula, Walsh or Landry? Bill Belichick has the titles and the football acumen to compare to those coaches, but Spygate and an abrasive personality make it impossible for Belichick to walk in the same steps as those men of esteem. If there's a coach in the game that can get there, McCarthy is the guy. He is a man of honor to compare to those esteemed coaches. He has the toughness, love and respect for the game to rise to those heights, and he coaches for a franchise that can so distinguish a coach. McCarthy is a long-termer. He's got the quarterback and the general manager to effect a long run of success. I'm watching this with great interest. I think Coach McCarthy is going to be very good writing.
I fully support Ted Thompson and our draft-and-develop philosophy, but seeing that four out of the eight players from our 2012 draft class are no longer with the team really worries me. What say you about this?
Take a look at the teams that have drafted down near the bottom. Look at the success percentage of their picks. Five of the Steelers' nine picks in 2012 are gone, and the Steelers were thought to have had the best draft class in the league. The Giants haven't hit a lot of home runs in recent drafts. It's difficult if not impossible to defeat the system, but you have to keep trying. The notion that the Packers have a magic wand and anybody they draft is a player every other team in the league misevaluated is ludicrous. Packers fans are a proud bunch. They love their team and they are intensely proud of it, but sometimes that creates unrealistic expectations. An esteemed personnel man told me a long time ago that when you're picking at the bottom of the first round, you're actually picking at the top of the second round. You are, in effect, without a first-round pick.
Patrick from Short Hills, NJ
My interpretation of the first 30 seconds of the press conference is that Aaron Rodgers will not play on Sunday. I'm surprised coach is going with Flynn. Are you?
Not really. He's picking experience over inexperience. It's a comfort zone. Having said that, I don't think Coach McCarthy is going to be married to Flynn as he was in Detroit. This is desperation time. If the ball isn't being moved, I think a switch at quarterback would be likely.
Gary from Tompkinsville, KY
Vince Lombardi always said the team that blocks the best and tackles the best will win. That was evident on Thanksgiving Day.
Blocking and tackling still win games, especially at this time of the year, but you better be able to throw the ball in today's game or you won't win. That's why it's so difficult to win without "The Man."
So does this mean Jerron McMillian was part of the problem?
It means McMillian has failed in his first attempt to establish a professional football career. Another team will claim him or sign him. He'll have another opportunity to become a successful professional football player. Sometimes you get Boykin, and sometimes you lose Boykin.
Hector from Pinellas Park, FL
People compare the SEC as the college football version of the NFL. Do you believe they are correct, and why is that particular conference so strong when it comes to draft time?
The SEC is the best conference in college football because it gets the big guys. LeSean McCoy, Darrelle Revis and Larry Fitzgerald played in the Big East, but they're not big guys. The big guys are the tough ones to find. You gotta get the big guys early and that means you better spend a lot of time scouting the SEC because that's where the big guys live.
Simon from New Franken, WI
I am going to my second Packers game this Sunday and I can't wait. It's December football at Lambeau Field and the playoffs are on the line. What's not to like about this game?
I've covered somewhere between 650 and 700 NFL games, but I can honestly say I am as excited about covering this Sunday's game as I was for the first game I ever covered. It never loses its thrill for me, especially at this time of the year. I imagine myself sitting in the press box this Sunday, watching the Packers trying to beat the Falcons, while keeping an eye on the Lions-Eagles score. I imagine the Packers winning and the Lions losing and the thrill that'll give me to know that I can do it all over again the following Sunday in Dallas.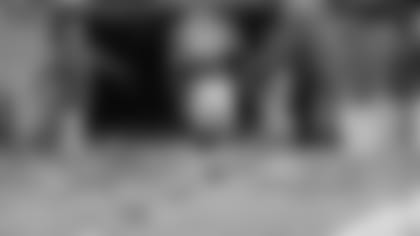 Scott from Lincoln City, OR
Vic, so those plastic bottles weren't empty? Cleveland fans were actually throwing away their beer?
Not all of them had beer in them.
Vic, regarding your mention of running after your chemo treatment was over. I hope you did not consider yourself a quitter after that two-minute and 40-second run.
I don't know, but it stuck with me. I told the story for a reason. This is Jimmy V week. "Don't give up. Don't ever give up." Get it?