You assert that the media only reports stories the public wants to hear, which I believe is true, but the Packers-to-spend-in-FA reporting is the stuff that annoys me. Ian Rapoport looks at the current (meaningless) salary cap room for all teams and, for the ones with space, he creates a story that they will use that money to spend on free agents, because he knows 90 percent of fans want to hear their team will be this year's Philadelphia Eagles. How is this considered journalism?
If that's what he did, then it's irresponsible, but if he acquired supporting information that the Packers are going to be players in free agency this year, then it's worthy of the read. We'll see how it plays out. What's important for the reader is to discern between the two. If it turns out you've been misled, you should make a point of not allowing that to happen again. Be discriminating in your media tastes. Read those you can trust; reject those you can't. It's always the reader's choice.
Vic, it surprises me that 12 percent of Green Bay hasn't watched, listened to or attended a Green Bay game in the last year. I would think that would be almost impossible to avoid.
We need to find those people and put a mirror under their nose.
In your recent video segment, you said the basic difference between the 3-4 and the 4-3 is that in the former one "end" is a yard more off the ball. Isn't the real difference gap control, with the former a two-gap scheme and the other not?
You can two-gap in a 4-3 and play gap control in a 3-4. When I covered the Steelers in the '70s, when they played the "Stunt 4-3," they two-gapped. Yes, it's an accepted function of linemen in a 3-4 that they keep the blockers off the stars of the defense, the linebackers, so they might use their athletic ability to run to the ball and make plays, but not all 3-4 teams two-gap. The Patriots do a lot of shading of their linemen, and the "Phillips 3-4" is a one-gap version of the 3-4 defense; Bum Phillips used it with Curly Culp on the nose in the late '70s. Alignment isn't scheme; it's often nothing more than a disguise. What you do within an alignment is your scheme, and good coordinators mix and match alignments and schemes.
Can you defend your reason for choosing ice dancing over Premier League soccer?
Yes, I can. If I watch ice dancing long enough, there's a chance something might happen.
What happened to make you dislike soccer so much?
I knew the first time I saw it I hated it, but I can also tell you that at the 1976 Olympics I sat through a soccer game – it was between either Brazil and Chile, or Brazil and Argentina, or something like that – about which it was written that it was the greatest soccer game ever played, and it was so boring that I found myself looking at people in the crowd and wondering what their lives must be like to actually find enjoyment in something so awful. Watching that game made me want to stand up and scream, "Use your hands!"
Michael from Columbia, MO
Vic, this is a hypothetical, but what would stop teams with a large amount of cap space from restructuring a deal to bring money forward?
You can do it. Convert a portion of a player's future salary to roster bonus to be paid this year and you will have effectively eaten up cap room this year and made cap room in the year from which you moved a portion of the player's salary. It's called prepaying and the Eagles kind of invented it. I think it's a good technique for a team in rebuilding that doesn't need the room now but might need the room one day when its young players of today are tomorrow's stars. That's not the case with the Packers. They don't need to move money forward to eat up cap room. They've created that cap room to use it now. How they use that cap room is what's important.
Thad from Chesterfield, VA
What are the odds the first game of the season is Packers at Seahawks?
I like the sound of that. I think 49ers at Seahawks is probably the top candidate, but the league might want to save that for later in the season. Packers at Seahawks offers a lot of good-theater marketing, as a result of the "Fail Mary."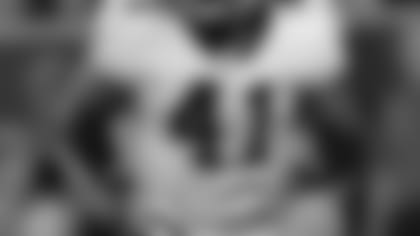 Roman Harper
I love your column. The Saints just released Roman Harper. What do you think of Roman and do you think he'd be a good fit in Green Bay? I think he could help make whoever we draft an All-Pro like he is.
He is one of several cuts the Saints made to help them get under the cap; they cut something in the vicinity of $17 million from their cap. So here's the question you have to answer: Is Harper a cap casualty who still has some game left in him, or do the seven games he missed due to a knee injury last season suggest he's reached the end of the line? There's also one more question you have to answer: How much will it cost you to get the answer to the first question? In my opinion, when you sign players that are beyond their prime, the odds of success are against you. That doesn't mean there aren't exceptions; it just means that if you make a practice of it, you're going to lose more often than you win.
Jimmy from Alexandria, VA
How does one determine value in the world of NFL salaries?
I do it by using the franchise tag tenders. If you're paying a guy the yearly average of the franchise-tag money at his position, then he needs to be a top-five player at his position in the league. If he's not, then you're overpaying. I think if you use that as your standard and apply it in relative terms, you'll know what you should pay a player.
Pete from Mt. Brydges, ON
If a player like Jarred Allen became available, should the Packers look at him? Do you think he has two, three years left in the tank? Just asking.
He might. The Jaguars thought Hugh Douglas had two, three years left in him. He didn't. So, how many of these guys do you wanna do? Harper and Allen and how many more? I promise that if you sign a bunch of these types of guys, you'll regret it, but that doesn't mean you can't get lucky with one. So, Pete, do you feel lucky?
Vic, am I wrong in thinking a player in free agency is more interested in the dollar amount of his contract than contributing to a team that very well could make it to the playoffs and win the big one?
There's a time for paying and there's a time for playing. March begins the time for paying.
Nick from State College, PA
I think the question we're all wondering about is what toppings do you put on your hotdog?
Mustard. I'll accept putting a few onions on there, too, but anything more than that and you might as well take the dog off the bun. Since I've moved to Green Bay, I have seen people put ketchup on their hot dog. That's when I knew I had seen it all.
Vic, how does Ted go about drafting the best possible hamstrings?
This is where the interview process at the combine becomes very important. You look the kid in the eye and you ask him, "Have you ever had a hamstring injury?" If the kid says no, you ask him to submit to a lie detector test. If he declines, you take him off your board.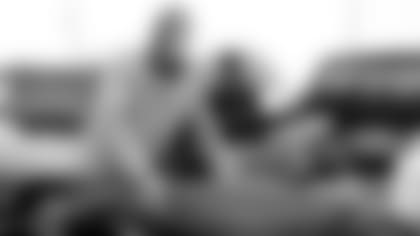 Packers.com's sturgeon-spearing team
So how was the ice fishing on your days off?
Mike took me sturgeon spearing and, as you can see, I got a big one. I loved it and I can't wait to do it again. That's Mike's pickup truck and Mike in the background.
Joseph from Rock Island, IL
Vic, I watched a "30 for 30" about Tonya Harding and Nancy Kerrigan the other night. It's just so bizarre and I'm still trying to process all of it. I'm not old enough to remember when this happened, all I remembered prior to watching this was that I associated an image of a crying woman in ice skates with the name Tonya Harding. So in case you didn't follow it, Tonya was only charged with withholding information she learned after the attack, but not charged with helping to plan it. My question for you is, do you think Tonya helped plan it?
I've been asking myself that question for years. Would a sweet girl such as Tonya Harding actually conspire to have her No. 1 competition hit over the knee with a tire iron? It's just so hard to imagine. Hey, where you gonna find something like that in soccer, huh?
Brandon from Manhattan, KS
Vic, do you think moving the draft back to May will impact the free agency period?
Yes, I do. I think teams will become more impatient and they'll spend more freely in free agency and damage their caps more than they would in a normal year. If they moved the draft ahead of free agency, I think need picking would spike and spending in free agency would decline sharply. Why? Because everybody believes that addressing a need is solving a need, even though everybody should know that's more often not the case. In my opinion, free agency is a trap. I fear it and I would use it very selectively. I believe it requires great discipline. Use it to patch affordably. Shop a lot, spend a little. You have to find the bargains and there are no bargains in the first week of free agency. That's my opinion.