LAS VEGAS – The Packers had multiple chances on offense down the stretch Monday night in Las Vegas but couldn't get the go-ahead score, falling to the Raiders 17-13 at Allegiant Stadium.
Packers QB Jordan Love was intercepted twice in the fourth quarter, and three times in the game, the last one coming in the final minute on a deep ball to the end zone intended for WR Christian Watson.
The loss drops the Packers to 2-3 on the season heading into their bye week. The Raiders improved to 2-3.
Love finished 16-of-30 for 183 yards with the three INTs for a 32.2 passer rating. RB AJ Dillon had 20 carries for 76 yards and a TD, with Love adding 37 yards on two scrambles. WR Christian Watson had three catches for 91 yards, and TE Luke Musgrave had six grabs for 34 yards.
For the Raiders, QB Jimmy Garoppolo was 22-of-31 for 208 yards with one TD, one INT and an 86.5 rating. His lone INT at the start of the second half set up the Packers' only touchdown.
Raiders RB Josh Jacobs had 20 carries for 69 yards with a TD, and WR Jakobi Meyers had seven catches for 75 yards and a TD. WR Davante Adams added four catches for 45 yards.
Here's a recap of all the action: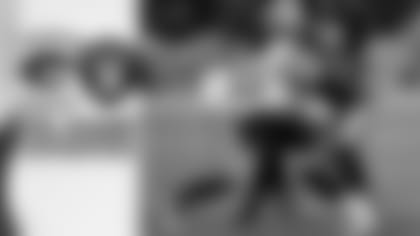 Packers lead Raiders 3-0 after first quarter
The Raiders won the opening coin toss and deferred. The Packers emphasized the run on their opening drive, with AJ Dillon carrying the ball five times for 16 yards.
The Packers converted a third-and-2 with a Dillon dive up the middle but the drive stalled at the Las Vegas 47 after Jordan Love couldn't connect with a deep ball down the seam intended for Jayden Reed.
The Raiders started at their own 13. Tight end Michael Mayer caught a pass across the middle for 20 on first down before Packers linebacker Quay Walker dropped Josh Jacobs for a two-yard loss.
Davante Adams came on a pre-snap motion and picked up the first down on a 12-yard pass to the flat to Las Vegas 43. The Packers stuffed Jacobs for no gain after a Raiders timeout and Kenny Clark sacked Jimmy Garoppolo for a 9-yard loss on third down to force the punt.
Green Bay took over at its 7 after a 55-yard A.J. Cole punt. Dillon ran up the middle for eight yards on first down and gained another five yards before Maxx Crosby was flagged for unnecessary roughness after pushing right tackle Zach Tom in the back after the play.
Love scrambled for a career-long 26 yards to the Raiders' 43 and then hit tight end Josiah Deguara for 19 yards. It culminated in an Anders Carlson 37-yard field goal to put Green Bay up 3-0 with 2 minutes, 38 seconds left in the first quarter.
Mayer opened Las Vegas' next series with a 19-yard catch and moved into Green Bay territory with a Tre Tucker 16-yard run off an end-around. Rasul Douglas broke up a pass intended for Jakobi Meyers. The first quarter ended with Preston Smith sacking Garoppolo for a 7-yard loss on third down to force the Raiders to punt.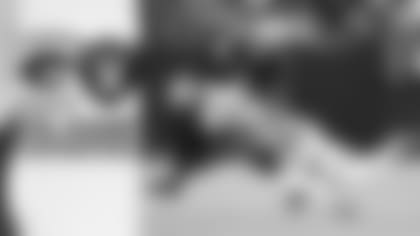 Raiders lead Packers 10-3 at halftime
Rookie tight end Ben Sims broke a tackle and gained 12 yards on his first NFL reception, but the Packers were unable to move the ball past their own 22 and were forced to punt.
Green Bay sniffed out a trick play by the Raiders, with Quay Walker tackling Jacobs for a 3-yard loss after Jaire Alexander triggered on the backside pass.
The Raiders converted on third-and-11, though, with an 11-yard screen pass to Ameer Abdullah. Kenny Clark was flagged for encroachment on first-and-10 from the Green Bay 25, but the Packers still contained the Raiders on their next three runs to bring up fourth-and-1.
Las Vegas finally ran an end-around to DeAndre Carter for three yards and the first down. The Raiders eventually capped the 14-play drive with a 9-yard slant to Jakobi Meyers for a touchdown to pull ahead 7-3 with 4:09 left in the first half.
Las Vegas then got the ball back after Robert Spillane picked off Love on the first play of Green Bay's next possession, returning it to the Packers' 7-yard line.
Clark and Smith combined on a 1-yard tackle for a loss of Jacobs on first-and-goal. The Raiders were forced to settle for a 26-yard field goal after Keisean Nixon tackled Jacobs for no gain on a short pass and Smith deflected a Garoppolo pass at the line of scrimmage.
The Packers went three-and-out on their next possession and the Raiders retook possession of the ball with 55 seconds left in the second quarter. Garoppolo converted on third-and-11 with a 19-yard pass to Meyers and moved into scoring position with a 7-yard pass to Hunter Renfrow.
The quarter ended with Yosh Nijman blocking Daniel Carlson's 53-yard field-goal attempt. Safety Darnell Savage was carted to locker room with a calf injury.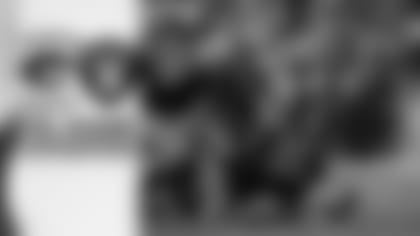 Packers lead Raiders 13-10 after three
The Packers got a badly needed takeaway at the start of the second half, with safety Rudy Ford undercutting a play-action pass from Garoppolo for his second INT in as many weeks.
The Packers started at the Las Vegas 37, gaining five yards off a Dillon run on first down. Green Bay chose to go for it on fourth-and-2 from the Raiders 29, as Dillon drove up the middle for three yards and the first down.
Dillon then cut inside for 11 yards to set up first-and-goal from the Las Vegas 9. He took it the rest of the way, including a 5-yard touchdown to tie the game at 10 with 8:27 left in the third quarter.
The Packers' defense continued to shutdown the Raiders on the next series, with a six-man pressuring Garoppolo into an incompletion on third-and-6.
The Packers ran playaction on first down and Christian Watson came wide open for a 77-yard catch and run to the Raiders' 4-yard line after a horse-collar tackle at the end of the play.
Las Vegas' defense held, but Green Bay took the lead with a 22-yard Anders Carlson field goal with 5:16 left in the third quarter.
The Raiders answered on their next possession, which included a third-down conversion off an 8-yard slant to Meyers. Davante Adams caught a 21-yard pass off a slant to move into scoring territory. Las Vegas converted a third-and-3 in Green Bay's red zone with a 7-yard pass to Adams.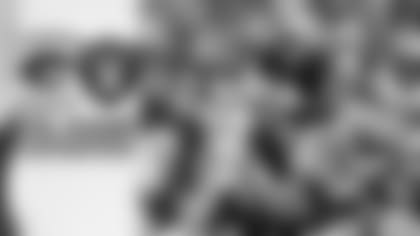 Packers head into the bye after 17-13 loss to Raiders
The fourth quarter began with Jacobs running in a 2-yard touchdown to put the Raiders ahead 17-13 with 14:56 left in the fourth quarter.
Green Bay started its next series with a big conversion off a 10-yard out to Dontayvion Wicks on third-and-7. The Packers picked up their next first down with a 6-yard Dillon run and then a 4-yard quick flip to Romeo Doubs to the Packers' 48.
After two 3-yard Dillon runs, Love connected with Musgrave for a first down out of an empty formation. That's as far as Green Bay would get on the drive, though.
Maxx Crosby sacked Love for a loss of seven yards and then Spillane picked him off for a second time, this time off a deflection on a pass intended for Watson.
The Packers got the ball back after Rashan Gary sacked Garoppolo for a loss of five yards on third-and-3. Green Bay was flagged for a hold on its first play of the next possession and would have to punt the ball back with 5:30 remaining after Love couldn't connect with Watson on a deep ball on third-and-10.
The Raiders moved into Packers' territory behind Jacobs, leading to a critical third-and-6 from the Green Bay 38. The Raiders ran a draw to Abdullah for six yards to reach the two-minute warning.
Las Vegas attempted a 52-yard field goal but Daniel Carlson's kick banged off the right upright with 1:56 remaining and the Packers still possessing one timeout.
Starting at the Packers' 42, Love hit Musgrave for seven yards and then Patrick Taylor picked up the first down upon replay review after initially being marked short on his 3-yard catch.
The Packers earned another first down to the Las Vegas 35 after a 5-yard run by Taylor. On third-and-10, Love was picked off in the end zone on a deep throw for Watson. Amik Robertson had the interception and touchback.