There's no position over the years where the Green Bay Packers have gotten more solid and consistent play than center.
Jim Ringo is the only Packers center in the Pro Football Hall of Fame, but there are 10 centers in the Packers Hall of Fame.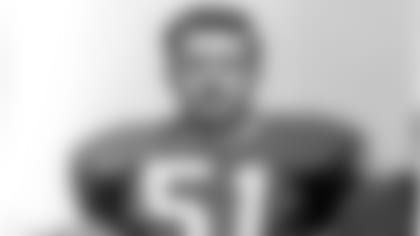 Here's the list in chronological order with the years each player started at least one game at center.
Jug Earp, 1923-31. Boob Darling, 1927-31. Nate Barragar, 1931-32, 1934-35. George Svendsen, 1935-37, 1940-41. Bud Svendsen, 1937, 1939. Charley Brock, 1939-47. Ringo, 1953-63. Ken Bowman, 1964-65, 1967-73. Larry McCarren, 1974-84. Frank Winters, 1992-2000, 2002.
That covers 65 of the Packers' 97 NFL seasons. The exceptions were 1921-22, 1933, 1938, 1948-52, 1966, 1985-91, 2001 and 2003-17.
Prior to 1950, players were forced by the rules to play both offense and defense. Thus, six of the Packers' 10 Hall of Famers not only played center on offense, but also middle guard on defense in seven- and five-man lines or a middle or inside linebacker position.
Thus, Brock in 1946 was the only center in the Packers' first 29 NFL seasons to start every regular-season game. In 1931, for example, when the Packers captured a third straight NFL championship, they started four different centers en route to a 12-2 record and three are Packers Hall of Famers: Waldo Don Carlos, 6 games; Barragar, 5; Earp, 2; and Darling, 1.
In what is referred to as the Iron Man Era of pro football, the Packers had only six seasons where they didn't have a Packers Hall of Famer start at least one game at center.
In the 68 seasons since 1950, the year unlimited substitution was restored and opened the way for two-platoon football, Ringo, Bowman, McCarren and Winters started at center in 41 of them.
But even in most of the other 27 seasons, the Packers have had a number of reliable and highly capable starters, including Jay Rhodemyre, 1951-52, as well as 1948-49; Mark Cannon, 1985-88; current Packers run-game coordinator and offensive line coach James Campen, 1989-93; Mike Flanagan, 2000-05; Scott Wells, 2004-11; and Corey Linsley, 2014-present.
Jim Ringo (1953-63) – He started the first five games of his rookie year before injuring his knee in practice and missing the remainder of the season. Returned to the lineup in 1954 and started 126 straight games until Vince Lombardi traded him to Philadelphia following the 1963 season. Ringo was selected for seven Pro Bowls during his time with the Packers and also was named Associated Press All-Pro (first team only) six times. For most of Ringo's years in Green Bay, teams basically played a standard 4-3 defensive front so he didn't have to deal much with bigger, stronger defensive linemen playing directly across from him. Although listed at 232 pounds, Ringo often weighed closer to 220 and his forte was his quickness. That's what made him such an asset in Lombardi's famed power sweep, where the halfback carried to the right. Ringo could reach and cut the left or onside defensive tackle. When the defensive alignment dictated that he block the middle linebacker on the power sweep, Ringo was just as effective at that. Inducted into the Pro Football Hall of Fame in 1981.
Charley Brock (1939-47) – Brock could have been selected as the Packers' second-best middle linebacker to Ray Nitschke just as easily as their second-best center. Brock played at the same time as the New York Giants' Mel Hein (1931-45), one of two centers on the NFL's 75th Anniversary All-Time Team, and the Chicago Bears' Clyde "Bulldog" Turner (1940-52), a center on the 1940s NFL All-Decade Team and one of two runners-up to Ray Nitschke at linebacker on the NFL's 50th Anniversary Team. In fact, Brock, Turner and Alex Wojciechowicz, who played for Detroit and Philadelphia, were the three centers on the 1940s All-Decade Team. Wojciechowicz joined Hein and Turner in the Pro Football Hall of Fame in 1968, and a case could be made that Brock might have been more deserving. Although Wojciechowicz played from 1938-50, Brock received first- or second-team all-pro recognition after five of his nine seasons and Wojciechowicz after only two of his 13. While Hein and Turner monopolized the two most prestigious all-pro teams of the time, the official NFL and Associated Press selections, Brock was the only center to interrupt their string. In 1945, he was named to the AP and four other all-pro first teams.
Larry McCarren (1973-84) – A 12th-round draft pick in 1973 - the 308th overall selection - McCarren took over as the starter in his second season and became the ultimate pro's pro. When he injured his neck and missed the final four games of his last season, it ended a consecutive-game streak at 162, tied for second longest in Packers history at the time. Most notable of his 132-game starting streak was the 1980 opener when he went the distance in an overtime victory over Chicago just 3½ weeks following hernia surgery. There might have been centers with better measurables, but few were as competitive, dependable, assignment-sure and stout against the game's new wave of nose tackles. Two-time Pro Bowl selection.
Frank Winters (1992-2002) – Winters not only fits the prototype of Packers centers over their 100-year history - rock-solid pros who form the nucleus of most championship teams - but was a cut above most because of his take-no-prisoners approach to the game. He was a 300-pounder, a big jump from the days when McCarren was listed at 246, who played to the whistle and played every snap like it was his last. He started his NFL career as a long-snapper, joined the Packers as an unheralded Plan B free agent and played almost as much left guard as center his first three years. A Pro Bowl pick in 1996.
Ken Bowman (1964-73) – Lombardi might have dumped Ringo to get bigger at center as defensive fronts were changing in the 1960s, but he couldn't keep Bowman out of the lineup. An eighth-round draft pick listed at 230 pounds, Bowman was quick, scrappy and might have set a new bar for pain threshold. Lombardi gave 6-foot-3, 249-pound left tackle Bob Skoronski the first crack at replacing Ringo and later drafted 6-5, 250-pound Bob Hyland in the first round and started him in five games as a rookie in 1967, but Bowman persevered. He also lost his job to Bill Curry in 1966 due to a shoulder injury, but regained it in the Super Bowl. That resilience was why Bowman was given the nod over Earp, who started out as a tackle with the Packers but moved to center his third year and played 11 seasons in all; and George Svendsen, who played only five years but made the NFL's 1930s All-Decade Team.