When tackles Bob Skoronski and Forrest Gregg were the bookends of the Green Bay Packers' offensive line during Vince Lombardi's three-peat, they were listed at 249 pounds, as well as at 6-foot-3 and 6-4, respectively.
For the 10 years, from 2000 until the Packers' Super Bowl season of 2010, the Packers' starting tackles were 6-5, 330-pound Chad Clifton and 6-4, 320-pound Mark Tauscher.
That's a 70- to 80-pound difference over a roughly 35- to 45-year span. In other words, it's like comparing Studebakers to Hummers.
Although Gregg was one of the three tackles named to the NFL's 75th Anniversary All-Time Team, there's no way he could have been playing a decade ago at his playing weight.
So in picking the Packers' all-time tackles, the criteria was strictly how players stacked up against others of their era, not how they'd do today, unlike positions like wide receiver, quarterback, cornerback and maybe a few others where that might have been a consideration.
Pro Football Hall of Famer and two-way tackle Cal Hubbard was chosen on defense and not considered, although he could have just as easily been picked on offense. Hubbard was selected on the NFL's 75th Anniversary All-Two-Way Team.
Current players weren't considered, either.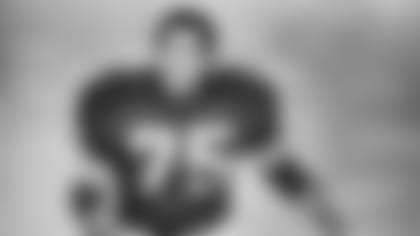 1.     Forrest Gregg (1956, 1958-70) – Gregg played 14 years in Green Bay before finishing his career in Dallas and was inducted into the Pro Football Hall of Fame in 1977, his first year of eligibility. He was placed in even more select company in 1994 when he was chosen for the 75th Anniversary Team, along with Roosevelt Brown (1953-65) of the New York Giants and Anthony Munoz (1980-92) of Cincinnati. Gregg played right tackle at a time when the best of the game's pass rushers played left defensive end, including Hall of Famers Gino Marchetti, Deacon Jones and Carl Eller. "He's great on pass protection," teammate Bart Starr once said of Gregg, "but where he separates himself from the other tackles is the way he hustles downfield for an extra block, even when the play goes the other way."
2.     Bob Skoronski (1956, 1959-68) –A little more than five years ago, Starr said Skoronski was the Packer from his era most deserving of being in the Hall of Fame who wasn't. Starr was to the point of even being indignant about it. "There's one of my teammates who I want you to promote more. That's Bob Skoronski," Starr told the Green Bay Press-Gazette in 2012. "Bob Skoronski deserves to be in the Hall of Fame, big time! On the other side Forrest Gregg is already in there. He went in when I did in 1977. Here's Bob Skoronski, blindside tackle for a right-handed quarterback, great! Our offensive captain. Fabulous player! He's not in the Hall of Fame. I'm very, very disappointed and I just hope more and more people will get on the backs of those who are and say, 'Look, we need this guy in here.' All I know is here's a person who in my humble opinion deserves to be in there. When I look at people who are selected and go in at similar positions, and they're in there and he isn't, I really get upset." At times during Lombardi's first six seasons, Skoronski split playing time at left tackle with Norm Masters, but he became an every-down starter when the Packers won three straight from 1965-67. Skoronski also played against two Hall of Famers: Doug Atkins and Andy Robustelli.
3.     Chad Clifton (2000-11) – Selected for two Pro Bowls, one more than Skoronski. Textbook pass blocker at left tackle after it had become the most valued position on the offensive line because of the overriding importance of the passing game over the past several decades. But Skoronski had a clear edge over Clifton as a run blocker, including being one of three linemen who pulled on Lombardi's famed power sweep.
4.     Greg Koch (1977-85) –The left tackle position started growing in importance about the time Koch broke into the league – pass blockers were permitted to extend their arms and open their hands starting in 1978 – but he played right tackle. It was a good fit. Koch, maybe more than any other tackle on this list, could knock people off the line of scrimmage. He also had the feet and athletic ability to be solid in pass protection. In the memorable 48-47 Monday night game in 1983, Koch started his first game ever at guard because the Packers needed someone with his strength to block Washington's 6-7, 295-pound defensive tackle Dave Butz. Obviously, Koch more than held his own. The Packers scored seven of the 10 times they had the ball.
5.     Ken Ruettgers (1985-96) – Gets the nod over Baby Ray, a four-time, first team all-pro who played from 1938-48 and was previously given consideration as one of the Packers' top defensive tackles. Right tackles Mark Tauscher (2000-10), Earl Dotson (1993-2002) and Dick Himes (1968-77), as well as Masters (1957-64), also were in the running. Ruettgers was the choice over both, largely because he played left tackle, a more demanding position in today's game. Ruettgers probably was just a notch below Clifton as a pass blocker and maybe better as a run blocker, although that wasn't his strong suit, either.