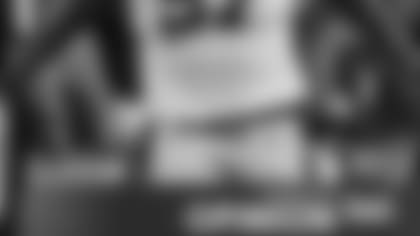 DE Johnny Jolly
Jake from Minneapolis, MN
Vic, what do you think about Mason Crosby for Comeback Player of the Year?
I don't equate a comeback from a temporary slump with a comeback from a wrecked life. I consider Johnny Jolly to be the very definition of a comeback player.
Vic, how about the Texas Tech at Oklahoma game last week? That was not only two top-15 teams, but two teams that have had a great rivalry within the Big 12 for the last 20-plus years.
How about Alabama 45, Tennessee 10; Florida State 49, N.C. State 17; Oregon 42, UCLA 14; Ohio State 63, Penn State 14; Baylor 59, Kansas 14; Auburn 45, FAU 10; LSU 48, Furman 16 (why is LSU scheduling Furman?); Texas A&M 56, Vanderbilt 24; Oklahoma State 58, Iowa State 27; Louisville 34, South Florida 3; UCF 62, UConn 17? By the way, I wonder what the TV rating for Texas Tech at Oklahoma was in the big cities? Does anybody in New York even know where those schools are?
I understand your point about playing soft at the end to avoid the quick score, but the Vikings' last two TD drives were 1:28 and 1:29. Playing it soft didn't seem to help there. Or were the Packers not playing it soft?
They need to play two-minute defense better, not stop playing it. The goal is to make them use clock as they drive the ball. The Packers didn't achieve their goal.
Scott from Lincoln City, OR
Vic, I just watched an NHL hockey game where a player took a stick to the face. He went to the bench, pulled out a tooth, handed it to a trainer, and never missed a shift. I think the NFL could survive without facemasks.
You can replace a tooth, but you can't replace a brain.
Chuck Bednarik
Dave from Culver City, CA
The NFL has become a way out for some of those on the lower end of the socio-economic scale and, as such, a thug culture has developed amongst some players, most notably Aldon Smith and, of course, Aaron Hernandez. Were there these types of players back in the 1960s and '70s?
I don't like the way you're using the word thug. A lot of the players who were stars in the old days came from similarly tough backgrounds. Chuck Bednarik was the son of immigrants and he grew up tough in a rock-hard steel town. Did that make him a thug? Johnny Unitas was also the son of immigrant parents. Unitas' father died when he was four years old and Unitas very definitely is a product of a socio-economically challenged mother. Did that make him a thug? I could go on and on. Football has always been played by men hardened by life. It's a popular saying that if football is the toughest thing you've ever done in your life, you have little chance of being good at it because you'll be playing against guys for whom football is one of the easiest and enjoyable things they've ever done. Hard times can define what's best about a person. Those people aren't thugs. Michael from Madison, WI
Vic, you only enjoy the Packers rivalry with the Vikings more than the Bears because you only know the post-Brett Favre Vikings rivalry. During Brett's time here, the Bears were the only division rivalry.
I know that and that's pretty much what I said. The two regular-season games against the Vikings last season and the first of the two games between the teams in 2011 were excellent. The regular-season finale last season is one of the best games I've ever covered. The four Packers-Bears games I've covered have been forgettable. That's all I'm saying.
So, in my hometown in Wisconsin there was this Bears bar, and every year they would paint the front door either green and gold or blue and orange, depending on who won the series that year. If it was a tie, the door would stay the same color. Well, you probably guessed it, but that bar went out of business because the Bears (lost most of the games). Every time the Packers beat the Bears, I imagine some Bears bar going out of business and that makes me happy, really happy.
It's a border war, Keith.
Vic, really? Take away a score for taunting? I think that's too much. How about giving a team the option of getting the ball at the 40-yard line or receiving a kickoff from the 5-yard line. Any ideas?
What's football without taunting, huh? Hey, this is America; it's what we do. I propose a new sport, Tauntball. The teams don't play a game, they just come out onto the field and taunt each other. They point at each other and yell insults at each other, then run at each other as though they're going to fight but, of course, somebody breaks it up. They do end zone dances and double-chinstrap pulls and taunt the crowd. It's three hours of feigned anger. I'll bet I could fill a stadium for that.
What keeps the wealthiest teams from overpaying for the best coaching talent? Are there salary limits for head or assistant coaches?
The wealthiest teams do overpay for the best coaching talent. Fortunately, there's an endless supply of good coaches, so the poorest teams can always find good coaches they can afford and can coach as well as the expensive coaches.
Jake from Chippewa Falls, WI
Vic, I know our defense has improved greatly, but are you concerned that we are struggling to take the ball away?
I'd rather not suffer the angst of concern during a four-game winning streak. Life's tough enough as it is without making the good times bad. First of all, what is the main goal of every offense in the league? Don't turn it over. So, right away, getting takeaways is a difficult thing to do. Nearly a third of the league at midseason is at single digits in takeaways. Twenty-three teams are in single digits in interceptions. On top of that, the Packers have the sixth-best time of possession in the league, and that means fewer plays for the defense to take the ball away. I think I wanna be happy today.
Vic, I get your point about bringing the safeties up but wouldn't that pretty much kill running the football?
No, because they'd turn and run at the snap of the ball; you can run them off with your receivers. Do you see what's happened by simply moving the safeties up? They're running with the ball, not into the ball. The safeties are the problem. They're being positioned deeper all the time. What we have created is a kickoff type of collision.
Sean from Vermontville, MI
Vic, Bears vs. Packers used to be THE rivalry, and you're right, now it's Vikings vs. Packers. I think this is likely because of the plethora of players that have departed Wisconsin and landed in Minnesota. What are your thoughts?
I think you're right. In recent years, Packers-Vikings has been fueled by a lot of controversy.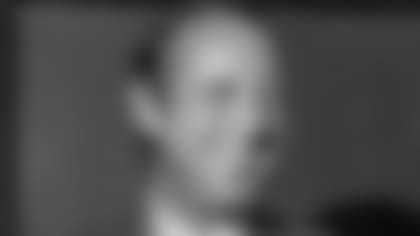 Pete Rozelle
Vic, I love the NFL Game Rewind service through nfl.com; I've seen so many games I wouldn't have otherwise seen. Will the NFL ever come up with something similar for historical games, or is the casual fan too dismissive of history for the league to think that would be profitable? I know I would pay a significant amount to be able to, say, watch a replay of the "Ice Bowl" online.
One of the smartest things Pete Rozelle did as commissioner was to protect the rights to those old games. You see old college games on ESPN Classic, but not NFL games. One day, there'll be a market for those games, and the NFL will tap into that market.
Corey from Yadkinville, NC
Vic, I liked what you said the other day about the Steelers being in their last gasp and the Packers being in their first during their Super Bowl matchup. Even though the Steelers are currently on the mend, is it not safe to say they typically only have a bad year, not bad years? Even in their off years, they are still fierce competitors, and that's what separates the good teams from the bad? Am I right?
Good franchises bounce back sooner and higher than bad franchises do. Porter from Marlborough, MA
What was your fondest memory of watching football in your early days?
It was watching my hometown high school play. I went to the practices as well as to the games. It was everything to me and our rival was the town across the river. I've told this story before so please forgive me for wanting to tell it again. I had to stay home from school because I was sick, and I couldn't go to the big game against our rival that night. It was a crushing blow for me, but it left me with one of my fondest memories. I sat on the porch that night and listened to the sounds coming from the direction of the glow in the sky. I "saw" our green and white lining up against their red and black, and I stared at the glow and listened to the bands play and the crowd scream, and by those sounds I knew exactly what was happening and what the final score was. When I heard the paper hit the front porch the next morning, I ran to the door, unfolded the paper to the sports section and stared at the score. It was just as I imagined.
For your readers who are a bit younger, could you explain to us how free agency has changed the game from what it was before?
It's added subtraction to the formula of building a roster. Prior to free agency, building a roster was almost exclusively about addition. You'd lose a player to age, but not to another team. Chuck Noll put it best. He retired following the 1991 season. When asked a few years later why he retired, he said he wasn't comfortable coaching in a league that every year produced a graduating class, which is a metaphor for departing free agents.