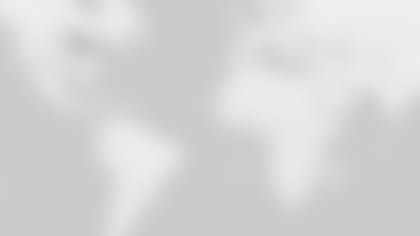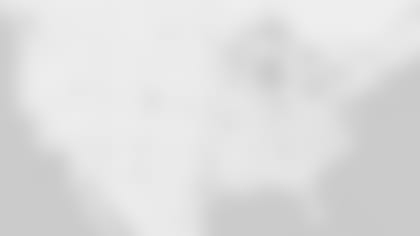 You said if the Packers win out they will win the division. Assuming they do win out, if the Lions won all but the final game of the season, both teams would be 13-3. How is the tiebreaker decided at that point?
The No. 3 tiebreaker, common games, would decide the NFC North title and the Packers would win it.
Taylor from Green Bay, WI
Aaron Rodgers' last 10 games at Lambeau: 26 touchdowns, no interceptions.
"Stats" Spofford spins it this way: "If you count the two most-recent playoff games at Lambeau (Minnesota and San Francisco) and don't count the Chicago game when he broke his collarbone in the first quarter, Rodgers has thrown 28 touchdown passes and no interceptions in his last 10 games at Lambeau." Folks, I think we have stumbled on the No. 1 reason we want the Packers to win homefield advantage for the playoffs. Lambeau is Rodgers' house.
Vic, I'm so proud to be a fan of this incredible franchise. I'm mostly proud because of how classy it is, from top to bottom, not just because it is winning right now. Is this one of the classiest franchises in all of sports?
Dave, you've pushed me to the edge of my objectivity. How stupid would I have to be to say my employer is not one of the classiest franchises in all of sports? Did you really expect an honest answer?
How hard must it have been for you in Jacksonville all those terrible seasons? Were you giddy when you got the Green Bay job?
I cherish my years in Jacksonville, just as I cherish my years covering the Packers and the Steelers. There isn't one year of my career I'd trade for a year anywhere else.
Matt from Little Chute, WI
If Lombardi came to Lambeau today and could choose one player on the current roster to take back with him to the 60's, who do you think he would take?
He'd take Aaron Rodgers, not because he needed him, but because Rodgers' talent and the importance of the position he plays provides value that should never be passed up. Even if you have Sammy Baugh, you don't pass on Johnny Unitas, because you don't give Unitas to someone else without making them pay for him.
Vic, I enjoyed the interview you did with Donald Driver. I have to say, he has been one of my favorite Packers of recent years. His class and love of the fans is evident in the way he presents himself. While I love (and I know you do, too) a mean MLB with a bloody nose, I also love a player who seems to connect to the fans as much as we feel we connect to the team. Anyways, love the column, and don't change it for anyone.
I think it's plain to see I enjoyed the interview, too.
Vic, what's the ambience like leading up to Sunday's matchup?
The day before a game at Lambeau Field is what makes Lambeau Field unique in this league. In other stadiums, the day before a game is quiet time. Nobody's there except the equipment people preparing the locker rooms. Lambeau Field, however, will be teeming with life today. Fans will pour into the Atrium. They'll take tours. They'll eat at Curly's. They'll just hang out to soak in the atmosphere. That's what I love most about Lambeau Field. It's much more than a place to play football. It's the place where Packers fans go to find their soul.
Thomas from Park Falls, WI
Vic, I know Green Bay and Rodgers are coming off a highlight-reel passing game, but I watched the Eagles' last game and they look light to me up front and at LB and mainly want to rush the passer. Isn't this the game to pound them into submission with Lacy and Starks?
That's the way I feel. The Eagles are a contemporary team. They are built for football as it is played today. Take them back in time. The Packers can do that. It's within their identity.
Vic, if you were in fan mode and not media mode, how would you go about preparing for a game? Would you enjoy a few beers and relax or would you be a ball of fire?
Do you follow college basketball? If so, what do you think of Bo Ryan? He seems to be your type of guy: East Coast, has an edge, recruits and develops, gets into the tournament every year.
He's a great coach and Wisconsin was the most entertaining team in last March's playoffs. College basketball is a better product than college football. It's a much better product.
"We're a young football team, and will be every year." It's what Coach McCarthy said. It made me smile.
Don't get old. Don't ever get old.
Terrance from Philadelphia, PA
Who do you think will win, Packers or Eagles?
You should play Madden; it will deepen your appreciation of the game.
I had one of those vibrating football games. The guy that invented it died a few years ago. I did not attend his funeral. My last act with his vibrating football game was kicking it across the living room. I think that game scarred me for life. Maybe that's why I won't play Madden.
We had a plan for ILB all along. Who would have thought?
Maybe they did have a plan.
Vic, I'm glad you decided to meet up with us on Saturdays. I always want eggs and bacon when I see the column's photo. What do you think about our starters getting to rest most of the second half in last week's game, while the Eagles had to play a Monday nighter. A significant factor in our favor?
I don't think it is because the Eagles have what might be the healthiest injury report for a game this late in the season I've ever seen. Aside from Nick Foles being out, the Eagles didn't even have as much as a "limited participation" on their report this week. The Packers are healthy, too. This game has a strong feel to it.