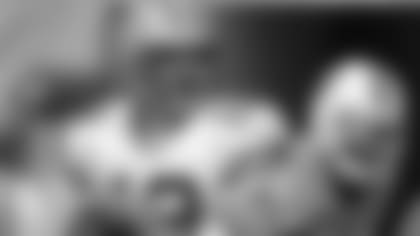 Above: Packers QB Aaron Rodgers tackles Bears LB Brian Urlacher on an INT return in the 2010 NFC Championship Game. Below: Back in 2009 at Tampa Bay, Rodgers threw the only pick-six of his pro career.
The regular writer of "Ask Vic," packers.com Editor Vic Ketchman, is taking some time off. Staff Writer Mike Spofford is temporarily filling in to answer your "Ask Vic" questions.
Matthews is now the highest-paid linebacker in the league. What a burden it must be for Thompson to pay big money to players because he hit home runs in the draft. How will the franchise survive with this wild and crazy management? Someone really needs to invent the sarcasm font.
Hey Mike, I was wondering your opinion on the contract the Packers gave Clay Matthews and the eventual contract they will give to Rodgers. Do you think we are overpaying them? I personally don't think we are, but some people claim we are giving are future away for a few players. What's your take?
Star players are the difference-makers in the NFL. That's been long-established. They need to be paid what they're worth, or they will play for someone else (and against you). I wouldn't want to see true superstars go elsewhere. How do you think the Eagles felt watching Reggie White win a Super Bowl in Green Bay? As for giving the future away for a few players, it's on the personnel and coaching staffs to draft and develop players around the superstars to avoid any true weak links. It probably puts more pressure on the draft-and-develop way, because that's how you build the rest of the roster with less money, but that's this team's MO anyway. If paying Matthews and Rodgers super-elite money adds to the challenge, I think this team is ready for that challenge.
Jani from Helsinki, Finland
Good job, Mike, holding the fort in Vic's absence. I've got a riddle for you and the fans: What do B.J. Raji, Ryan Pickett, Jermichael Finley, Clay Matthews, James Jones, Sam Shields, Morgan Burnett, Marshall Newhouse, Evan Dietrich-Smith, M.D. Jennings, John Kuhn, Mike Neal, C.J. Wilson, James Starks and Andrew Quarless all have in common? Answer: All will be free agents after this season. My question is, with a flattish cap, should we be concerned about the long-term continuity of the core of the team? Or can most of them realistically be re-signed?
Thanks, Jani. I think most of them can realistically be re-signed, and Matthews' contract is of course done. (Here's a link to yesterday's coverage.) But it's fruitless to project now, before the draft and next season play out, who might or might not be back. As Vic likes to say, it's a game of replacement, and depending on what happens next week and next season, I guarantee some on your list will be candidates to be replaced.
Tony from Colorado Springs, CO
I have gone through all of the box scores from games played by Aaron Rodgers, and in his career, he has thrown one pick-six (Tampa Bay, 2009). For everyone commenting about Rodgers taking too many sacks, I think this stat speaks volumes about the decision-making ability possessed by Rodgers and shouldn't be questioned by people watching on TV. What say you?
Not realizing that until I read your stat (which I have verified is accurate), I think it goes to show how that trait can be taken for granted. It also adds a nice nugget to the discussion of the Urlacher and New Orleans tackles from earlier this week. Since Rodgers became the starter in 2008, the Packers are tied for the fewest pick-sixes allowed in the league, with just two (Matt Flynn had one at New England in 2010). To no one's surprise, the other team with only two over the last five seasons is the Patriots.
Scott from Lincoln City, OR
Hi Mike. The 1996 Super Bowl team consisted of a number of free agent acquisitions: Sean Jones, Santana Dotson, Desmond Howard, Keith Jackson, Andre Rison, Eugene Robinson, Don Beebe, to name a few. I'm not proposing we go nuts on free agents. I just want a pounding running back. I wanted Marshawn Lynch back when he was available and I wanted to see us get Steven Jackson even more this offseason. I just think that is the one position that will help us the most in getting back to the Super Bowl. I know Vic's response to this. What do you think?
Not to nitpick too much, but Robinson was a trade acquisition in '96, not a free agent. Your point is clear, however, and I tend to agree. I'd like to see a power back to complement DuJuan Harris and form a productive tandem. Unlike Vic, I'm not a proponent of the workhorse back because the injury risk is too great and too much adjusting is needed if that workhorse goes down. But this offense could use a back that makes third-and-short, and a seven-point lead with four minutes to go, as close to automatic as they get.
What do you think of the Packers bringing in Steelers RFA Steve McLendon? He's 6-4, 325, and could be the big body we need on the D-line if he comes really cheap. The Steelers don't have a great cap and could be hard pressed to match any offer, plus we wouldn't have to give up a draft pick.
Many of you asked about McLendon, and I won't pretend to know anything more about him than various online scouting reports, but the visit speaks to what I've said all week about the defensive line. The Packers need reinforcements, and it sounds like McLendon could play the nose in the 3-4. The Packers have only Raji and/or Pickett there; Raji needs a new contract and Pickett may not play much longer. You answered the question Dan from Kelso, WA, had about the draft pick. McLendon was not drafted and was given the low tender by Pittsburgh, so there's no draft compensation if the Steelers don't match an offer. If the Packers make an offer – and there's no guarantee that'll happen, but the deadline is Friday – the Steelers will have to decide how badly they want to keep him and if they can fit him under a tight cap. He was supposedly in line to start as the replacement for Casey Hampton. This draft is also reportedly deep in defensive linemen, which will factor into the decision-making on both sides. (Afternoon update: The Steelers have announced they have re-signed McLendon to a three-year deal.)
Willie from Dodgeville, WI
Hey Mike, Vic stated once that each person is draft eligible once in their life. Could you explain then why Bo Jackson was available for the Raiders in the 1987 draft after having been drafted by the Buccaneers the year prior?
Jackson never signed a contract with Tampa Bay (or anyone else) after being the top pick in the 1986 draft. The Bucs held his rights for an entire year, but by not signing or trading Jackson, they forfeited his rights when the '87 draft came around, and Jackson went back in the draft. Had Jackson not been drafted at all in '87 (the Raiders took him in the seventh round), he would have become a free agent. I guess you could say that Jackson was eligible for the draft in '86, and because of how things unfolded, he was then subject to the draft in '87.
Adam from Kansas City, MO
Mike, if the discussions about where to put players on the draft board are finished beforehand, why do teams take so long to make a selection? Are teams having second thoughts? It seems like if your board was finished it would only take a second to cross off the last person selected and announce your selection.
Stephen has a thought on that.
I get the sense that when the Packers are on the clock they could give their selection in 30 seconds. It's simply the best player (in their opinion) that is left on their board. The reason teams take up the clock is they are simply waiting for the phone to ring from a team desperate enough to give them more than the pick is worth. Any truth to this?
Some. Trade feelers are constantly being sent back and forth, and a team will want to make sure it wants to take the player and not make the trade, or work on a better offer, before making anything official. Players at different positions can have equal or near-equal grades as well, and in that case, a final discussion can be had as to which position is the greater need, depending on what has transpired in the draft to that point.
Thomas from Dunkerton, IA
Mike, I see a lot of questions about the Packers' holes that need to be filled and all the draft picks the 49ers have. I would like to remind all the Chicken Littles out there of two things: First, SF hasn't won anything yet. It's only April and a lot will transpire between now and the end of January. Second, the Packers are getting the equivalent of four first-round picks this year. We will get back Bulaga, Sherrod and Perry plus this year's pick. Things aren't as dark as some would like to think.
No, they are not. That's a refreshing angle from which to view things. My only hesitation to completely buying into that line of thought is that players coming back from significant injuries are never sure things, but of course, neither are rookie draft picks.
Hey, Mike. If Barclay ends up looking like a viable long-term option at RT, do you think we could end up being 'set' on the OL with Bulaga going to LT? (Also, one advantage of not having your job: I got to leave that November 2008 debacle in New Orleans...for the very same reasons that you wanted to leave!)
The headache returns every time I even think about that Monday night at the Superdome. Dozens, if not hundreds, of you have asked this about the tackle position. I don't know if the Packers are considering a move with Bulaga, and I don't expect to know until the first open OTA practice in late May. That may be a tall order to switch positions at the same time he's coming off of a fractured hip. Any decisions very likely could depend on Sherrod's health, too, and what happens next week in the draft. It's too early. I think in a perfect world, the Packers would love to have Bulaga, Sherrod, Barclay and Newhouse all healthy and competing for the two starting tackle spots, maybe even with a draft pick thrown into the mix. The "losers" in the competition then cross-train at guard and become backups at multiple positions, because the interior depth is a little thin with Dietrich-Smith moving up to start at center full-time. But perfect worlds don't always materialize.
Hey Mike, I have to say you are doing an excellent job with the column in Vic's absence. Tell Vic I hope he's doing well. My question is how important is fortifying our safety position(s) in the draft with the loss of Collins in '11 and Woodson in '13? Should we set our hopes on draft or develop?
Thanks, and I will, along with all the other well wishes that have been sent. The answer to your question is both. If the right safety is there in the draft, the Packers should take him. They also need to continue to develop Jerron McMillian, M.D. Jennings and Sean Richardson in looking for the right pairing with Morgan Burnett, who has by no means hit his ceiling. With his experience, Burnett could become a real force on defense with the right partner. Usually four safeties are needed on a 53-man roster, so why not make sure all four can play, right?
Mike, can you explain the obsession with arm length when looking at offensive linemen?
Long arms allow a lineman to keep the pass rusher at a distance, or separate from him, as needed. They can also provide a counter to speed off the edge, because the rusher will have to circle wider. Arm length doesn't define a left or right tackle's success, but it doesn't hurt, and it's a physical attribute that can't be coached.
Mike, here's a theory on why the league keeps its formula for awarding supplemental picks secret: It prevents GMs from gaming the system by making transactions based in part on how it would affect potential supplemental picks. Plausible?
Mike: The NBA teams do this – trade a guy they've drafted in the first round to another team for their first-round draft pick. Has anyone in the history of the NFL done this?
If memory serves, that's how Eli Manning became a New York Giant and Philip Rivers ended up with the San Diego Chargers. Plus, the Chargers got some extra picks.
Paul from Kansas City, MO
How about defensive assistant coach Charles Woodson? If Charles ever decides to pursue a coaching career in the NFL, which I sincerely hope he does, how hard would that transition be and what would likely be his first job title? His knowledge of the game of football as well as his obvious ability to teach and lead makes it seem like an ideal career step if that is something he ever wanted to do.
I have no idea if Woodson is interested in coaching, and coaches are only good if they really love to coach. I don't mean to pick on anyone, but fans need to understand the commitment it takes to be an assistant coach in the NFL. The workdays are incredibly long. Coaches are away from their families more than players are. Coaching is an office grind as much as playing is a physical grind. A lot of former players get into coaching, obviously, but it's not for everyone.
Isn't the order of all the OTAs supposed to be the same for all teams? I see that the Packers are supposed to go through strength and conditioning for a week with no coaching contact, then to drill with coaches, whereas the Bears have started with drills and coaching.
Teams with new coaches get an extra minicamp that other teams don't get.
Daryl from Junction City, KS
This year's schedule looks great. We have plenty of quality teams to face that if we were to finish with 11-plus wins, it would be a great year. My question is what do you think of the scheduling of the division games at the end? I like having them spread out but having the last two games be divisional games.
I like the last one or two as division games. That works for me. It felt strange last year to have four of the last five, and five of the last seven, as division games, with only one division game in the first nine. That was too imbalanced. I'm hoping it was an anomaly.
Rick from Fountain Valley, CA
How about a little payback? San Francisco opened last season with a win at Green Bay (and also ended it beating us, too). So maybe we open against them in San Francisco this season? One way to ensure the players are tuned in!
I've been intently curious how the scheduling of that game will shake out. With the 49ers' current status, the Packers as a ratings draw, and the fact that it's a playoff rematch from last year, I would imagine there's been some wrangling amongst FOX, NBC and ESPN over who gets that game. I guess we'll find out tonight. Be sure to check packers.com at 7 p.m. CT everyone. We'll have the schedule and all the details posted then.