Bill from Staten Island, NY
The Packers seem to be running the ball with attitude; 145 yards last night and a time of possession nearly 11 minutes better than the Raiders. Sure looks like a recipe for success.
It's a recipe for success on a hot afternoon in Jacksonville on opening day. It's how you keep your defense fresh for the fourth quarter, when tanks will go empty and leg cramps will take their toll. On that kind of a day, it doesn't hurt to have a third running back to help keep Eddie Lacy and James Starks fresh, and John Crockett looked like that third back last night.
With Clay moving to outside, will we see a lot of movement so as to keep teams off guard?
Trick 'em? Rush 'em. Beat your man. Win your one-on-one. That's how you win.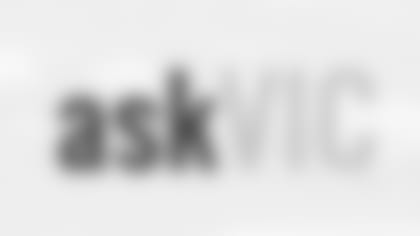 Jimmy from New Richmond, WI
Well, we heard how well Wes fared in high school dating. So what was your batting average with the ladies in high school?
Not much has been made in this column about the Packers' early bye this year. I feel a middle or late-season bye is preferable to heal injuries and rest for the playoffs. How can Ted and Mike use this to our advantage?
There was great wailing and whining about the early bye when the schedule was announced. Tell me when you'll have injuries to key players and I'll tell you when it's a good time for your bye.
I think self-deprecation is a mark of high intelligence and cunning. It shows you can understand your flaws and, at the same time, deflect some of the high expectations away from yourself. Ted Thompson is a genius but gives all the credit to the staff and players. That's a guy I would be inspired to work for.
I don't write this column, the readers do.
P.B. from Minneapolis, MN
If the regular season started this week, would Mortell unseat Masthay? Does a tie go to a veteran because of experience or to a rookie because he's cheaper?
There are no ties. All facts of the competition are weighed and one man is declared the winner. Such a competition remains the heart and soul of training camp and the preseason. Don't pick, watch. This is true drama. This is the human confrontation that defines the game.
Drake? Really? Wes, you might know football but your taste in music is horrible. I really hope you were being sarcastic.
Drake? What is he, a magic act? Never heard of him.
I did not follow the site much this spring and missed out on why Vic is not around. Can you give me a brief update?
Vic is only writing one column a week because:
B) He took a helicopter ride.
C) He's a cold-weather sissie.
D) It's a young man's game.
Vic, why does a ball carrier keep fighting when two or more players are pushing him backwards? Isn't he risking injury by doing so?
If he doesn't want to risk injury, why is he playing football? Your question is sincere, I'm sure, but it saddens me. The player-safety movement is creating a culture of softness. That might be the greatest threat to the game.

Thirty-eight days until the next home game. Is it too soon for the grow lights on the stadium turf now?
The grow lights are the groundhog predicting six more weeks of winter, except it's six more months.
I think Mike McCarthy is right to limit Aaron in the preseason. In this day and age, the preseason is for backups and building your roster.
Aaron Rodgers played pretty well in Chicago in the 2013 season finale, after sitting out nearly two months with a shoulder injury. He'll be ready to go in Jacksonville on opening day.
Lucas from Stevens Point, WI
I notice fans are sad to see John Kuhn go, as I am. I will never forget the low, booming "Kuuuuuuuuuhn" chant, but one legacy gives way to another. Get ready to hear "Rrrrriiiippppp."
How about "Perrrrrrr" for Perillo?
A big run for Lacy and Starks, both facilitated by big blocks out of the backfield by Ripkowski. Seems like he might pick up right where Kuhn left off?
It's a game of replacement.
What's your take on the Matthews and Peppers situation?
They'll talk to the league and that'll be the end of it.
Vic, last preseason you declared Eddie Lacy was ready. People are giving the same statement now. We know what happened last season. What is the difference this year?
Dave from Lake Zurich, IL
Could you explain the new injured reserve rule to your readers? Teams don't have to designate in advance which player will return to the active roster, if I'm understanding this correctly.
Previously, a player returning from injured reserve was required to have been designated for return when he was placed on injured reserve. That rule was changed this year; the designation is no longer required. Teams can now choose a player who's been on injured reserve for at least six weeks and activate him. Only one such move is permitted.
Vic, who had the biggest game last night? Anyone you think might have put themselves in a good position to make the 53?
Josh Hawkins didn't hurt himself. Interceptions are good. Can he follow up last night's performance with another one of that caliber? LaDarius Gunter did that last summer.
Derek from Eau Claire, WI
What words do you have for the student athletes who start their high school football schedule on Friday?
These are the best Fridays of your life. Remember everything. One day, you'll want to relive them.
Hate to say it, but if either Peppers or Matthews gets suspended next week, I'll be boycotting the NFL and I'll be doing everything I can on social media to create a groundswell to boycott the NFL until Roger Goodell steps down. How's that grab you?
It doesn't grab me. You need to calm down.
Andrew from La Crosse, WI
It's good to see Tavecchio is still kicking. I was worried about him.
Ah, yes, Giorgio "Don't Call Me Sergio" Tavecchio. Memories make us rich.
Do you foresee Lambeau Field ever having a retractable roof?