Packers team historian Cliff Christl is the author of "The Greatest Story in Sports," the definitive and comprehensive history of 100-plus years of Packers football, set to be published later this fall. In this weekly "Sneak preview" series, Cliff will provide various treats and tidbits from each of the book's 11 chapters.
A Bite of Text – (Bob Harlan) had experienced three coaching changes and the hiring of (Tom) Braatz in his various front-office roles over the previous 20 years. He had watched his predecessors exercise patience with the failed coaches of the past and then merely cling to the hope that the next one would be better than the last when they finally made a change. More recently, he was an eyewitness to the gridlock created by the 50-50 arrangement between Braatz and (Lindy) Infante. Harlan grasped what had become obvious even to the outside world over the previous five years or more: The Packers organization was in such a deep state of stagnation, it had become a victim of its own inertia. He knew, too, if he didn't act boldly and decisively, he would also become a victim of it.
Robbing the Databank – Mike Holmgren's record at Lambeau Field was 42-5 in the regular season and 5-0 in the postseason for a .904 winning percentage. Vince Lombardi's record there – what became Lambeau Field was named Green Bay City Stadium over Lombardi's first six seasons – was 28-7-1 in the regular season and 4-0 in the postseason for an .813 winning percentage.
A Secret to Share – Pundits and fans seem to have a difficult time grasping this, but Lombardi expressed the opinion both publicly and privately that nothing was more important in his role as general manager than getting rid of players. Obviously, that theory paid off for him. Nobody in the history of the NFL has been more successful over a decade's time than Lombardi was in the 1960s. More recently, Bill Belichick probably has put that philosophy to practice more than anyone in the game and has been far more successful than anyone who has overseen a football operation over the last two decades. At least to a degree, Ron Wolf was another who embraced that same philosophy. One of the first veterans he met with after becoming Packers general manager in late 1991 was linebacker Brian Noble. Wolf's message to Noble? "He said to me, 'You're not a great football player, but you are a solid football player. Somebody who can play the game. But realize this, you are here only until I can replace you,'" Noble said in a 2001 interview.
Memory to Cherish – The welcome home reception given to the Packers after winning Super Bowl XXXI. An estimated 100,000 people lined a five-mile parade route. Another 60,000 waited for hours in frigid weather to greet the team inside Lambeau Field. The itinerary called for the bus ride from the airport through downtown Green Bay and back to the west side and Lambeau Field to take 45 minutes. But with fans overflowing the parade route, it took closer to three hours.
Deathbed Moment – The 4-12 1991 season under Infante. It proved beyond a doubt that 1989 had been a fluke and it raised a red flag: How much longer could the losing continue before the Green Bay franchise would be in serious jeopardy? In the 24 years since Lombardi's last game as coach, the Packers had finished with a winning record only five times and had made the playoffs only twice.
If You Were a Fan – If you were a Packers fan living outside the team's home territory for regional television broadcasts, you got to see far more games in the 1990s than ever before. Starting in 1970 and through the 1990s, the NFL's marquee game of the week was ABC's Monday night telecast. Over the first 23 years of the broadcasts, ABC showed only 18 Packers games and a mere three that were played at Lambeau Field. From 1993 through the end of the decade, a span of seven seasons, the Packers appeared on Monday night 15 times.
Shattering Myths – It has been suggested that there was some conspiratorial reason why the Packers lost Super Bowl XXXII. That the game plan or game-day coaching decisions or whatever were what led to their downfall. The Packers got beat by Denver, 31-24, for one reason and one reason only. It was one of the worst defensive performances in Super Bowl history. Go back and watch a television replay, and you'll find the proof not in what game analysts Phil Simms, a former NFL quarterback, and Paul Maguire, a former linebacker, said, but what they didn't say when the Packers allowed Terrell Davis to score the game's final touchdown from a yard out without resistance. The Packers let Davis score with 1:42 remaining so they'd have time to try and force overtime, but neither Simms nor Maguire even speculated that was what had happened. Why? From the press box in Qualcomm Stadium, the Packers' effort on that run looked no different than it had on any other of Davis' runs since early in the game, and Maguire made that point on air. He simply said it was just another play where the Packers looked like they were out of gas and unable to get off their blocks. Most of Davis' 157 yards on 30 carries were gained against defenders who had the hit proverbial wall because of age or being out of shape as early as the first quarter.
Best Player – Brett Favre. He became the first player in NFL history to win the Associated Press most valuable player award three straight years. He was honored from 1995-97, although he shared the award with Barry Sanders the last year.
Overlooked by History – Dominic Olejniczak and Robert Parins, who served as Packers presidents from 1958 to 1989, take most of the flak for the team's dreadful 24-year drought. Some of the criticism is justified. But if not for their frugal guardianship of the franchise during a time when the football team was being ineptly run by Phil Bengtson, Dan Devine, Bart Starr, Forrest Gregg and Infante, the Packers wouldn't have been in position to bid for Wolf and Holmgren, and then win the Reggie White sweepstakes. Granted Olejniczak and Parins were running the Packers when those five coaches from the 1970s and '80s were hired, but the corporation's net worth also ballooned from $289,404 to $25.9 million under their watch.
Among the Chapter's Rare Photos – Favre's celebration after throwing his game-winning touchdown pass to Kitrick Taylor in his coming-out moment on Sept. 20, 1992, was taken by John Robb of the Green Bay Press-Gazette and leads off the chapter on the 1990s as a full-page, color photo. Taylor's celebration of the only TD pass of his career was taken by the Press-Gazette's John Roemer and also appears as a full-page color photo.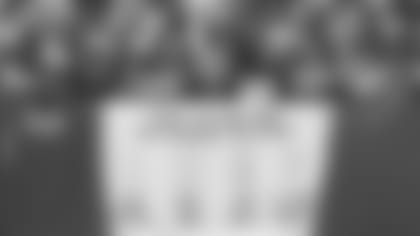 A Picture Worth 1,000 Words – The fan who drew the above sign left out Harlan but couldn't have done a better job of artistically capturing the reasons for the resurgence of the Packers in the 1990s.
Biggest Game – After winning the first two Super Bowls, the Packers waited 29 years to win their next one. Their 35-21 victory over New England in Super Bowl XXXI was an achievement that many thought would never happen again. What Harlan, Wolf and Holmgren accomplished in their first five years together was one of the most remarkable turnabouts in pro sports history.
Unsung Hero – Mike Reinfeldt, a native of Baraboo, Wis., and a four-year starter on the last of the UW-Milwaukee football teams, was hired in late 1990 to be the Packers' first chief financial officer. Over the next 30 months, Reinfeldt served as Harlan's go-between in luring Wolf to Green Bay to take over as general manager, and he also handled the negotiations that resulted in White becoming a Packer.
Center of Controversy – The Favre trade. Giving up a No. 1 draft pick for a player taken in the second round a year earlier who had spent his rookie season sitting on the bench was greeted by a barrage of criticism. One fan mailed Wolf a letter with a sketch of a middle finger and asked, "What the (obscenity) are you doing?"
Only in Green Bay – The Packers held their first Family Night in 1999, Ray Rhodes' only season as coach, and drew a crowd of 46,420 for a controlled scrimmage as part of an evening practice.
Sadly, but True – Economics forced the Packers to discontinue playing part of their home schedule in Milwaukee's County Stadium after the 1994 season, but if not for the fans of that city Green Bay almost certainly would have lost its team around the same time that Portsmouth, Ohio, did, during the depths of the Great Depression. In appreciation for Milwaukee's years of support, Harlan made sure fans there would get tickets to games in Green Bay from that point forward.
Would You Believe? – In November 1990 after the Packers had won three straight games to climb over .500 a year after finishing 10-6, fans voted Infante the best coach in franchise history. In a call-in poll conducted by WFRV-TV, Infante received 40 percent of the vote compared to 32 percent for Lombardi and 28 percent for Curly Lambeau. Lombardi and Lambeau won a combined 11 NFL championships. Infante's 1990 Packers would then lose five straight games and finish 6-10. He was fired a year later with a 24-40 record. Only Lisle Blackburn, Gene Ronzani and Scooter McLean had worse records in their years as Packers coach.
Rescued from Oblivion – How could Atlanta Journal-Constitution beat writer Len Pasquarelli see in Brett Favre what Falcons coach Jerry Glanville was blind to? In late July 1991, before Favre's rookie year, Atlanta and Seattle met in a controlled scrimmage before a crowd of more than 22,000 in Portland, Ore. Wowed by Favre's two touchdown passes in the scrimmage and three more of 35 yards each in seven-on-seven drills, Pasquarelli wrote, "Twenty years from now, when it will have grown – as nearly all his athletic exploits do – into the stuff of legend, folks in the Mississippi backwoods will sit in their front-porch rocking chairs and retell the story of Brett Favre's first touchdown pass in the NFL." Oblivious to Favre's potential and what Pasquarelli had witnessed, Glanville became the victim of a Wolf trade that ranks among the worst in NFL history on his part. In fact, discount the draft pick hauls from the John Hadl and Herschel Walker heists, and Wolf's acquisition of Favre was arguably the best trade ever.
A Life of Mystery – Desmond Howard, MVP of Super Bowl XXXI. Drafted by Washington as the fourth overall pick in 1992, he lasted three seasons there and didn't return a single punt or kickoff in 1994. Washington made Howard available in the 1995 expansion draft, and he was selected by Jacksonville, where he lasted one season. Still on the street in July 1996, and drawing little interest from other teams, Howard accepted Wolf's offer and signed a modest contract with the Packers. A one-season wonder, Howard led the NFL in punt returns in 1996 with a 15.1 average. He also averaged 20.9 yards on kickoff returns in the regular season, then 30.8 yards in the postseason, including his 99-yarder in the Super Bowl. Howard returned to Green Bay briefly in 1999 and also played with Oakland and Detroit, but he never returned another punt or kickoff in the playoffs.
A Quote to Remember – "My football friends (were) telling me I was headed for the Pro Football Graveyard," Wolf wrote in his book, "The Packer Way," referring to his decision to become the team's general manager in late 1991.