Packers team historian Cliff Christl is the author of "The Greatest Story in Sports," the definitive and comprehensive history of 100-plus years of Packers football, set to be published later this fall. In this weekly "Sneak preview" series, Cliff will provide various treats and tidbits from each of the book's 11 chapters.
A Picture Worth 1,000 Words – Is there another photo that has been taken of any other sport, any other league, any other team that serves as a better testament to the loyalty and passion of one's fans than this one of Packers fans?
A Bite of Text – Three days after the Packers clinched the West and assured Green Bay of hosting an NFL Championship Game for the first time in its history, more than 100 local businessmen and women gathered for breakfast at the Beaumont Hotel and presumptuously adopted a new nickname for the city: Titletown, U.S.A.
Robbing the Databank – It's hard to imagine any team in NFL history coming closer to perfection than the Packers when they beat Philadelphia, 49-0, in 1962. They outgained the Eagles, 628 yards to 54. Their edge in first downs was 37 to three. Their seven scoring drives covered 86, 89, 85, 76, 71, 66 and 65 yards.
A Secret to Share – President John F. Kennedy didn't need to intercede to get Paul Hornung a pass to play in the 1961 NFL championship. Hornung already was granted a leave that would have started on Dec. 27. However, that would have limited him to three days of practice. Vince Lombardi wanted Hornung to practice all week. And what did "The Golden Boy" do upon his arrival in Green Bay with Kennedy's apparent help? Found a date for the city's annual Charity Ball.
Memory to Cherish – Bart Starr's game-winning quarterback sneak with 13 seconds remaining in the Ice Bowl. It's the most famous play in Packers history; it might be the most famous play in NFL history.
Deathbed Moment – In the summer of 1961, when Federal Judge Allan K. Grim of Philadelphia voided the single-network television deal negotiated by NFL commissioner Pete Rozelle. Fortunately, months later, Congress passed and Kennedy signed a television sports bill that essentially allowed for revenue sharing, assuring the Packers of the same take as the other teams in the league from TV's pot of gold. Had the bill not passed, the Packers might not be in existence today. After all, there was a point in the process where club owners and TV executives discussed how it might be less expensive to telecast a home game of the Chicago Bears into the Wisconsin area than to air Packers road games.
If You Were a Fan – At least 10 times during the 1960s, and maybe even more often, crowds of thousands greeted the victorious Packers upon their return home to Green Bay's Austin Straubel Field after big victories. The largest crowd, estimated at 15,000, was at the airport when the Packers returned from Dallas at midnight following their victory in the 1966 NFL championship.
Shattering Myths – Lombardi's power sweep was his signature play. His version of it was created solely by him, according to Phil Bengtson, who coached in the NFL for nearly 25 years starting in 1951, and it was unique first to the New York Giants – where Lombardi was an assistant – and then to the Packers, according to Red Cochran, who spent nearly 50 years in the NFL as a player, coach and scout starting in 1947. Maybe as much 90 percent of the time, according to coaches and players from the Lombardi era, the play was run to the right. The call in the huddle was "Red Right 49." In the words of Lombardi "the halfback is the ball carrier." That was true even if the power sweep was run to the left. That's not to say fullback Jim Taylor never ran the power sweep. There were plays in sight of the goal line and plays from a rarely used "Green" formation where the halfback and fullback flipflopped and Taylor ran the power sweep. But for the most part in Lombardi's offense, the fullback ran primarily to the weak side, including a weak-side sweep, where either Max McGee or Boyd Dowler moved closer to the tackle and had to exercise the tight end's block. For that reason alone, the weak-side sweep wasn't a staple of Lombardi's offense. Yet the Pro Football Hall of Fame and NFL Films in segments on the power sweep leave the impression that Taylor ran the play as much as Hornung, if not more, and incorrectly refer to plays as the power sweep that weren't.
Best Player – Paul Hornung. "He is the greatest player I've ever coached," Lombardi said in a speech in 1967 before his final season as coach of the Packers. In 1959, Hornung also was the player that Lombardi built his offense around. "In my offensive patterns, the left halfback is the key operative," said Lombardi. Who would know better?
Overlooked by History – The 1960s Packers are the only team in the history of the NFL to win five championships in a decade and the only team in the 87-year history of the NFL playoffs to win three straight championships. Interestingly, the only player from those Packers teams among the 100 chosen for the NFL's All-Centennial team was Forrest Gregg.
Among the Chapter's Rare Photos – A full-page color photo of Lombardi from the Art Shay Archives. Shay was a renowned photographer for Life, Time and Sports Illustrated magazines.
Biggest Game – Is there any other choice than the Ice Bowl? Actually, there was: the 1961 NFL Championship Game. The Packers had won six titles by then, but had never hosted a championship in Green Bay. The genuine anticipation showed by fans in the weeks prior to the game might have been unmatched in Packers history. But, then again, the Ice Bowl symbolizes the Packers like no other game.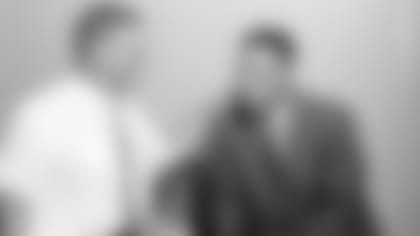 Unsung Hero – Emlen Tunnell held the NFL record for career interceptions when Lombardi purchased him from the Giants in 1959. Tunnell also was somewhere between 35 and 37 years old – "it's between the Lord and Emlen how old he is," Lombardi once said – when he started at safety on Lombardi's first conference championship team in 1960. But Tunnell's bigger contribution was as a team leader. In essence, Lombardi brought him to Green Bay not only to bolster his defense but to be a de facto assistant coach when there were no Black assistants in the league. Next to Lombardi, Tunnell might have had more to do with the Packers' turnaround from 1-10-1 to title contender than any other leader in the organization.
Center of Controversy – Don Chandler's 22-yard, game-tying field goal against the Baltimore Colts in a Western Conference playoff at Lambeau Field in 1965 that led to a game-winning field goal by Chandler in overtime. The Colts claimed Chandler's 22-yarder was wide right. There's a picture in "The Greatest Story of Sports" of Chandler throwing his head back in disgust after kicking the ball. ABC produced a TV special with a stop-action camera that it said showed the ball didn't go through the uprights. Fifty-six years later, the controversy continues.
Only in Green Bay – After the Packers held off Dallas, 34-27, to win the 1966 NFL championship at the Cotton Bowl in Texas, a group of Packers fans broke into Lambeau Field more than 1,000 miles away, tore down a goal post and carried part of it out to a truck in the parking lot and vanished into the night.
Sadly, but True – In 1977, Don Smith, then director of public relations for the Pro Football Hall of Fame, said in a release that Vince Lombardi wrote in his book, "Run to Daylight," that "Forrest Gregg is the finest player I ever coached." Read the book and there's no such statement in it. Nothing even close. Nor is there any credible evidence that Lombardi ever publicly made that statement or anything close to it in reference to Gregg. What Smith did was put words in the mouth of one of its Hall of Fame coaches, Lombardi, and after he died to boot; bestowed on another of its Hall of Famers, Gregg, a false label; and has deprived a third Hall of Famer of getting the credit he's due because, in fact, Lombardi in a public forum declared Hornung was the greatest player he ever coached.
Would You Believe? – When fans organized "Hawg Hanner Day" in 1962 to honor one of the team's most popular players, they gave the former Arkansas Razorback a live pig compliments of Gillett, Wis., farmer John Fisher.
Rescued from Oblivion – Following Curly Lambeau's death in June 1965, legions of local citizens took up the cause to rename Green Bay City Stadium in honor of the Packers' co-founder and longtime coach. But they encountered fierce resistance from Green Bay's mayor, the city council and the Green Bay Stadium Commission, as well as complete silence from the Packers. In truth, Lombardi was opposed to the idea and nobody in Green Bay was willing to stand up to him. Thanks in large part to four members of the Green Bay Press-Gazette staff – sports editor Art Daley, sports columnist Len Wagner, advertising director Jack Yuenger, and his brother and managing editor Dave Yuenger – the average citizens prevailed. As the Packers' executive committee and board members stood on the sidelines of the debate, those four men relentlessly pressured local and Packers officials to name the then 8-year-old stadium in honor of Lambeau.
A Life of Mystery – Lamar McHan was a former single-wing tailback at Arkansas who had finished ninth in Heisman Trophy voting in 1953. He was clearly a better athlete and had a better arm than Starr. Lombardi picked him as his starter in 1959; then reinserted him as his starter when Starr had a bad game in the 1960 opener. But McHan was a head case. His career in Green Bay all but ended with a sideline blowup, a plane ride home where he had too much to drink and an ugly confrontation with Lombardi in a Green Bay supper club that same evening.
A Quote to Remember – "Whenever racial questions are discussed by NFL players, the subject of the Packers arises," Jack Olsen of Sports Illustrated wrote in 1968 in a segment of his five-part series titled "The Black Athlete – A Shameful Story." "In a league beset with racial confrontations, the Packer players get along. Success has something to do with this; a winner always finds life more pleasant than a loser. But more to the point is the attitude of the Packers' remarkable Vince Lombardi."