Packers team historian Cliff Christl is the author of "The Greatest Story in Sports," the definitive and comprehensive history of 100-plus years of Packers football, set to be published later this fall. In this weekly "Sneak preview" series, Cliff will provide various treats and tidbits from each of the book's 11 chapters.
A Bite of Text – The wellsprings of the original Packers were the high school football teams at Green Bay East and Green Bay West. For all practical purposes, the first Packers team was a combined East and West alumni team.
Robbing the Databank – Of the 25 players who appeared in at least one game for the 1919 Packers, 16 played at East or West high school, including four of Curly Lambeau's teammates and seven who played for West and against him in high school.
A Secret to Share – Jennings Gallagher, one of the original Packers, was a year behind Lambeau in high school and led West to three victories over East in four years. While Lambeau is one of the most recognizable names in pro football history, Gallagher's body was thrown in a potter's field when he died.
Memory to Cherish – Halfback Gus Rosenow playing his heart out, despite missing his left arm from about his elbow down.
Deathbed Moment – The Packers played their games their first season in an open area of Hagemeister Park with no fence or bleachers. The only way they could raise money was for co-founder George Whitney Calhoun to pass a hat among spectators, hoping to collect enough spare change to play another day.
If You Were a Fan – Fans were welcome to ride on the same train as the players to the three road games that first season. The first was played in Ishpeming, Mich., and the train left at 12:45 Sunday morning. On the return trip after the game, the Press-Gazette reported the traveling party was about $800 richer from wagers with the home team's backers.
Shattering Myths – Unfortunately, a number of books and stories have gotten more wrong than right about the early history of the Packers and their co-founders, Lambeau and Calhoun, so there was much to dispel. The team was organized in 1919, not 1918 or even earlier as some have claimed. There's no record of who attended the first meeting on Aug. 11, 1919, or what was accomplished, despite what some have written. Contrary to lore, the Green Bay Press-Gazette made no announcement in advance of the first meeting and actually revealed months in advance that plans for the team were already in the works. Lambeau never enrolled or checked out equipment to play freshman football at the University of Wisconsin in the fall of 1917. Plus, he started working at the Indian Packing plant before he left for Notre Dame in 1918, not after he dropped out of school late in the first semester. As for Calhoun, he wasn't sports editor of the Press-Gazette; he was city editor in 1919. Finally, Lambeau didn't grow up at 1205 Cherry Street, as at least two books have stated. The Lambeaus were an itinerant family – they lived at six addresses at the very least by the time Curly was a sophomore in high school – but no record could be found of them ever living on Cherry Street.
Best Player – Lambeau. He was team captain and had few peers as a passer. "He could hit a dime at 40 yards," said teammate Fritz Gavin.
Overlooked by History – For almost 50 years now, the original Packers have been largely neglected. Recognized at games and other special events over the team's first five decades, they have received scant mention since the death of the last survivor in 1974. For whatever reason, the focus turned to those who played on Green Bay's early and disjointed neighborhood and town teams instead. Some of the original Packers played on those teams, but there was no other connection between them and the countless sandlot players in Green Bay who preceded them. The first chapter of "The Greatest Story in Sports" includes brief bios of the 25 original Packers, the players who truly made history.
Among the Chapter's Rare Photos – LaTour family pictures, including Curly as a young boy; his mother, Mary, and four of her sisters; and his dad, Marcel, holding a cigar and sitting next to brother-in-law Oliver LaTour.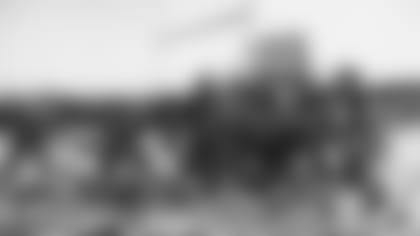 A Picture Worth 1,000 Words – Again, a number of photos from the early 1900s have been incorrectly tied to the early Packers, not only in books but also archival collections. There's no better example of that than the above photo, which has been misidentified as an action shot of an early Packers game. In fact, Mears Online Auctions advertised it in 2011 as a 1921 photo and "the earliest action image of Lambeau known" and sold it for more than $4,500, only to have to refund the money. Actually, this was a photo of a high school football game between Marinette and Watertown, played in Green Bay in 1917 and promoted by Calhoun shortly after he joined the Press-Gazette staff as a state high school football championship. Proof of the photo's origin can be found on page 100 of "Snapshots," Green Bay West's 1918 yearbook.
Biggest Game – What else but the Packers' first game? The record books tell us it was played Sept. 14, 1919, against the Menominee (Mich.) North End Athletic Club. However, the Menominee Herald-Leader said the team was from its twin city, Marinette, Wis., and was named Leannah's Colts. The Marinette Eagle-Star identified it as a team from the city's second ward.
Unsung Hero – Frank Lester Peck, president of the Indian Packing Co., provided the seed money to start the team in 1919. A native of Pittsfield, Mass., Peck's stay in Green Bay was short, but he was active in the community and outspoken about what Green Bay needed to do to spawn economic growth.
Center of Controversy – The Packers' only loss was to Beloit, 6-0, and it might have been the most controversial game in their history until the "Fail Mary" game 93 years later. "Champions Are Robbed of Victory by Referee Zabel in Rough Battle; Three Touchdowns Taken Away," screamed a subhead in the next day's Press-Gazette.
Only in Green Bay – Smaller than six other cities in Wisconsin in 1919, including Superior and Oshkosh, Green Bay joins Milwaukee as the only other state city in the big leagues of today.
Sadly, but True – Victor Lambeau, Curly's paternal grandfather who had arrived in Green Bay from Belgium in 1873, shot his wife in the jaw 18 years later at a Green Bay street corner, and then shot himself in the head. He died; his wife survived.
Would You Believe? – The biggest home crowd that Lambeau played in front of in 1919 was a baseball game. In early August, he played left field for the Green Bay All-Stars and went 3-for-4 in a loss to a U.S. Navy team. The crowd was estimated at 2,000.
Rescued from Oblivion – Bill Ryan, teacher and football coach at Green Bay West, was the first coach of the Packers in 1919.
A Life of Mystery – Walter Calhoun. Was he 36 or 23 when he married Emmeline Henshaw Whitney, George Calhoun's mother? Was his work as a civil engineer the reason he seemed to spend much of his life separated from his wife and only son?
A Quote to Remember – "When I first went to a Packer game there were no stands. They used to have a rope to keep people off the field. But there used to be a lot of belligerent and enthusiastic fans, and they'd end up tackling the damn opposition. This was very crude football." Kenneth Kaye, 8-year-old fan in 1919 who grew up not far from Hagemeister Park.