Packers team historian Cliff Christl is the author of "The Greatest Story in Sports," the definitive and comprehensive history of 100-plus years of Packers football, set to be published later this fall. In this weekly "Sneak preview" series, Cliff will provide various treats and tidbits from each of the book's 11 chapters.
A Picture Worth 1,000 Words – It's a story that hasn't been told before, based on a newspapers.com search, and it might explain the look on coach Lindy Infante's face (above) when the 1989 draft ended. Just short of three weeks before the Packers chose Tony Mandarich with the second overall selection, Oklahoma State running back Barry Sanders was declared eligible for that year's draft. Eight days later, the Packers were one of no more than 10 teams invited to attend Sanders' personal workout for selected scouts in Stillwater, Okla. It was there where he was clocked at 4.39 and 4.43 in the 40-yard dash and created enough of a stir to be considered in the top five, maybe even one of the top two picks when the draft kicked off on April 23. However, the Packers scout assigned to attend Sanders' workout never made it, according to a member of the Packers' football operation at the time. Ron Wolf, then scouting for the Raiders, said he had heard the same story but a slightly different version. He was told the Packers scout had taken his dog with him on the trip, got delayed and showed up late, although he didn't know how late.
A Bite of Text – When asked by (The Milwaukee) Journal in October 1986 if his main purpose for cleaning house was to guard against losing his team (Forrest) Gregg replied, "You bet your sweet apple pie it was."
Robbing the Databank – In Bart Starr's nine seasons as coach, the Packers were 2-27 against teams that finished with 10 wins or more and 13-47-1 against teams that finished with a winning record. In 1986, Gregg's third season as coach, the Packers went 0-5 at Lambeau Field and scored only three touchdowns in those five losses. They scored on passes of 5, 6 and 3 yards. Yes!!! If you had attended all five home games at Lambeau that year, you would not have witnessed a Packers touchdown of longer than six yards. Under Infante, the Packers suffered through two seven-game losing streaks and another seven-game streak, where he was the coach for five of the losses and Gregg for the other two. Only Curly Lambeau suffered a longer losing streak as Packers coach. He lost a record nine straight from 1948-49.
A Secret to Share – It seems safe to write that most fans who witnessed the Packers' 48-47 victory over Washington in a nationally televised Monday night game in 1983 have never forgotten it. But how many remember the Packers' previous Monday night showing three weeks earlier against a New York Giants team that would finish 3-12-1? The Packers lost that one, 27-3, as announcers Frank Gifford, Howard Cosell and Don Meredith mocked their performance throughout the game and wondered if Vince Lombardi wasn't turning over in his grave, only miles away from Giants Stadium.
Memory to Cherish – When the Packers overcame a 10-0 deficit to beat Detroit, 31-17, in the final home game in 1981, Starr gathered his players at midfield and said, "Now, go say thank you to the fans." In one of those only-in-Lambeau moments, players and coaches headed to different parts of the stadium to grab hands and express their appreciation for the fans' support.
Deathbed Moment – In May 1987, 19 years into the post-Lombardi drought, Frank Deford, arguably the most respected sports journalist of that time, concluded in a story for Sports Illustrated: "The answer to Green Bay's dilemma is simple. It should sell the franchise to Milwaukee for $60 million or whatever." At the time, Packers fan were disenchanted with years of losing football and off-the-field issues that were staining the reputation of not only the franchise, but also its home city. Plus, more and more draft prospects were letting it be known that they wanted nothing to do with playing in Green Bay.
If You Were a Fan – If you were a season-ticket holder in the late 1980s, if not well before that, you probably couldn't give your tickets away, much less sell them, when you couldn't make it to a game. In 1986, for example, the Packers averaged an unprecedented 5,500 no-shows for their seven home games, including 9,113 for the rival Vikings on an almost ideal, 32-degree early December day. Before the game, Boots Baker, owner of the King's X, a longtime hangout for Packers fans on Green Bay's N. Broadway St., had a customer drop off 13 tickets he couldn't sell. "What can I do with them?" the ticket owner asked. "I said, 'Got a fireplace?'" Baker told the Press-Gazette.
Shattering Myths – One of the misconceptions perpetuated even by some of the team's own offensive players is that the Packers of the early 1980s were an offensive juggernaut victimized by a lousy defense. Granted, during the four years that coordinator Bob Schnelker ran the offense, it finished in the top 10 twice in total yards. In 1983, Starr's last season as coach, the offense finished second and in 1984, Gregg's first season as coach, it finished sixth. But in 1981 and '82, John Meyer's second and third seasons as defensive coordinator, the Packers finished ninth and eighth in team defense compared to 23rd and 12th in offense. In fact, in Starr's nine years as coach, the offense ranked higher than the defense only twice.
Best Player – James Lofton set team records for most career receptions and most receiving yards. He still holds the Packers' record for most games with 100 or more yards gained on receptions. He did it 32 times in his seven seasons with the Packers. His average gain on his 530 catches in Green Bay was 18.2 yards. Among the Packers' eight Pro Bowl receivers since Lofton, Javon Walker's 15.6 career average in Green Bay was the best. The only other two to surpass the 15-yard mark were Antonio Freeman and Greg Jennings.
Overlooked by History – The B Team which represented the Packers for three strike-replacement games in 1987. In a season where the regular team was 3-8-1, the B Team was 2-1 and embraced by victory-starved Packers fans, who stood and chanted, "B Team, B Team, B Team," after a 16-10 win over the Eagles on Oct. 18 at Lambeau Field. The strike had been settled two days earlier, and fans knew it was the B Team's last game. But they were none too excited about welcoming the A Team back. After all, it was in the midst of a 13-game losing streak at Lambeau Field.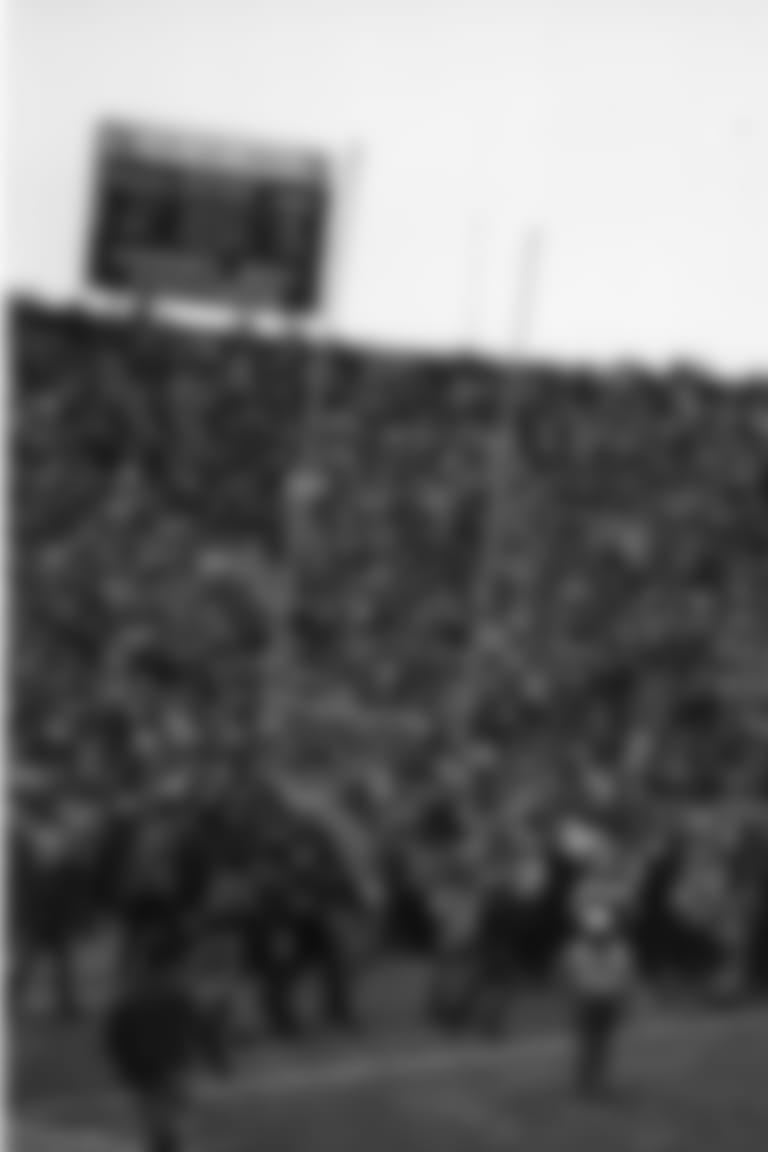 Among the Chapter's Rare Photos – By 1982, fans were so desperate for a winning season that they created a "Mardi Gras atmosphere" in the words of the Green Bay Press-Gazette when the Packers crushed the St. Louis Cardinals, 41-16, in the first round of what was called a Super Bowl Tournament following that strike-shortened season. It was the only postseason game played at Lambeau Field between the 1967 Ice Bowl and 1994 wild-card playoff against Detroit. Although the game wasn't a sellout and, thus, wasn't televised in Green Bay, euphoric fans who were there tore down the goal posts in celebration of the victory.
Biggest Game – On Oct. 17, 1983, the Packers outlasted defending Super Bowl champion Washington, 48-47, in the highest scoring game in team history and also in the 14 years that ABC had been telecasting Monday night NFL games. Along with scoring 95 points, the teams combined for 1,025 net yards, 771 net passing yards and 56 first downs.  
Unsung Hero – Dick Corrick ran the Packers' personnel department from 1978 through 1986, although Gregg usurped some of his authority at the end. In Corrick's first year, the Packers hit the jackpot on their first two choices: Lofton and linebacker John Anderson. A year later, he was the one who pushed to take running back Eddie Lee Ivery, who appeared destined for stardom until two knee injuries derailed his career. Highly respected in the scouting world, Corrick subsequently favored drafting Ronnie Lott over Rich Campbell in 1981, and guard Ron Solt or quarterback Boomer Esiason over defensive end Alphonso Carreker in 1984. Before the Packers traded up to get the seventh overall choice and draft tackle Ken Ruettgers in 1985, Corrick had his eye on wide receiver Jerry Rice as an alternative choice. However, Corrick's biggest failing was that he couldn't get Starr or Gregg to listen to him.
Center of Controversy – When the Packers' board of directors met two days after the 1980 season to discuss Starr's future after six seasons as coach and general manager, 38 of 45 members were in attendance in what may have been the most contentious board meeting since 1949. Years later, Jack Koeppler said it was as "ugly" as any meeting he had attended in his 35 years on the board. Executive committee member Robert Parins offered a motion to extend Starr's contract for both positions, despite his 31-57-2 record after six seasons. But 19 board members spoke during the meeting in opposition to the executive committee's proposal and a compromise was reached, where Starr remained head coach but was stripped of his GM title.
Only in Green Bay – Up until 1982, Packers fans were allowed to carry cans and coolers into Lambeau Field. It was the only stadium in the league where that was allowed. Then out of concern for the increasing unruliness of Lambeau crowds, the Green Bay City Council passed a more restrictive ordinance that August. However, it still allowed fans to carry in thermos bottles, wineskins and soft containers with alcohol in them.
Sadly, but True – When the Packers lost to Denver, 38-0, in their final preseason game in 1980, Starr told the media afterward that a fan had spit and poured beer on him when he entered the north ramp at Lambeau Field after the game. Within days, a roof was installed over what had been an uncovered section near the ramp.
Would You Believe? – In the 10th round of the 1983 draft, Starr selected Jimmy Thomas, a basketball player at Indiana University, on the recommendation of Bob Knight. Still on the board at the time was University of Wisconsin and three-time all-Big Ten nose tackle Tim Krumrie, a native of Mondovi, Wis. Thomas, who was projected as a cornerback, elected to play basketball in the LA Summer Pro League. Krumrie, who was drafted by Cincinnati five picks later, played 12 years and was motivated throughout his career by the snub. "I took it personally," Krumrie said near the end of his career.
Rescued from Oblivion – Dawn Bouzeos, a sports reporter for WFRV-TV, and Sheree Olson, a reporter for WNFL radio, were the first two females to cover the Packers not only on game day but on a regular basis during the week, starting in 1982. As recently as 1974, the Packers' press credentials included a directive that barred women from the press box at Lambeau Field. Both Bouzeos and Olson were far more professional in their work than the Packers were in dealing with the issue.  
A Life of Mystery – When the Packers drafted Mandarich with the second choice in 1989, they believed they were getting a can't-miss prospect. "The Incredible Bulk: 6'6', 315-Pound Tony Mandarich–The Best Offensive Line Prospect Ever," Sports Illustrated's pre-draft issue proclaimed. When Mandarich's career ended in Green Bay three years later, he was an SI cover boy again. This time, the story was titled, "The NFL's Incredible Bust."
A Quote to Remember – "It took us less time to fight World War II than to rebuild the Packers," was Jay P. Welch's response in 1981 to a Journal Times of Racine poll.