Vic, love your work, but I am not convinced by your garbage time response, saying the defense switches focus to taking time off the clock. To heck with that, stop the team, get the ball back and take time off the clock with your own offense. What am I missing?
You're missing those two big throws the Lions made to move down the field in half a minute for the game-winning touchdown against the Cowboys. The intent of trading yards for time is to avoid the opponent from moving as quickly as the Lions did. That honey-hole throw Matt Stafford made down the sideline is as good a throw as I've seen in a long time. That's the one you can't allow in the situation the Cowboys were in. Win the game. That's what counts. The Packers won. What's the problem? Are you tired of winning?
Michael from Berlin, Germany
Vic, why is it that Tom Brady is always regarded as one of the greatest quarterbacks ever? He sure has the rings on his fingers and he might be the best pocket passer who ever played the game, but nobody ever seems to mention his obvious lack of athleticism. For a guy like him, a top-tier offensive line seems to be an absolute must. Belichick has been brilliant in making the most out of Brady's talent while hiding his severe athletic limitations at the same time. Shouldn't he get most of the credit instead of Brady? After all, even Matt Cassel looked pretty good while backing up Brady in 2008.
What you're suggesting is ridiculous. Let's start with this: Bill Belichick was 5-13 and on his way to being fired when he made Brady the starting quarterback. Since that day, the Patriots have won three Super Bowls and came within two miraculous Giants drives and a terrible pass interference call of winning three more. Most knowledgeable football people would agree Brady has made Belichick, not the reverse. You don't play 14 years in this league, win three Super Bowls and have a bust waiting for you in Canton without being a great athlete. Shane from Dubuque, IA
Vic, I was at the Packers-Cardinals game during the preseason and was able to hear you talk on the radio before the game about David Bakhtiari and how if he performs well this season he is the steal of the draft. Do you believe he's been the steal of the draft thus far?
He is without question the steal of the 2013 NFL draft. We're talking about a player at the most premium of positions, possibly as challenging a position for a rookie to play as quarterback is. Every week pits Bakhtiari against the opponent's best pass rusher: the Smith Brothers, Brian Orakpo, Michael Johnson, Terrell Suggs, Jared Allen. Bakhtiari is playing at a level at which I saw Tony Boselli play when he stoned Sean Jones in Boselli's first-ever game. Consider this: The first two picks of this year's draft are left tackles, and Bakhtiari has outperformed both of them as a fourth-round pick. The Packers would not be where they are if they had not drafted Bakhtiari.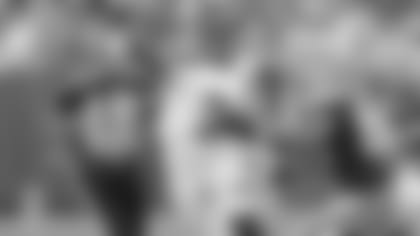 Seahawks QB Russell Wilson
This year's team is my favorite Packers team of the McCarthy era. That being said, is it a little early to get too excited about our four-game win streak? We haven't really beaten a good team, yet.
Who's good? San Francisco? Seattle? If that's how you define good, then it's too early to get excited; you'll have to wait for the playoffs. They're coming, and I suspect the Packers will have to play one of those two teams, and then we'll know whether you should get excited or not. Me? I'm lovin' this.
Andrew from Fort Collins, CO
I agree that football is the most over-officiated sport in America. Do you think it has much to do with advertising revenue? The longer it takes to make a call, as with a review, the more they can sell ad space. It's annoying to fans, but we put up with it because we love the game. Do you think the NFL is perhaps compromising the game to maximize profits?
That's not it. The NFL can always find ways to make a buck. The game is over-officiated because it has too many rules.
Roderick from along the River Seine, France
I read that Peyton was one of eight for 16 yards with two interceptions on passes thrown at least 15 yards downfield on Sunday, and six of his interceptions this year were on deep throws. How do coordinators game plan to capitalize on that weakness?
When I covered Manning twice a year every year, during my days with the Jaguars in the AFC South, the accepted strategy for defensing him was to play a soft cover two zone; flood the passing lanes with defenders and make him throw underneath the coverage. It was that way because everybody feared the big-chunk completions. Now, I'm starting to see teams playing tight coverages to take away the short stuff and make him live deep. The Colts did it very effectively. I think the recent Colts-Broncos game is going to be the model other teams are going to use to defense Manning. They're going to test his arm strength.
Vic, I love the fact you are able to admit that sometimes you just don't know.
It happens. Sometimes I just don't know. It just doesn't happen very often.
Idea about player safety. Make every personal foul an automatic ejection. Helmet launchers will cease to exist. Your thoughts?
Another rule. Too many rules. Take off the facemask. Done.
Vic, I don't care what the stats say, the defense is better this year. Tough against the run, tighter in coverage, better tackling, make stops at important moments. Plus, it just feels better. I'm just more confident they'll stop the other team at some point during a drive. I haven't felt this way in a while.
A strong running game makes us feel better about everything. It makes us feel bigger, stronger, tougher. It sets a tone for everybody on the team.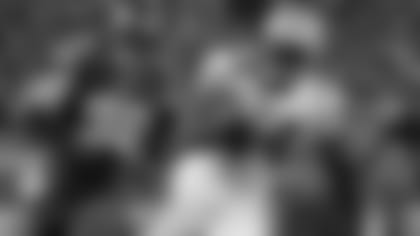 RB James Starks
Vic, I think most fans would have guessed that our running back tandem this year would be a combination of Eddie Lacy and Johnathan Franklin. Now it seems like it will be a combination of two power backs, Lacy and James Starks. Your thoughts?
I saw it coming in training camp. I wrote it. It was easy to see that Starks was a different back. This is why you don't quit on a guy who possesses obvious talent.
Louis from Coral Springs, FL
Vic, what teams have had the fastest worst-to-first rise and the fastest first-to-worst fall you have ever seen?
1969 Mets? 1970 Jets? There's another thing I don't know. This is getting scary.
Jared from Albuquerque, NM
Vic, I know you have touched on this in the past but I am a somewhat new reader of your articles. With so many stadiums going the advertising route of naming their stadiums, which as long as it ties into the local community I am fine with, like you mentioned, do you see Lambeau falling victim to that in the very distant future?
It was discussed as a potential fund-raising tactic during the big 2003 Lambeau Field renovation. Fortunately, the Packers understood the value of the name Lambeau Field and protected the history and tradition that is the team's trademark. Could it happen in the distant future? My heart says no, but the part of me that understands what has always driven professional football tells me to never say never.
Vic, when Aaron introduced himself this past Sunday, the college he gave was Butte Community College, not Cal. Has he always referenced Butte?
There's another thing I don't know. Hey, Butte gave Aaron Rodgers a chance other colleges weren't willing to extend. Good for Butte.
Joshua from Albuquerque, NM
Vic, what is the difference between a $288,000 rookie and a $405,000 rookie?
A $405K rookie is a member of the 53-man roster. A $288K rookie is on a reserve list (reserve/injured, reserve/PUP).
Vic, factoring in age, who would you take, Luck or Rodgers?
Can I delay my decision 4-5 years?