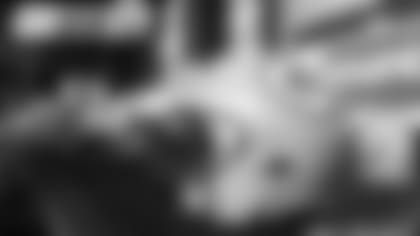 Based on previous comments, I'm assuming you guys were surprised the Pack didn't receive a third-round compensatory pick. However, the Gute has to feel pretty good about 12 picks with five of them coming in the fourth and fifth rounds. Ted found a lot of value in those rounds. What's your take on Gutekunst's ability to follow suit?
We'll find out, but I have to admit, I've given up trying to decipher the comp pick formula. I just wait and see as far as what's awarded. An interesting tidbit with this year's selections – both the fourth- and sixth-rounder the Packers were given are the top comp picks for those rounds. No. 133 is the first of five awarded at the end of the fourth, and No. 207 is the first of 12 awarded for the sixth. I don't know if that means the Packers were actually super-close to having two picks jump up 32 slots, but it sort of looks that way.
What's the rationale behind keeping the comp pick formula secret?
I don't know if it's a secret as much as there's such a wide range of variables taken into account each year. It's not simple and year-to-year results don't always follow the same patterns. The sites that predict the comp picks do a pretty good job, but I didn't see any that had the Packers' awards correct, as it turned out.
Spoff, the offseason is a wonderful time for glorious speculation. But there seems to be a buzz in the air surrounding the upcoming draft, combine, and season. As a reader, I see it going on here a lot where I live. Are you guys getting that same level of excitement in Green Bay? And don't mauer on this one!
I think the buzz will pick up when the draft rolls around. It's still two months away. Everything from now until then is just the preamble, but with 12 total picks and all the changes in the football operation, this will be the most anticipated draft in Green Bay in almost a decade.
Mathias from Lancaster, PA
Who is the Packers' biggest first-round bust since Mandarich? Jack of diamonds, count me in. Double on the bump? Leasters?
I brought the Schaz players out of the woodwork this week. I'd probably say Jamal Reynolds, not only because of where the Packers drafted him (10th overall in 2001), but because they traded up to that spot to get him.
If we don't keep Burnett and replace him with Josh Jones, wouldn't we be in the same place as last year? One injury away from playing a rookie safety? We need to re-sign Burnett to create depth.
A ton of questions about the safety position rolling in. I'm not advocating letting Burnett go, but as many other readers have pointed out, I still think Brice has a chance to be a player. He's unproven, though, and there's no telling how he'll come back from his injury, which appeared pretty significant.
I think in this league right now, with all of the hurry-up offenses and three-receiver sets, versatility is the most valuable attribute besides availability with regards to defensive players. That is what makes players like Kenny Clark, Morgan Burnett, and Clay Matthews so valuable; they are able to stay on the field on all three downs because their skills provide them the ability to handle either the run or the pass. With QBs checking at the line of scrimmage at a greater rate than ever, a defense's hand is closer to the vest when the opposition doesn't know whether the ace is high or low.
It's a matchup game tilted rules-wise toward offense, and if the offense doesn't know at the snap exactly how you're matching up, the defense has a chance.
How were we able to pick fifth in 1968? Did we make a deal with another team?
It was the pick obtained the previous year from New Orleans in the Jim Taylor trade.
Braedon from Endicott, NY
I agree, the Packers do need to make a huge free-agent signing. They need to give Rodgers his extension. There's no bigger way to waste his years away than to not have him on your team at all.
With what's happening in the QB market, I would be beyond shocked if Rodgers doesn't wait until Kirk Cousins gets his free-agent deal before finalizing an extension.
Joseph from East Moline, IL
Are we even talking about signing Malcolm Butler if Pete Carroll doesn't make the worst play call in Super Bowl history? I don't want them to spend the kind of money he will demand on a guy who was benched for the biggest game of the year for something that wasn't in the news.
A perspective worth considering.
Mike, I think you owe Wes a ginger ale or other drink of his choice for saving you from that "Sundays September-January" comment.
It has been raining here for five days straight and every grass surface is mush. These were my favorite football days playing as a kid. What is your favorite muddy football game you've watched?
As a kid, I attended a UW-Platteville football game once in a pretty heavy rain. I think it was against UW-Eau Claire. It was pure entertainment. Mud football is fun on TV, but it's a whole different spectacle in person, if you can manage to stay dry.
Bill from Bloomfield Hills, MI
What lesson do you take from last season when Rodgers was lost...we didn't have a backup QB ready, or the rest of our team was weaker than we believed? How do those interpretations impact changes for next year?
I think it's some of both, and I think we're going to see the impact between now and September. It's only February. There's a long way to go.
In "Green and Gold Forever," NFL Films' half-hour documentary about Super Bowl XLV, the Packers' defense is described as "forget finesse, Green Bay's defense was as subtle as a punch in the face." I miss that.
When you win, writers say what you like to hear.
Jeff from South Grafton, MA
I was disappointed to hear Mark Cuban's comments about tanking. While I get it's a more attractive option in the NBA because of the rapid fall-off of talent in the draft, how can a professional accept a paycheck for knowingly performing poorly? How can an owner pay him for doing so? How can that be the example you set with the hopes of being rewarded for doing so? Somehow, that system needs to be fixed.
My offseason prediction: Calvin Johnson comes out of retirement to lead the catch-no catch committee.
I know that players and coaches are contractually obligated to talk to the media. Are they obligated to tell the truth, though?
Of course not, but if they want to have any credibility, which allows them to control the message to some extent in the media, then a certain level of honesty is required.
Andrew from Vancouver, Canada
I remember reading Wolf's quote on Driver when it came out and thinking, "I guess that's why he's the best." But re-reading it now, I realize it implies whoever Wolf selected in rounds 5 and 6 were also graded 4th or higher. Who were those Packers and how did their careers turn out?
Wolf had six picks from the fifth through seventh rounds in 1999 and used them, in order, on RB De'Mond Parker, G Craig Heimberger, WR Dee Miller, T Scott Curry, S Chris Akins and Driver. Sometimes all it takes is one, but it speaks to Wolf's philosophy of getting as many swings at the plate as you can.
I know it's hard to pick just one, but do you have a favorite photo from "Through the Lens" that instantly jumps out at you? Any chance Evan could sneak a photo of you and Wes in using some of his techniques?
Any photo of two chumps like us would instantly devalue, if not disgrace, Evan's wonderful series.
Yesterday Wes alluded to the importance of getting "that first first down." I always feel that, with Rodgers at QB, if the Packer offense can get that initial first down, there is a high probability the drive will end with points. Do you have any percentages to back up that sentiment, or am I misguided?
Looking back at the first five games of 2017, Rodgers was at QB for 50 possessions. There were 10 three-and-outs, and on the other 40 drives, the Packers scored 17 touchdowns and five field goals. If you factor in a few kneel-downs, the Packers were scoring significantly better than half the time when they picked up an initial first down.
Adding to Joe from East Brunswick, NJ, I don't remember any college film of Rodgers – as I would have been 13 at the time and didn't watch college – but I do remember my trip up to Green Bay that offseason. Or was it the next? Anyways, I remember watching Rodgers' throws and thinking how shockingly mechanical they looked. I was impressed with his strength, but it just looked odd compared to the fluidity of Favre's throws. I've thought all these years that I had a bad eye for talent. My thanks to Joe for confirming my 13-year-old eye test. My question is, after throwing so many years the same way, how in the world is anyone coached to throw differently?
Rodgers showed he was coachable, and that's especially to his credit when beginning in his second NFL season, he had to buy into being coached by one of the people involved in passing on him as the No. 1 overall pick in San Francisco.
To complete your thought, Rice fumbled, Holmgren was outraged, we now have replay.
I've always found it ironic the Rice non-fumble was instrumental in bringing replay back, but the replay system subsequently implemented wouldn't have been able to change the call.
Gary Barnidge – That's the tight end we need to sign. He was rated the top blocking TE in '16, that's either something you do or don't do. He does. BTW, he can catch, too. He shouldn't break the bank (Graham will most likely) and would be a considerable upgrade. Why not kick the tires here and draft mid-round? Upgrading our TE is by far the biggest jump we can make while still paying modest amounts for defensive help.
Barnidge is a curious possibility because he's been out of football for a year, yet his best season, by far, was not long ago in 2015 with current Packers TE coach Brian Angelichio as his position coach in Cleveland.
Jeremy from Lethbridge, Canada
When they began their run, Seattle had Wilson on a rookie contract making peanuts and five all-star defenders all under 25 and underpaid. They also benefited from freak performances from a few mid-level free agents. Yet they've won as many rings this decade as the Packers, and even the mighty Patriots have only won one more. Our guys have stamped their ticket every year but one, and they had a credible chance every year of going all the way. This despite Rodgers' salary, his two injuries, and the loss of Finley, Collins, and Shields. How is that anything short of amazing?
I don't necessarily call it amazing when you have the best QB in the game, but it's a very measured way of looking at the big picture.
Helmut from Hunding, Germany
Hi Insiders, in his blog Vic said: The last information they (Packers) had on Aaron Rodgers' recovery is not good. Is this true?
I would surmise that's a Vic reference to the Carolina game, which did not go well, and for which Rodgers obviously pushed it in order to play without being fully healthy. The fact that he was shut down with the playoffs out of reach confirmed it.
Royal from Oconomowoc, WI
Did you guys happen to see that Charles Tillman just graduated from the FBI Academy? Nobody was or is as good as "Peanut" at punching out the ball.
That's a post-football career from a top-flight player you don't often see.
Here's a good TD celebration idea. Lion King. The guy who scores can hold up the football to the rest of the players kneeling in a semi-circle. They could even wrap the football in a towel like a baby.
Sorry, 15 yards. The towel would be an illegal prop.
Steve from Middletown, KY
Mike, as long as it doesn't jeopardize your job, I'd love to see you run onto the field in the end zone to make a four-man bobsled. Unfortunately, I think you would be considered a prop.
Hakuna matata. Have a good weekend, everybody.