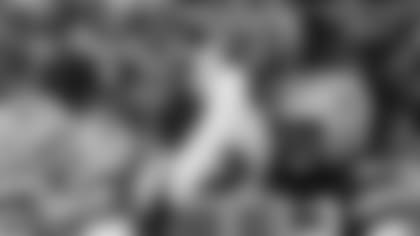 DBs Sam Shields and Morgan Burnett celebrate a Shields INT in the NFC Wild Card playoff victory over Minnesota last January.
It's players that make the difference. I feel Lawrence Taylor and the Giants defense would have had very little trouble with the read-option. They were very fast and very nasty. I liked their defense. Would you agree?
Yes, I liked their defense very much. What L.T. would've done is made it obvious where the quarterback was going to run: the other way.
I was just watching some amazing videos on Vince Lombardi. Are there any coaches in today's game that compare favorably to him?
Tom Coughlin is a Vince Lombardi admirer. Coach Coughlin and I read the book, "When Pride Still Mattered," at the same time and talked about it on several occasions. Coach Coughlin's coaching personality is purposefully Lombardiesque, and I think it bears comparison. If there's one guy in the game who has Lombardi's natural explosiveness – and you ain't gonna like this – it's Jim Harbaugh. Harbaugh doesn't possess Lombardi's eloquence, but he can go from zero to 60 every bit as quickly as Coach Lombardi could.
Eddie Lacy was asked on NFL Network, "Adrian Peterson or Barry Sanders?" He answered, "Barry Sanders." What about you, Vic?
Adrian Peterson; I like power backs.
Rachel from Green Bay, WI
Besides the obvious things that come with homefield advantage in the playoffs (such as crowd silence), can you explain some of the things that players benefit from that the average fan never considers? Do they get to sleep in their own beds during the playoffs?
Home teams go to a hotel on the day before the game, just as visiting teams stay at a hotel. The main benefit of playing at home in the postseason is the energy you know you'll have on your side when you come out of that tunnel. We all love cheers and they can provide a wave of energy that can overwhelm the visiting team, but only if the home team performs well. If it performs poorly, the cheers die and the home team can begin to sense its own demise. Everybody wants to play at home, but you gotta play well.
Excerpts from David's post-match interview: "Goliath is a great opponent and I have a lot of respect for him. Really, I was just going out there today, hoping to contribute, stay sound in my fundamentals and, anywhere my battle trainers put me, I was going to make the most of that opportunity to help contribute to this victory. And it's great, but it's still early in the season and I've got a lot of room for growth moving forward, whether it's with a slingshot or a net and trident. So, I'm going to take 24 hours to enjoy this victory against Goliath and then move on to the next challenge against the Samaritans next week. Really, the Samaritans are my focus for right now. If I take care of that match against them, everything else will take care of itself. So, hopefully, I'll have a solid week in preparation, you know, go through the process, listen to my coaches and just try to improve from week to week and, hopefully, peak at the right time."
Thank you for putting a smile on my face, and thank you for having fun. You get it.
I was watching a show about the 1966 Packers on NFL Network. I saw a clip of Vince Lombardi. He stood in front of a blackboard, diagrammed a play and said, "All plays succeed on the blackboard, but men make them work."
Vince said that? Well, then it must be true.
John from Port Edwards, WI
If you could interview Lombardi, what would you ask him?
I'd ask him what makes a football player great?
Billy from Las Cruces, NM
Every time I turn on tape I see Kaepernick and RG3 lighting up opposing 3-4 defenses, but when they play teams with four-man fronts, they seem to slow their game down a little bit.
The players on the teams with the four-man fronts must be better because Coach Lombardi said all plays on the blackboard succeed, it's men that make them work. Seriously, Billy, I think your tape selections aren't inclusive enough. You have to have a broad sample of games before you can try to come to a conclusion. I looked up RG3's (because he had a full season's body of work) game-by-game stats for last season and in the game against Pittsburgh, which runs a 3-4 defense, he didn't rush for a yard and threw for only 177. I think a lot of Packers fans are trying to blame away the 49ers' 579 yards in that playoff game by blaming the scheme. It's an easy thing to do and it can make you feel better about yourself when you believe all you have to do is change the scheme and you'll change the result. That's not the way it works.
Chris from Apple Valley, MN
If Dallas would have won the "Ice Bowl," would the Super Bowl trophy be called the Landry Trophy and not the Lombardi?
No, it wouldn't be called the Landry Trophy for one simple reason: He didn't die. The Lombardi Trophy is called the Lombardi Trophy because Lombardi died. Had he lived, it would've been called something else because you can't name a trophy after someone who is trying to win it.
I don't get it. You credit Marino for being good because he led his team to the playoffs 10 times out of 17 seasons, but you fault Peyton Manning for all his one-and-dones when he has led his team to the playoffs 12 times out of 15 and has more playoff wins than Marino, plus a Super Bowl.
You got it all wrong. I credit Manning, too, for getting his team to the playoffs. I wrinkle my nose at Marino's postseason record, just as I do Manning's. They're both great quarterbacks, but not in the postseason. They each played more than a full season's worth of postseason games, but there is a dramatic decline in their statistical performances in the postseason. You don't see that with Bradshaw, Montana, Brady and some other great quarterbacks. If you look at Bradshaw's and Montana's postseason stats, which are the equivalent of a full season's worth of action or more, you'll see that the postseason would represent the best season of their careers. That's a crunch-time quarterback. That's a guy who gets better when the games get bigger, and that's my kind of quarterback.
Patrick from Charlotte, NC
Help me understand why Green Bay could have lost the Packers if Lombardi would have not coached the team. The city owns the team. Why in the world would they allow a NFL franchise to leave?
The Packers franchise hit hard times in the decade prior to Lombardi's arrival. Curly Lambeau attempted to move the team to Los Angeles in 1949, but was unable to assemble a group of investors to buy the team. He then resigned to become the head coach of the Chicago Cardinals. The Packers then had three coaches over the next nine years, before Lombardi arrived in 1959. The Packers suffered through 11 consecutive non-winning seasons prior to Lombardi's arrival, and attendance was dipping into the teens. The biggest problem was that pro football was at the dawn of its popularity explosion, so these were dangerous times for a franchise that lacked an attractive market and had always depended on over-achieving. It needed to win, upgrade its facilities and put people in the seats, and that's exactly what happened. Ironically, that's exactly what needed to happen, again, when Bob Harlan and Ron Wolf resurrected this franchise. Harlan and Wolf brought the fans back to their feet, but it was Lombardi who put them in the seats forever. There's no way of knowing what the future of the franchise would've been had Lombardi been hired by the Giants, but the Packers experts to whom I've spoken agree that another decade of losing heading into the merger would've been problematic.
Patriots sign Tebow to a two-year deal with no guaranteed money. Yep, a playoff-winning QB as backup for next to nothing. Geez, sounds like the suggestion I made months ago that you chose to ignore.
I guess I look pretty stupid.
Tom from Bullhead City, AZ
I've read Jerry Kramer's "Instant Replay" many times. In it he describes the brutal intensity of training camp. Even before the new CBA, I've watched plenty of training camp practices. They always seemed more instructional than brutal. Am I off the mark here?
No, camps have been softening for a long time. The Oklahoma drills started going away in the '80s. The rise in salaries is what triggered the softening of training camp. Coaches decided discretion was the better part of valor, so to speak, lest they sustain injuries that caused their owner to ask, "Why am I paying millions of dollars to players on injured reserve?" The salary cap era took us to a higher level of caution because a player on your cap and not on your active roster meant a double hit. The new CBA took us to another level of caution. It signaled the end of two-a-days, which had long been the symbol of training camp.
I respectfully disagree about Vince saving the Packers. If Pete Rozelle is responsible for revenue sharing, and I believe he is, then he saved football in Green Bay.
I like the way you think.
Christian from Aberdeen, SD
If you could write during any season the Packers ever had, which season would you choose to write during and why?
I'll stay right where I'm at. The Packers are going to christen another Lambeau Field expansion in 2013. I can't wait to see those new stands in the south end zone full of fans. Lambeau looks magnificent. It's as though the new south end zone seats grew there. The Packers open in San Francisco; how exciting is that? Then they open at home against RG3. Kaepernick and then RG3? Whoa! The final four games – Falcons, Cowboys, Steelers and Bears – are a dream. I'm covering the best quarterback in the game. Why would I want to cover another season?
So if the Packers make it to the playoffs for the next 10 years and get bounced in their first game, fans should be happy with the results?
When you get to the playoffs, the goal changes. Until then, the goal is to make the playoffs because that's what keeps you grounded in your approach. When you start thinking Super Bowl in March, you start signing guys that will ruin your cap and make the playoffs a goal you might not be able to reach for a long time. Hey, when you get to the playoffs, it's wide open. It's all about who's healthy and who's hot. It's not difficult to adjust your goal upward at that point. What you don't want to do is talk Super Bowl in the offseason and then not even make it into the playoffs. That's embarrassing.