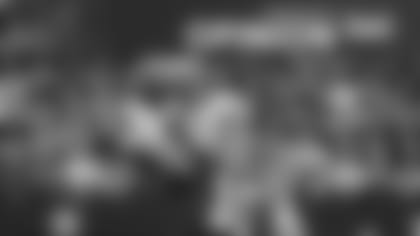 QB Matt Flynn
Love the memories of Roberto Clemente. He was the one player when I was growing up that could make a single to right field with a runner on first base dramatic. The hairs on my arm would stand up as I watched him charge the ball and see if the runner dared try moving to third. Baseball was never better than in the '60s. Perhaps the same for the NFL.
His throw from the rightfield corner to third base in Game Seven of the 1971 World Series was a magic moment. I remember a kind of stunned silence; you didn't believe what you just saw. The Golden Age of Baseball is generally thought to be 1920-60, or the years immediately following the dead ball era to the start of expansion. Some suggest the best part of that era began immediately following World War II, when great players such as Ted Williams came home to rejoin a major leagues already loaded with talent. Farm systems went all the way down to Class D ball and major league teams had multiple teams in every class. TV hurt baseball more than it helped it. It certainly crushed attendance in the minors, and a retraction of minor league baseball combined with expansion in the majors resulted in less talent for more teams. It didn't catch up to baseball until the '70s, but by then the golden age was long gone. Now, baseball has finally found a way to do more with less, and it's certainly helped that it's found a new minor leagues in the Dominican.
Vic, I love soccer, but I also love the way you make fun of soccer. What's wrong with me? Do you know what else I love? Your column. Don't ever change. You're the Ilie Nastase of Packers journalism.
I don't like tennis either.
I know the number of practices and OTAs and such are limited under the CBA. What are the rules about making the facilities available to players during the offseason, to use the weight room or something like that?
Vic, you said if you were Houston's GM, you would take Clowney with the first pick. I agree he is the BAP, but then who is to be the Texans' starting quarterback? Any quarterback taken in later rounds after Manziel/Bridgewater/Bortles is at least perceived to be a lesser talent, and thus even less likely to prove successful. What do you make of Mike Holmgren's advice that you've got to take one?
I totally disagree with that philosophy if it means reaching for one. If Jadeveon Clowney is the No. 1 guy on your board, you take him. If the Texans don't take him and they take a quarterback they have rated much farther down their board, and if they have Clowney ranked No. 1 and Khalil Mack ranked No. 2, then the Texans will be leaving either Clowney or Mack for the Jaguars and the Texans will have to play against one of those two guys twice a year every year. This is a daunting challenge for the Texans, and they better get it right or the Jaguars could make them pay for their mistake for a long time. I don't believe in reaching for a lesser player and leaving the better player for your competition. I don't care what your need is, you don't build a winner by drafting players that are less talented than the players your competition is drafting.
Vic, we all understand you don't know who Ted Thompson will pick in this year's draft. My question is according to your board, who would you pick?
Tell me who's available and I'll tell you who I'd pick. I've done it several times. I haven't held back. Draft debate is all about opinions. Every GM, every draftnik and every fan will hit on some and miss on some.
I don't generally give much merit to player rankings done by fans or networks, but I do get sucked into watching the various ranking features on NFL Network because they sometimes show highlights and tell stories of players I've never heard of before. The most recent 100 top players ranking on NFL Network featured Marion Motley. He was truly a man among boys who holds the NFL record for most yards per rushing attempt (5.8 over his career), was one of the best blocking backs in NFL history, had great hands when thrown to and is recognized (along with three other players) for breaking the color barrier in the NFL. I love hearing stories like his. Any other stories of players you would like to share that don't get the attention they deserve?
Cookie Gilchrist was supposed to be the next Marion Motley. Paul Brown stashed Gilchrist in Canada for the day when he would replace Motley, but Gilchrist entered into an inter-racial marriage and that was a barrier the NFL wasn't ready to break. Gilchrist was blackballed by the NFL and Jim Brown became Motley's replacement. It was Vince Lombardi who, a few years later, would help break the inter-racial marriage barrier. By then, Gilchrist was one of the stars of the AFL. I can remember an old scout telling me Gilchrist might've been the most talented player he'd ever seen.
Vic, after reading your blog, I've decided that many of your followers don't understand that we can pick a quality safety in rounds 2-5. Who do you think would be the best fit at safety in these rounds for the Packers?
I honestly don't know, Dan, but if I were a GM in need of a safety, in a year that is said to be weak at safety, I'd be looking at the cornerback crop for my guy. Keith McGill of Utah, Jaylen Watkins of Florida and Dontae Johnson of North Carolina State are three cornerbacks who offer the potential to play safety. This is a new game. The days of the midfield enforcer are over. We're looking for guys that can cover. We're looking for safeties that can cover slot receivers. If you can find that kind of player, you have a huge advantage because you don't have to bring a nickel back onto the field. You can play with your base personnel, should the offense go no-huddle. I think Packers fans have gone Ha Ha crazy. Hey, he may be the Packers' guy. Tony Pauline said he fits at the bottom of round one and that means he fits in the vicinity of the Packers' pick. What I'm trying to get across is that we need to think out of the box a little more, instead of obsessing on one or two guys.
You let me down, allowing someone to generalize that the NFL has a criminal element problem. I think people like Anthony from Saint Francis, WI, need to do some research before sending you questions like he did. USA Today has a list of NFL arrests which by my count showed 54 arrests in 2010 (it was 57 in 2013). At 90 players per roster (2,880 total players) that is an arrest rate of 1.8 percent. For that same year, the Bureau of Justice statistics showed there were 9.8 million arrests of males and 86 percent of those arrested were over 18, so you could probably say roughly 8.4 million arrests were males over 18. According to the U.S. census there were 114 million males over 18 in 2010, therefore, the U.S. population had an arrest rate in 2010 of 7.4 percent for males over 18 years of age. I don't think the NFL has a problem at all. It's the people in the stands that we should accuse blindly of being thugs and convicts. It would be more accurate (but no less acceptable). Next time, don't just say players play with an edge or they had a hard life as an excuse for player arrests. Fact of the matter is they don't need excuses. These young men have an edge alright, but they still live within the confines of law and society when not on the gridiron. What is our excuse?
Packers fans are winsome. They don't do bad things.
Keith from Lake Forest, IL
Vic, we saw Nick Perry have far more success rushing the passer from the right side last year. How about Peppers, Clay Matthews and Mike Neal, do they have a stronger side as a pass rusher?
Here's an idea: Rush them all from the right side at the same time.
Kaylee from Idyllwild, CA
Did you see the blood moon last night? Is it the end of the world, Vic?
My dog's name was Kaylee and I miss her.
I think society is partly to blame for the rise in arrests in pro sports. I agree you have bad seeds everywhere but when they know they'll only get a slap on the wrist, it makes them worse. What say you?
I leave enforcement of the law to the law. When it comes to football and the law, I have a very simple philosophy: If they're not in jail, put on the pads.
Casey from Camp Darby, Italy
Why the perceived need at linebacker? Clay Matthews isn't going anywhere. A.J. Hawk just had the best season of his career. We haven't seen a full season out of Perry yet. Neal was just switched over. Jones and Mulumba both played well, and now we're adding Peppers to the mix. I don't get it.
The memory of Andy Mulumba dragging his leg as he chased Colin Kaepernick on that fateful scramble play in the playoff game should not be dismissed. When you play a 3-4 defense, you need lots and lots of linebackers. They are the stars of the show and you must never get caught short at that position, as the Packers did last season. In my mind, it's either switch to a 4-3 or find more linebackers.
Elizabeth from Madison, WI
Are you going to see the movie Draft Day?
Based on what I've read about it, I'm not likely to go to see it. Sports, especially football, don't translate well when they attempt to portray reality. Sports movies translate best when they deal in the sublime or the ridiculous. Field of Dreams, The Natural, Hoosiers, Rocky, the original Angels in the Outfield are examples. Football is difficult subject matter and I think that's because the game is so very real. I just can't imagine there's anything about Draft Day that would entertain me. I guess you might say I've already seen the "movie" several times.
In Friday's column, you asserted that shining new, fan-friendly ballparks helped save baseball. While the NFL is not in need of saving, do you see a day when the NFL owners approach stadium construction the way Major League Baseball has? Even the nicest NFL stadiums are a bit bland.
I don't agree. I think the new football stadiums are sensational. The views the ones in Seattle and Pittsburgh afford are magnificent. The ones in Philadelphia and Dallas have all the bells and whistles. The renovations at Lambeau Field have given the stadium a state-of-the-art quality without compromising its charm. As harshly criticized as new Soldier Field is, there's something about its low-hanging upper deck and overall compactness that gives it a kind of dark, foreboding personality. The new Mile High reminds me of old Mile High. Lucas Oil Stadium took dome construction to heights I didn't think possible. I like all of the new ones. Be that as it may, baseball has an advantage it finally realized and applied. There is no standard outfield size. Being able to play with the outfield wall allows baseball a lot of creativeness with its ballpark design. Football is stuck with its rigid rectangular shape. If you've seen one football field, you've seen them all. What football has had to do is use the sightlines available to it, such as opening one end to a view of the downtown skyline. The crazy-shaped end zone in Seattle, the spirals in Pittsburgh really pulled that off; the one in Tennessee doesn't and the footprint in Chicago didn't allow it.**
Clark from Kansas City, KS
What do you think about Donald Trump being interested in acquiring the Bills? If he did, what would be the chances they stay in Buffalo? Does he have what it takes to be a good owner?
Once upon a time, he had zero chance of approval, but the NFL is far removed from the USFL days, and if Trump can convince the NFL that he'll keep the team in Buffalo, I think he has a chance of being approved. I'm convinced the NFL has a plan for Los Angeles, and it undoubtedly involves a big franchise fee, and they don't want another Al Davis moving his team there unapproved and challenging the league in court.
Luke from East Dubuque, IL
Vic, I am delighted to hear the Packers re-signed Matt Flynn. He's a solid backup and I just feel he belongs in Green Bay. It is where he has had his greatest success. Any thoughts?
Yeah, I have one thought: Can we please not panic about every little thing? Can we please just trust that the man who runs this team's personnel department knows what he's doing? Let's look back on the Matt Flynn saga. Ted Thompson allowed him to escape into free agency, despite the manic protestations of fans that wanted to franchise Flynn so the team could trade him. He was gone from the Packers in 2012, when Aaron Rodgers only missed one snap due to injury in the whole season. Last year, Flynn rejoined the Packers after having been released by the Bills and eight days after Rodgers was injured against the Bears. Flynn then rallied the Packers to a tie vs. the Vikings and wins over the Falcons and Cowboys that set the stage for Rodgers' dramatic return. Would you agree that Thompson played his hand very well?**
Vic, is the "Elephant" position a new wrinkle in Dom Capers' 3-4 defense? I've never heard of it before this year and was curious as to why they didn't try and push Aaron Kampman into that role. He seems to fit the prototype relatively well.
First of all, Coach Capers only had Kampman for one season, and it ended with Kampman blowing out an ACL late in the year. He then became an unrestricted free agent and signed with the Jaguars, so Coach Capers didn't have much time to apply Kampman to the Packers' 3-4. The "Elephant" position was created to accommodate talent. Coach Capers wanted to find a way to use Mike Neal. The "Leo" position in Seattle's defense is similar. If Coach Capers had a smallish linebacker with a great first step, he might've created a "Mouse" position for that guy on the defensive line. You use personnel in whatever ways you might; that's what coaches do. If you look back through Coach Capers' history, you'll see that history is repeating itself, but the current mania for scheme is shining more light on these schemes now. Peppers is going to be used as Tony Brackens was used, and I can remember a defensive end named Kevin Henry being used some that way during Coach Capers' days with the Steelers. The difference is we didn't have a name for how Brackens and Henry were used; now we do.