Jacob from New Bremen, OH
Looking at a lot of these top offenses and defenses, they seem to be led by not only first-round picks but top first-round picks. With the Packers consistently picking at the bottom of the first round, do you think another elite player may be needed to put this team over the top?
You're always looking to unearth an elite player in the draft, but I wouldn't look at it as something the Packers are lacking at the moment. There are three Pro Bowlers already on this defense and a defensive lineman playing at an All-Pro level in Mike Daniels. That's not to mention all the up-and-coming players who are making strides. Considering where the Packers have drafted for the last seven years, they've done an impressive job of finding the necessary talent to improve the defense.
Against perhaps the best, or at least fastest receiver trio in the league, the Vikings all but neutralized them. How much of the defensive game plan can be copied by the Packers?
That's the benefit of getting consistent pressure and taking away the run. With their mounting injuries in the backfield, it was clear the Giants wanted to get the ball out of Eli Manning's hand as soon as possible. That took away a lot of downfield opportunities for their receivers. Minnesota swarmed to the ball-carrier and the secondary benefitted from the return of Xavier Rhodes.
Ben from Indianapolis, IN
After watching the Vikings the past few years, can someone explain how Coach Zimmer took so long to become a head coach? It seems criminal that he had to wait so long.
It hasn't been easy for defensive-minded coaches to get top jobs in recent years. It seems like many general managers are seeking out the next quarterback whisperer and offensive juggernaut. The Vikings were smart in not only bringing in Zimmer, but also hiring Norv Turner to be the offensive coordinator. It's been a good marriage for Minnesota so far. Considering what Denver did last year, I wonder if more GMs are going to take a harder look at defensive coaches for head jobs in the next few years.
Three games in 12 days at home. Is there any better chance for the offense to get hot and go on a winning streak? I really think this is the stretch that will mean a shot at home-field advantage in the playoffs with the Vikings on a roll already.
It's great opportunity to develop your identity in all three phases. Based on recent history, that's exactly what the Packers have done under McCarthy at home in the month of October. It's difficult to say how much this particular segment of the schedule will factor into the playoff picture, but you have to play well in all four quarters of the season to earn a first-round bye. It's all a part of the puzzle.
Timothy from Melbourne, Australia
I just read an interesting stat that in our last three games, our defense has tackled opponents for a loss on 30.4 percent of rushing attempts this season. The league average is 13.1 percent. Talk about getting it done up front!
I believe it. The Packers' defensive front has been active in the opponent's backfield so far this season.
Great quote to the film "Shawshank Redemption" in (Tuesday's) column to a question about the Pack's chances to win the next four games. My question is which game do you see as the biggest challenge to come away with a win of the next four?
Taking nothing away from the Giants, the Cowboys stand out to me as the biggest challenge considering how well they're protecting the football right now and their success running the ball behind Ezekiel Elliott. I still don't know what to make of Atlanta. It seems like Matt Ryan and the Falcons get off to a fast start and then fall back as the season wears on. Their offensive production against Carolina certainly has my attention, though.
There's been a bunch of articles online that OBJ's temper gets the best of him. Do you think the Packers will do it? And if they do, do you think we will win?
There have been a lot of questions about this in the Inbox and it was a subject that came up several times during Mike McCarthy's Wednesday morning news conference. I thought he put it best when he said you prepare for the player's strengths and how he's utilized in the offense. There's a lot of heavy artillery in the Giants' passing game. That has to be your primary focus. The rest is just noise.
Two young players that have made big splashes in their first years in the NFL will be going head-to-head this weekend. Both Randall and OBJ have had a rough couple of weeks. Who has the bigger night on Sunday?
I'm not educated enough about OBJ to know exactly what's been missing the past few weeks, but I really like the approach Randall has taken. It's critical for a cornerback to maintain his confidence and put the past behind him. Randall's strengths are his natural athleticism and swagger. As long as he's healthy, I don't see anything standing in the way of Randall reaching his potential.
Kevin from Kinderhook, NY
I haven't seen anything on Corey Linsley recently. Is there anything to report on when he might come off the PUP list?
I believe he's eligible to practice again following the Dallas game. That's when his six-week window starts, and once he practices, he must be placed on the active roster within three weeks.
Do the DBs do any ball-catching drills? Going back to the playoff game against Arizona last season, I've seen plenty of defenders getting their hands on balls, but not many catches.
Yes. Practically everyone does ball-catching drills.
If the Packers beat the Vikes in December and they both finish with the same record, what is the next tiebreaker?
Record against the division.

Noah from Brisbane, Australia
Hey guys, which player on both offense and defense have you been most impressed with?
Eddie Lacy and Joe Thomas.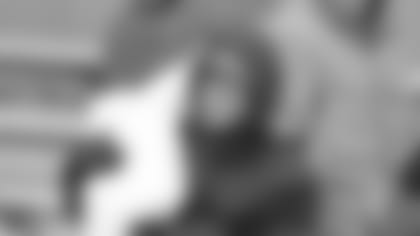 In response to Jim from Rochester, how would we remove the snow from the stands if we replaced those pesky benches with seats? The benches are iconic!
As someone who has shoveled Lambeau Field on multiple occasions, I can attest that it would be tricky to maneuver around seats. And I don't know if you've ever been here, but tradition is kind of important in these parts.
Each week, the Packers have dropped one or two sure interceptions. Catch those and we're talking about near-dominance. Agree?
Dominance is a strong word, but turnovers are a key ingredient for Dom Capers' defense – stop the run, pressure the quarterback and get the football to your offense. I guess I'd be more concerned if the Packers were having problems with the first two things on that list. There have been opportunities and I think it's only a matter of time before the defense starts capitalizing on them.
I think getting Kentrell Brice game snaps early in the season is great. If you didn't know what round he had (or had not) been drafted, what would you have guessed based on his training camp and first three games?
I was really impressed by what Brice did in the preseason. He looked fast and aggressive on the field. By the end of training camp, it sure seemed to me that he was a lock to make the roster. The Packers have a lot of safety depth, which can limit the rookie's opportunities. Still, he was deserving of the reps when Burnett and Banjo were both out.
Is anyone else frustrated how long it takes Sam Shields to recover from a concussion? Last year and now this year I keep checking every week to see if he will be ready to go but still not yet.
Not in the slightest. First and foremost, Sam needs to take care of his own well-being. I know for a fact that football is very important to him, but I think everyone can agree that sports pale in comparison to a person's long-term health.
Could you post "Packers Unscripted" as an audio file so that we can listen to it and do other stuff on our devices at the same time? The way you post it now, I can't do anything else on my iPad while listening. Thanks!
Thanks for your interest in the show, Lori. In addition to the audio file on packers.com, you also can download the podcast on iTunes.
Biff, when you joined the Packers did you know you'd be on TV (Time Warner Cable Sports Channel)? By the way, how long has "Packers Unscripted" been on TV?
It was something we discussed but wasn't finalized until after I started with the Packers in April. We shot our first episode back in July but didn't switch to a daily format until the regular season began. I appreciate you checking it out.
Kenton from Rochester, MN
Hey guys, I've got an idea for a new feature or change of pace for the Insider Inbox. Maybe once a month or so, you guys give the questions and let the fans try and answer them. Publish the best (or funniest, or most controversial) answers the next day. Just an idea.
I'll have to confer with my colleagues, but that's not a bad idea. Maybe something we can test out this offseason.
Travis from Fort Walton Beach, FL
Wes, I've seen you and Mike refer to yourselves as "beat writers." What is a beat writer?
It just means you're a reporter covering one particular topic. So you handle one specific entity (or team like the Packers) and really sink your teeth into the daily coverage.
Wes, I've asked this once in the past before to no avail, but am still curious. What's the interaction with other Packers reporters from different business, for example, Rob from ESPN. I saw he highlighted you on Twitter while you were on TV in Milwaukee. Is it competition, work-only, friendly?
I can only speak for myself, but I always found the beat to be very friendly. For example, I considered Spoff a good friend even when I didn't work with him. Rob and I go back a long way. He was a terrific mentor to me in my formative years as a reporter at the Green Bay Press-Gazette. It's obviously a competitive business, but I respect his work as well as the rest of the Packers writers.
I'm starting to worry about how good the Vikings really are. A headline today proclaims the Vikes, Cowboys, Falcons, Rams and Eagles as the new contenders and the Vikes as Super Bowl bound. If it's too early for us to worry about a slow start, isn't it also too early to proclaim a champ or a contending champ after a few weeks?
As I've said before, it all makes for a fun discussion but I'm still waiting for the first Lombardi Trophy to be handed out in October. Once that happens, I'll get fired up about how teams are playing four weeks into the season.
So a bye on the first weekend in October. Your Sunday was spent: A. Working on the honey-do list; B. Watching a parade of NFL games; C. A last chance to hit your favorite golf course; D. Finally had time to attend family/friends special event.
A, B and D. I had a pretty large to-do list, including raking the yard, putting down winter fertilizer and cleaning our gutters. Fortunately, I listened to the games on my headset and watched them when I went inside. The best part of an early bye is being able to enjoy fall in Wisconsin.