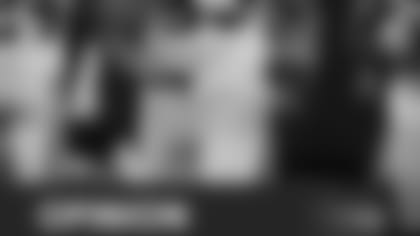 Packers OLB Nick Perry
The regular writer of "Ask Vic," packers.com Editor Vic Ketchman, is taking some time off. Staff Writer Mike Spofford is temporarily filling in to answer your "Ask Vic" questions.
Hey Mike, how do you feel about Vic deleting all of your Oxford commas when he edits your columns?
I feel embarrassed, disheartened, and completely inadequate.
Mike, Would you please ask the Ask Vic community to take the time to do something positive for their fellow man this week? We all feel anguish over the horrible events in Boston and sometimes we feel helpless. But I think it is important to fight fear with compassion and while I am eager to see who the Packers will draft in the coming week, my focus will instead be on bringing good into the world.
That was worth giving you the floor.
Hey Mike, you said you and Vic have influenced each other since working together. Can you tell us one thing you've learned about the game or see differently since working with Vic?
Just prior to the snap, I've always focused on the defensive front, to see where a blitz might be coming from and how the offense reacts to pick it up. Vic has added another glance to my "pre-snap read" – the safeties. They tell you if the defense is making any adjustments against the run.
Nick Perry is Vic's pick to have a breakout 2013 season from last years draft class. Do you agree or is someone else your pick?
Perry is a great choice, and if Vic is right the Green Bay defense will have a different look and feel. If I were to go another direction, I might say Jerron McMillian. Coming from Maine, he was making the biggest adjustment to the level of play of all the young contributors last year, and for the most part he looked like he belonged. I took that as a really good sign of his potential in Year 2.
Michael from Arlington Heights, IL
Today was my birthday. Can you put my question in the column tomorrow? How badly do you think we need to draft a defensive lineman? While the group left some to be desired last year, there are a lot of guys on the team still developing at the position.
I'm not posting this because of your birthday (hope you had a good one), but because if you were to ask me the position of greatest need on this team, I'd say defensive line. Jerel Worthy's injury was very late in the season, Ryan Pickett is near the end of a solid career, B.J. Raji will require an expensive contract to keep, C.J. Wilson is a run-stopper only, nothing's guaranteed with Johnny Jolly, and at this point – though there's still time, as you say – we're still waiting to see if Mike Neal and Mike Daniels develop into every-down players. I think that about covers it. I expect the position to be addressed.
Kenneth from San Diego, CA
I'm confused about the draft party. It says that there will be appearances from Mark Murphy, Ted Thompson, and Mike McCarthy, but won't they be in New York for the draft?
No, they'll all be here. The Packers only send two people to New York to sit at the Radio City Music Hall table and turn in the cards. The rest are here in the draft room, which is located (to answer another question from Marshall in De Pere, WI) on the third floor of the Atrium, right across the hall from Ted Thompson's office. All the decisions are made in there and relayed to New York. When the draft schedule allows, they can take a break and visit the draft party, or stop down to the media auditorium to answer questions from reporters.
Pete from Crystal Lake, IL
For all the angst I'm seeing regarding the Vikings owning the two picks ahead of the Packers, doesn't that in fact put more pressure on the Vikings personnel department to get it right?
That's certainly one way to look at it. I think that's pressure the Vikings would welcome.
Crystal from Fair Lawn, NJ
Back when Vic asked everyone for their word to describe Packers fans, I submitted "fervent" and I do think it perfectly describes Packers fans. Always stick by their team no matter what, and maybe with a little bit of naivety thrown in, along with the passion for the game that all Packers fans possess. I like your thinking, Mike (not to say I'm a Vic-hater at all...)
I like the word for all the reasons you mentioned, plus I was struck by a word listed among many on thesaurus.com as a synonym – pious. The religious undertone clinched it for me, because there is that element to fans' devotion to the Packers. Another reader, Jesus from El Paso, TX, called my choice "pure genius." Hey, if I can be called a genius by Jesus, I'll take it.
Mike, how do you feel about soccer?
I haven't lost a wink of sleep over my children's lack of interest in the sport. I'm looking forward to coaching my daughter's youth softball team this summer.
Thomas from Ludwigshafen, Germany
As a German, I am interested in the draft selection of Bjoern Werner. He was projected as a top-10 pick and now it seems like he is a late first-round pick. What are your thoughts about him?
We're working on a "Prospect Primer" segment on him that should be posted next week. He's intriguing, for sure. If you haven't seen them yet, we have nearly three dozen videos posted so far on our "Prospect Primer" page.
When will the 2013 NFL regular-season schedule be released?
We thought it was going to be today, but found out yesterday that wasn't happening. The league has now announced that it will be Thursday evening.
Hey Mike, will the addition of an underground players' parking lot take away from fan/player interaction, especially those who are seeking an autograph? I am curious about your view on this subject. Thanks!
To my knowledge, the new players' parking lot won't be underground. It's moving to the other side of the new Oneida Gate, with access to it via a tunnel underneath the reconfigured gate. The autograph seekers should have the same chances they've always had. Here's more info on the next round of Lambeau renovations.
Rodgers is the best QB in the league and he is going to be paid like it. History shows, that is not a good thing for a team seeking to win Super Bowls. Since 2003, the team winning the Super Bowl had on average the 10th highest paid QB in the league. Teams with the highest paid QBs don't win Super Bowls. Teams that are paying their QB less than market value do because they can spend in other areas. I know no one wants to confront this, but breaking the bank for one player (even one as great as Rodgers) NEVER leads to Super Bowls. Nothing you can do about it...you have to pay Rodgers. But any Super Bowls that follow will be unprecedented and, historically, very unlikely.
I'm not disputing your stats, but I'm not buying the premise, pun intended. Peyton Manning had to be making a pretty good buck in 2006, and I'm guessing his brother was doing the same two years ago. Other QBs playing under very big contracts who have made it to the Super Bowl since '03 – even if they didn't win it at the time – include Ben Roethlisberger ('10), Tom Brady ('07, '11) and the elder Manning again ('09). I'll pay Rodgers and happily take my chances.
Harold from Chippewa Falls, WI
Are we the only team in the league that plays a polka after our team scores a TD? What other memorable post-TD diddies from other teams have you heard?
I don't consider "Bang on the Drum All Day" a polka, but I'm no musician. The places that set off fireworks, and there are many, annoy me. I'll admit that. I stopped jumping out of my press box seat long ago, but I'm still not crazy about explosions. I think one of the best in-stadium, post-TD celebrations is in Philadelphia, where the fans do that "E-A-G-L-E-S" chant. They really get into it and make it borderline intimidating.
Hi Mike & Vic. Did someone mention 'Rodgers' and 'clutch'? In the NFC Championship game, Rodgers heaves a pick to Urlacher, who heads unchecked to the end zone for a TD, except for Rodgers' tackle. That is maybe the most clutch play I've ever seen, and it was a one-score game at the end.
I've said it before and I'll say it again, that is the most underrated play of Rodgers' career. Not only did Urlacher not score, the Bears didn't convert the turnover into any points. Rodgers converted what might have gone down as the worst moment of his career into one of his best.
Mike, Seattle adds yet another player from free agency. How will all of these guys they are adding affect their cap in future years? How do they have enough cap space to do all of this?
They have the cap space because they have a lot of youth at the premier positions of quarterback, pass rusher, cornerback and left tackle. Therefore, before free agency began, they didn't have a ton of money invested in those cap-eating positions. QB Russell Wilson was a third-round draft pick last year and backup Matt Flynn's larger contract was shipped to Oakland. DE Bruce Irvin was a first-round pick under the new CBA (i.e., rookie wage scale), so Cliff Avril and Michael Bennett were very affordable with short-term deals. CBs Richard Sherman and Brandon Browner are in their third year in the league, still two years short of unrestricted free agency – Sherman was a fifth-round pick and Browner a CFL find – so they could add Antoine Winfield, again for the short term. LT Russell Okung was the only one at a cap-eating spot with a big contract, as the sixth overall pick in 2010, before the rookie wage scale took effect. As for the future, all of those young guys eventually will look to get paid much bigger dollars, some very soon, and then decisions will have to be made. But for now, they're in an advantageous position and acting accordingly.
Considering all of the players we will be losing in free agency this year with Woodson, Jennings and others, can we expect a lot of compensatory picks in next year's draft?
The Packers won't get anything for Woodson because he was released. The contracts signed by Greg Jennings and Erik Walden were significant, while the Packers, as of yet, haven't signed any major deals. That should translate into compensation, but whether that means a couple of low-round picks or one higher one (compensatories can be as high as the third round), only the mysterious NFL formula knows.
Mike from Platteville, WI
Keep up the good work. I'll say hi to the Big M for ya.
Hey, my hometown heard from. Love the Big M. Have climbed it many times. I think I left a banana up there once. Any chance the M's magical powers kept it yellow?