I have watched every Packers game Buck and Aikman have ever called, and I don't think they hate on the Packers at all. How many different ways can they say Lambeau is special, the relationship with the community is awesome, Aaron Rodgers is out-of-this-world, etc.?
I can remember coming to Lambeau Field in the '80s and being shocked at what a dismal facility Lambeau was. I can remember seeing a Monday Night Football promo for a game at Lambeau Field and thinking to myself that I hadn't heard the Packers name in a long time, and I didn't even know who their quarterback was. This franchise was in bad shape. It was possibly the lowest-profile franchise in the league in those days. Nobody was paying attention to them. These days, they're getting TV's No. 1 crew nearly every week. Think about that the next time you don't like what the crew is saying. Wanna go back to the old days?
Luke from Melbourne, Australia
Vic, what do you think of the Trent Richardson trade? I think it's unfair to Browns fans that the team has basically given up on this season two games in. Do you think this is what separates the good teams from the great teams?
Teams have to do what they believe is best for the team. If they don't think they're contenders, then why delay rebuilding? If you don't like a guy's talent level or if he doesn't fit the system you're trying to install, and you can get top return value for him, then it's smart to make the trade. I would have two concerns about this trade, if I were the Browns: 1.) It's going to create dead money on the Browns' salary cap. 2.) If Richardson becomes a star running back in Indianapolis, it could make the Browns look bad for a long time, and within the same conference. This is a trade they'll have to play against.
Vic, through two weeks, I am accepting of where the team is at and what direction it is heading in. Aside from talent, I believe good coaching is what drives team success. In light of what you've seen in the early going of this season with Sean Payton returning to the Saints and the job Bruce Arians did with the Colts last year in Coach Pagano's absence, could you elaborate on what you believe Mike McCarthy brings to the table for the Packers and what challenges the Packers would face without him?
He brings stability. That's No. 1. When you have a coach of McCarthy's quality, you have longevity, and that breeds stability. That's what Cleveland hasn't had and that's likely why they've traded Richardson. He was another regime's pick for another offensive system. The value the Browns will have lost will be the difference between where Richardson was picked and where the Browns will pick with the pick they got from the Colts. That's lost value and it's the result of not having had stable leadership; too many coaches and general managers over too short a period of time. Fans think calling plays is what makes a coach great. That's not it. It's his ability to lead that makes him great.
Vic, the Jaguars opted to stay in California this week, in between two West Coast road games. I don't know if it's a travel expenses thing or more of a circadian rhythm thing. Have you seen this strategy benefit teams in the past who have consecutive games scheduled on the opposite side of the country?
This is nothing new. I was covering the Steelers in 1973 when they played the final game of the regular season in San Francisco and then stayed in California for the week because they were going to play a playoff game in Oakland the following weekend. The philosophy is that the 10 hours that would've been spent in the air can be spent on preparation.
Vic, when does someone become a Hall of Famer, in your eyes?
When there is absolutely no doubt he belongs there. It's more important to keep people out of the Hall of Fame, than it is to put them in.
Vic, how did you get this job? You've got an attitude. Go back to Pittsburgh, PA.
Very good, Jeff. Pittsburgh is, indeed, in Pennsylvania.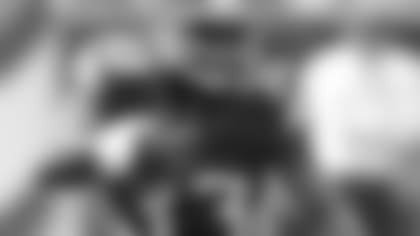 RB Trent Richardson
Jordan from Riverside, CA
I'm a Colts fan and I'm not sure about this trade for Trent Richardson. He seems like a banger, and the Colts really do need one, and he is young with tremendous upside, however, I don't like giving up draft picks, especially a first-rounder. This is also worrisome considering the Browns seemed fairly eager to get rid of him and he has had injury issues. What's your take on the trade as you see it?
The value side favors the Colts. They're getting a player they believe is worth more than the pick they'll have next spring. Here's another big value benefit for the Colts: The Browns have paid his signing bonus, and the amortization of that bonus stays in Cleveland. The first-round pick they're giving the Browns is a contract the Colts don't have to negotiate and a signing bonus they don't have to pay. I'm not opposed to pick-for-player trades, provided the player that's being acquired is young and ascending. I don't like pick-for-player trades when the player drafted with the pick is likely to be in his prime when the player acquired is out of football. Is Richardson an ascending player? That's the issue. If he is, then the Colts just did something real big: They got a pounder who'll make Andrew Luck a better quarterback as a result of the play-action fake Richardson will create. In the Colts' heyday with Peyton Manning at quarterback, they beat teams with trap and trap pass. They might've just acquired trap, which will help sell trap pass.
Michael from Chapel Hill, NC
"I was born for a storm, and a calm does not suit me." –Andrew Jackson. I think that's a fitting sentiment for football players, as well as for your particular brand of column, Vic.
"Jeff was born for a calm, and a storm does not suit him." – Vic Ketchman.
J.D. from Indianapolis, IN
Vic, if our run defense holds up, containing Bernard and Green-Ellis, and if we can keep the ball away from Green, Gresham and Eifert, and if Aaron Rodgers doesn't get sacked four or five times, I would be so confident in this weekend's game that I would actually place hard-earned money on it against the very small spread. I like the Packers in this matchup, but I don't expect an easy game. What say you?
I say never bet money on a game, always expect a tough game and calm down so you can enjoy it. I think the Packers will do better at scoring points quickly than the Bengals will at scoring points slowly.
I was watching the NFL Network the other day and they said 400 passing yards is the new 300. Do you agree with this?
Yes, I do. Early in my career, 200 yards passing was a huge day for a quarterback. In the '80s, 300 became the new 200, and it stayed that way for a long time. Now, 400 is the new 300, and I think 500 will become the new 400 before this decade is complete.
Nathanael from Nekoosa, WI
Vic, ever hear of the 4-4 defense?
The 44 is an age-old college defense that employs one of its linebackers as a "monster" or "hero," which is a linebacker/strong safety hybrid. Penn State ran it under Joe Paterno for seemingly an eternity. They played cover three behind it, which blends well with the 44 in college football. In the NFL, the 44 would be used as a blitzing, attacking defense. It would require having a couple of shut-down corners to avoid the 44's big-play vulnerability.
Vic, to me the Steelers and Packers are very similar in many ways, but it's pretty clear the Steelers window is closed, but do you really think they made the wrong decision to keep the team intact? Three Super Bowl appearances (two wins) in the last eight years. Would you take a down year or two for that kind of production?
That's the debate. A lot of fans would say keep it going as long as you can; others would prefer to avoid the crash-and-burn likelihood. My position on this is that I would always allow the salary cap to make the call. I would not re-structure contracts to push money out to make room in the present so I can hold a team together. That's where I draw the line. I'll hang onto older players for the purpose of trying to continue the run, but I won't re-structure to push money out. No way; won't do it. That's where I think the Steelers made a mistake. They didn't do that in the Rod Woodson era; they let Woodson, Carnell Lake, Leon Searcy, Chad Brown, Eric Green go. As a result, they protected their salary cap and they recovered quickly and transitioned painlessly into the Roethlisberger-Polamalu era. I don't think this transition is going to be as painless.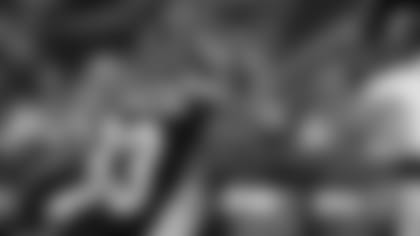 Bengals DE Michael Johnson
Dan from Grand Island, NY
So what do you think, Vic, does Cincy have the firepower in their defensive line to get pressure with just those four and flood the passing lanes with the rest?
Very good, Dan. Blocking Michael Johnson is the key. He's the Bengals' Jason Pierre-Paul.
Joseph from Morrisville, NC
Someone asked you recently about the best AFC-NFC rivalry. I've felt for years the league should adopt some sort of rivalry-type schedule that would allow games such as Giants-Jets, 49ers-Raiders, Texans-Cowboys, Eagles-Steelers, to name just a few interstate rivalries that would add some real juice and fan anticipation on a yearly basis. Your thoughts?
That's an interesting idea, but I wouldn't favor it because I believe the league has achieved some real continuity in its scheduling since the 2002 realignment. Teams within the same division play essentially the same schedule, with a few wrinkles, and I think that marries well with the emphasis on winning a division title to get a home playoff game. It's within the divisions that rivalries are built and sustained. The ones that you've mentioned come along every so often and they're extra juicy because those teams don't face each other often.
Vic, do you think officials are more apt to call something a TD or a turnover because they know it will get reviewed and don't have to worry about making the right call at that moment?
Yes, I do. I think it's natural for officials to error on the side of replay, and I don't think officials should ever have a leaning when they make a call. I think it's one of the flaws of the system.
Howard from Pembroke Pines, FL
The Packers had a 31-0 lead during the first half. Why did the Packers allow the 'Skins to get back in the game?
It was 24-0 at halftime. It was 31-0 with 8:16 to play in the third quarter and 38-7 with 2:41 to play in the third quarter. When did the Redskins "get back in the game?" I missed that. Was it at 38-14 with 11:02 to play in the game? Was it at 38-20 with 7:26 left? I don't remember my heart beating faster at any of those points in the game. OK, we have reached the end of this insanity. It's Thursday and I am officially done with this stuff. It's time for all of us, including the play-for-the-stats crowd, to move on with our lives. If you send in a question similar to Howard's, I will summarily delete it. You might as well have sent your question to Mars.