Curtis from Brookfield, WI
Will either of you be attending the shareholders meeting? I will be there wearing a homemade II T-shirt. Hope to see you there, and other II's.
Curtis, you did not disappoint. I've seen numerous II shirts over the years – all of them creative and humorous – but yours takes the cake. Thank you for saying hello and making my week.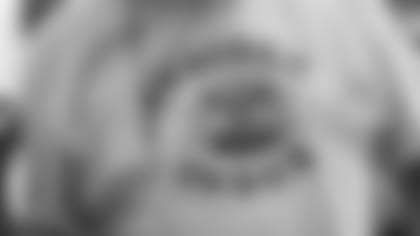 Morning guys! On the first day of camp, what is your must-see/attend moment?
On the field, watching Jaire Alexander and Rasul Douglas interact with Jordan Love and the young receivers. I think that's the back-and-forth battle to watch throughout camp. Alexander, specifically, has gone from being Daniel LaRusso to Mr. Miyagi. Once the young cornerback lining up across from a Pro Bowl receiver in Davante Adams, Alexander is now the litmus test for Christian Watson, Romeo Doubs and the rest of these young Packers receivers.
How would you define "patience"? How do you think most fans would?
To me, patience is seeing the forest for the trees. Most fans, however, would probably define patience as having to wait to win the game in the fourth quarter than the first. That's showbusiness, baby.
Mary Ann from Black Mountain, NC
Jordan Love appears to have all the tools needed to succeed. While football can be complex in its details, does II agree that Love's effectiveness will have a foundation in four fundamentals? One, offensive line, to give him enough time to read the defense and execute. Two, receivers who separate quickly and catch the catchable balls. Three, defense to keep the other team off the field and give Love lots of reps. Four, special teams to obtain and keep good field position.
Correct. That's why I feel like Jordan Love is in a great position to succeed as a first-time starting NFL quarterback. Echoing Dan Orlovsky, I believe the foundation is in place for this to be a playoff-caliber football team in 2023 – and Love shouldn't need to play superhero for it to happen, either. His job is to focus on fundamentals, trust his playmakers, and compete.
Adilson from Rotterdam, Netherlands
Wes, as training camp is set to begin in just a few days, the first in the Jordan Love era, I just re-read the profile piece you wrote on Love in 2020 (which I highly recommend to my fellow Inbox readers as well) with everything his former Utah State offensive coordinator/quarterbacks coach had to say about him (as a player and a person). Needless to say, the season can't get here soon enough!
David Yost, who coached both Love at Utah State and Justin Herbert at Oregon, was excellent for that 2020 profile. He delivered one of my all-time favorite quotes during that story, too. "When you watch him, you would think his heartrate is always at about 30. I mean it does not budge – good, bad, or indifferent." It proved prophetic about Jordan Love. I'd like to write another follow-up on Love before the opener, but I have three other projects I need to finish before then.
Thanks for recognizing Ben Sirmans! Please opine about Tom Clements and his impact on AR and JL? Has Mr. Clements had a significant impact on each? Aren't they and we blessed?
Aaron Rodgers spoke glowingly about his experience working with Clements, both as a young quarterback and four-time MVP. The totality of Clements' work speaks for itself. Now, he gets a chance to work with another first-round pick. If Love happens to blossom into a Pro Bowl QB, I can think of no better testament to Clements' lasting contributions in Green Bay.
As a lifetime Packers fan, I've learned to not get too excited with free agency. I've learned to expect homegrown talent. This year, I'd like to see Love grow into the role as QB1 and have everyone wondering if he can be the next "12" or "4." I'd like to see the young talent on defense show us why they were drafted so high, and I'd like to take the win column from the Bears. That's a "winning season" for me.
And that's why Week 1 is so important because that game hits on all three areas of expectation you're talking about. Promise is progress.
Hi guys! I really appreciate Rich Bisaccia as a coach. He has stabilized special teams. Looking forward to cheering them on this year. I hope he gets legitimate consideration for a head-coaching job in the near future. He deserves it. Just seeing the results tells me he is a coach who pays attention to detail and recognizes talent. It seems like the players want to play for him, as well. I will miss him but I think he would be a great head coach someday. Your thoughts?
As much as Bisaccia is deserving of such an opportunity, I'm sure that's the furthest thing from his mind at the moment. He's signed on for a second year in Green Bay after a promotion to assistant head coach and special teams coordinator. Bisaccia's task is to help this team, and the "we-fense," take another step. If it all works out, then Bisaccia deserves to be in consideration for a head-coaching opportunity next winter.
Jackie from New Freedom, PA
Which rookie has shown the most promise so far?
Lukas Van Ness is on his own planet in that regard, but pound-for-pound, nobody impressed me more than Carrington Valentine during the OTA practices open to the media. He didn't back down at all from the Packers' starting receivers in 11-on-11, even breaking up a couple passes. I can see why Mel Kiper Jr. liked the former Kentucky cornerback as much as he did.
Pete from Hillsborough, NC
From what you have seen so far, what do you consider to be the strengths and weaknesses of Zach Tom vs. Yosh Nijman vs. maybe Caleb Jones at right tackle?
Jones hasn't factored into the right tackle competition yet. He was working at left tackle behind David Bakhtiari during the offseason program. I think the battle at right tackle comes down to experience and promise. Nijman took a long, deliberate path from undrafted free agent to starter, whereas Tom was thrown into the fire right away as a fourth-round pick. It's a pick 'em right now, but whoever best utilizes their strengths in camp will be the one who prevails. The Packers are fortunate to have two great options, though.
George from Kennebunkport, ME
Moving on from a HOF QB changes the complexion of a team. We have a D loaded with high draft picks, a solid O-line, a great RB tandem, and a room of very young pass catchers. What is the one area of concern/weakness that needs the most attention to help give the Packers the best prospect to win our (seemingly up for grabs) division?
Quietly, it may be tight end. The Packers have two elite prospects in Luke Musgrave and Tucker Kraft, but that's a very young position group with Marcedes Lewis unsigned. I don't doubt the collective ability of Musgrave, Kraft and Josiah Deguara but the tight end position carries a lot of responsibility with Green Bay's run game, too.
Hello, with all the talk of running backs being undervalued and underpaid, do you think the NFL will ever institute a policy where each position is allotted a certain amount of money, kind of like the way draft picks are slotted?
Again, I'd be all for the NFL and NFLPA having a "mid-level" exemption to pay running backs what they're worth without fear of becoming expendable one or two years into a contract. However, that idea flies into the headwind of how the league operates. Since the beginning of free agency, positions have been viewed equally across the board with every player looking to grab a piece of a team's salary cap allotment.
A lot of attention has been given to Romeo Doubs, much of it deserved, but it's based on a relatively small sample size. How long does it take to truly evaluate a WR and what he can bring to the team?
I believe you need more than 1,000 snaps to evaluate a receiver. Davante Adams, Jordy Nelson, and Donald Driver are three of the best receivers in team history, but it still took a few years for them to become superstars. Whether that's maturation or opportunity, I think you must give young receivers the latitude to grow. In Doubs' case, it's extra credit he played as well as he did as a rookie. But that's just the start.
So, Luke Musgrave and Jayden Reed just recently signed. Now all the draft picks are signed, correct? Does Kenneth Odumegwu have a signed contract? If so, then why is the current number of players on the roster 91? I also forgot about the recent signing of QB Alex McGough. If everyone is signed and ready. Let's go! They're ready and we fans are ready. I imagine Mike and Wes are ready too. Go Pack Go!
The Packers now have all 13 draft picks under contract and the roster stands at 91 players. McGough replaced D.J. Scaife, who was released. Green Bay gets an extra roster spot for Odumegwu because the NFL allocated him to the Packers as an international development player. He wasn't signed as a free agent.
If a player is playing on the franchise tag, what happens if they get a career-ending injury? Do they take out an insurance policy?
The 2023 contract is fully guaranteed for both injury and skill, but I believe that's the extent of their protections.
Chris from Rhinelander, WI
Could you compare and contrast the body types and play styles of Jayden Reed and Amari Rodgers? Amari was another high draft pick with hopes of solidifying the slot receiver and returner positions.
Reed is a more explosive athlete and was a featured playmaker throughout his college career. Rodgers is thicker than Reed but not nearly as fast. He also was more of a complementary piece at Clemson.
I don't doubt Anders Carlson's leg strength, but my question is can he tackle?
One of the more underrated aspects of Crosby's consecutive games played streak is the fact he didn't back down from anyone.
Have you looked at the Madden ratings for our Packers? If so, any comments?
No. I'm too old for that stuff. If my boss wants a story on it, I'll write it…but otherwise I couldn't care less.
In the Atlanta Journal-Constitution today, Sunday, July 23, 2023, they say that Desmond Ridder, the starting QB for the Atlanta Falcons, brings "swaggy" style to the Falcons. Don't really know what that means, but we'll see in Week 2. Hope to see you there!
I get where the Falcons are coming from. It's that pendulum I talked about with Zach Wilson. When youth fails, teams often move to experience under center. When experience falters, they shift to youth. Atlanta watched Matt Ryan age quickly. When Marcus Mariota didn't prove to be the answer, it makes sense the 23-year-old Ridder is the next QB up.
Venny from Montgomery, AL
I think most of us are aware that self-confidence is tied to an athlete's performance. Do the Packers have dedicated staff members to help nurture confidence and mental health of players? Some players, like Jaire Alexander, seem to have a natural self-confidence, but some appear to me more developed. I don't know much about Davante Adams' personality in his rookie season, but to me he seems like a player who developed self-confidence over time.
Confidence comes from a multitude of places, but the Packers have a pioneer in sports psychology on staff in Dr. Chris Carr. Aaron Rodgers, Eric Stokes, Raven Greene, and many other players have talked in the past about Dr. Carr's importance, particularly for players returning from injury. He's the real deal.
Can you please help settle a debate? My dad is visiting, and we are talking about the possibility of Jordan Love being a third straight Hall of Famer. I said other than Joe Montana and Steve Young, there has been no other QB duo close to being back-to-back Hall of Famers for the same team. He assures me that there was another, maybe the dreaded Cowboys? Can you help us settle this?
Dallas didn't have back-to-back Hall of Famers but has had some decent quarterbacks. In addition to Dak Prescott and Tony Romo recently, the Cowboys also featured Roger Staubach, Danny White and Troy Aikman under center from 1971-2000.
Without saying, "The woman I married," what do you consider the smartest thing you have ever done? Mine is easy: Summering in Marinette, Wis., and not staying in Phoenix in the summer.
Getting a job at McDonald's in 2004. Professionally, it opened doors for me but the 1½ years I worked there also taught me more about life and the importance of making good decisions than 16 years of schooling ever did.
I always thought the Steelers' "bumblebee" unis were hideous with the Buccaneers' creamsicle unis close behind.
I don't mind Pittsburgh's throwback unis. History has its own style, so I throw them in the same category as the Packers. However, Tampa Bay's creamsicle jerseys are the worst primary uniforms the NFL has ever seen.
I'll never understand why so many people fall for "clickbait" that is out already regarding the 2024 draft and articles about 2024 moves the Packers need to make. Can't we get through the 2023 season as fans and let the front office handle thinking about the Packers' future year? Let's enjoy the 2023 moments that will give us memories that last a lifetime. Thank you II for all you do to give us perspective on the team we all love, no pun intended.
If you ever want a good laugh, go back and read those "moves to make" articles one year after they're written. I don't get the need for pointless speculation when answers are revealed in due time.
Wes, I see that one of the Packers Perks Sweepstakes options is lunch with you and Mike, but lunch at 1919? I was hoping Ma Hod would be supplying bag lunches. Also, noting Mike's proclivity for absconding with your lunch, shouldn't the winner be told to not only bring their own lunch but also a lunch for you? Regarding the one-hour time limit for this engagement, since Al, one of the 2023 II MVP winners, lives in Green Bay, will he be called upon to officiate and watch the clock?
The reward is you get to eat lunch with Spoff while I talk about how hungry I am.
Wes, it looks like you need to get a cat to catch that elusive mouse. They are quite efficient in mouse eradication. Once you get one, the life expectancy of your mouse is very short.
I have a cat. Unfortunately, she's a nihilist.
What's a mud dauber? I'm from Seattle and have never been stung by one while in Green Bay! We don't even have mosquitoes in Seattle. Next time I'm visiting Green Bay, I'll look out for one.
It's a less respectable hornet that lives in the ground. I usually get stung/bit by them at least once a summer while mowing the grass.
Wes, not having Mason Crosby and Aaron Rodgers on the field will be a change, but I am looking forward to Wayne's and Larry's radio calls for our new starting cast. I am hoping we get another Super Bowl just so I can hear those two call some Packers radio poetry on the way to a Lombardi Trophy. The new trek has begun.
And optimism is in the air. Brian Gutekunst and Matt LaFleur will speak to the media this morning and the next time I'll chat with you all the Packers will have conducted their first practice of training camp. We are here. Have a great Tuesday. Insider Inbox
Join Packers.com writers as they answer the fans' questions in Insider Inbox