Steve from Land O'Lakes, FL
Good morning! Have you kept all of your records from the baseball games you have attended? Seems like you would have some very memorable ones.
I have. They're all in a drawer. Someday I'll be at the game whose scorecard is worth framing, but I'm biding my time. And yes, it's me for a second straight day. Wes is going to take you into the weekend from here, but until then …
Following Adrian from Chula Vista's question regarding state representation in Inbox, doesn't there seem to be a disproportionately high percentage of Jeffs represented? It's not the most common first name but seems to make at least one appearance a day, sometimes much more. Not that there's anything wrong with that...
I can't say I've paid attention to that. Clearly some do.
Scott from Lincoln City, OR
Hey Wes, do you have something against guys named Scott? In the past month Mike has answered questions from Scotts from Palos Park IL, Norwalk CT, Las Vegas NV, Green Bay WI, Pewaukee WI, Sauk City WI, Noblesville IN, Augusta GA, and Salem OR but you haven't answered even one. Did someone named Scott used steal your lunch when you were a kid?
Mike from Glens Falls, NY
Great piece by Mike on J-Love's OTA performance ... do you think that in the heat of the moment, he doesn't remember the cardinal rule of no late throws over the middle, or do you think he knows it but thinks he can beat it?
Oh, he remembers. I think he just made a conscious decision to take the risk with no timeouts and less than 30 seconds left in the two-minute drill, to see if he could get away with it. I appreciate the fact that he's pushing those boundaries now and learning along the way.
In Mike's Tuesday feature on Jordan Love, he mentioned Tom Clements' three cardinal rules for QBs. The first two make perfect sense to me, but I'm not clear on the third one. Can you expound on "no premeditated decisions" in the context of QB play? It seems that planning in advance with a purpose would be a virtue, not a sin.
I believe it refers to the QB deciding, based solely on the play call in the huddle, where the ball is going, before he's looked at the defensive alignment and/or personnel.
Adam from Kansas City, MO
I know it's standard practice for the team not to sign the early-round draft picks until late into the offseason, but that's always made me scratch my head a bit. What are they waiting for? Is it waiting for the rest of the league to set the market price for early draft picks? Also, if they aren't signed for a lot of the offseason, how and what are they being paid for that time?
There's always waiting for the dust and details to settle on the other picks drafted in similar slots, but somebody's gotta get the ball rolling, right? It works out somehow. They don't get paid anything substantive (aside from nominal stipends here and there) until they get their signing bonus, but the rookies are protected financially in case of injury while working with the team.
Brent from Janesville, WI
Hiya fellas. Thanks for all the great content. When a WR is described as a "good route-runner," what are coaches looking for most? Accuracy of the route as drawn? Timing? Ability to gain separation? Which skills are most elusive to less-experienced players? Any recommendations for evaluating route-running to those of us whose playbooks keep getting lost in the mail?
There's a lot that goes into it – precision with yardage and steps, quickness in and out of breaks, adeptness with fakes that don't slow down the route or throw off timing, ability to make all routes look the same through the stem. The latter two take the longest to master, based on conversations with veteran receivers over the years.
Brock from West Lafayette, IN
Good morning! In "Unscripted" earlier this week, Mike mentioned that in 38 games, Elgton Jenkins and David Bakhtiari only played in six games together! I'm sure there is no correlation, but I am curious as to what the W-L record was in those six games. Regardless of the outcomes, I think we all will rest a little easier knowing those two can anchor that side of the line together.
To be clear, they've played in more than six games together, but only lined up side-by-side at left guard and left tackle six times in the Packers' last 38 games. For the record, the Packers actually went 2-4 in those six games last year. The point is continuity up front, even with the line's best players, has been elusive, and while it caught up to the team in the playoffs in '20 and '21, it was a factor throughout '22 in my opinion.
The position group I am most interested in this season is the O-line. Did Rodgers' pre-snap reads and high football IQ take pressure off the O-line, keeping him clean, or does the Pack really have a knack for finding and developing O-line talent in the later rounds of the draft? This season should be very telling...
I think a full-fledged commitment to the running game can take as much, if not more, pressure off the guys up front as Rodgers' pre-snap reads and adjustments. We shall see.
When I started struggling with the 3-wood recently, I found I needed to keep it in the bag. I liken that to the running game last year in goal-to-go situations. "Why won't they run it!?!?!" Well, like my 3-wood, I'd love to pull it out of the bag and try to get up in two after a great par-5 drive, but why waste the shot if I know it'll likely sail out of bounds? So I take out the "3-brid" and strike it well but a couple to a few dozen yards shorter. Suddenly, scoring gets tougher. Need that 3W.
The Packers failed with the run despite numerous attempts in goal-to-go last year, and my point was that it stemmed from the inability to run the ball once in the red zone, when the field shrinks a little bit. Being able to run it when the field shrinks a little, helps when the field shrinks a lot. That was the case in 2020 when the Packers had the best red-zone offense in a generation. The opposite is also true.
I read that Adrian Amos' dead money cost is $7,950,000. If the Packers were to re-sign him could they recoup any of that or is it gone because his contract with the Packers was voided in February?
Once the contract voided, the dead money from the void years came due on the cap.
Trying to evaluate a donut's ultimate taste by just looking at it thru the glass display case is about the same as evaluating a new TE from just OTAs. However, which TE "donut" is looking delicious so far in OTAs? I think the Pack is due to have a breakout TE – the last one I can remember is Jermichael Finley.
It's way too early to know much, but seeing the physical size (6-6, 253) of Luke Musgrave running routes with the athletic ability he possesses … there's a visible change. It just looks different than anything the Packers have brought to the position since Finley. Statistically, Richard Rodgers in '15 (58 catches, 510 yards, eight TDs) and Bobby Tonyan in '20 (52-586-11) came close to Finley's production, but neither was the body type or athlete Finley was. The eye test says Musgrave could be.
I noticed many of the measurables from the combine for Lukas Van Ness are pretty similar to those of Rashan Gary (1-inch height difference, 5-lb weight difference, 1/8-inch arm length difference, and the same 40-yard dash time). The biggest difference that stands out is the bench press, where Gary was significantly better. Clearly Van Ness will need to pave his own path to success in the NFL, but based on their similar athleticism, should we expect to see his on-field playing style mimic Gary's?
Not necessarily. I think Van Ness is a little more accustomed to standing up on the edge compared to Gary as a rookie, and while they have those measurable similarities, they have different body types that carry weight differently. Physically speaking, Van Ness looks a lot more like Preston Smith than Gary, honestly.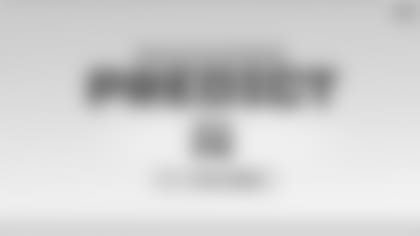 Play Packers Predict!
Welcome to Packers Predict! Play & answer questions for weekly prizes!
So, Jaire Alexander and Rasul Douglas skipped OTAs. I get that they are optional, but those are two incredibly important players and leaders of the locker room. Should this concern me?
I've come to accept and respect that veteran, established players have their own routines and processes in the offseason to prepare for the long grind ahead.
I'm an avid reader, but life got in the way the last couple of weeks so maybe this question has been answered. I heard that Jaire would receive a $700K bonus for attending practices. Why would he skip the OTAs if that is true? Even for these guys, that is a lot of money. It seems to me that veteran leadership would be valuable for this young group of men.
Don't assume Alexander is forgoing his bonus. I don't know the stipulations in his contract or his overall attendance, but those bonuses are generally tied to a percentage of offseason participation, and there were five weeks of offseason work before OTAs began.
Following up on the "Hard Knocks" question, do the four eligible teams have any say and ways to delay the decision? I would have thought with the Aaron Rodgers-led Jets in the mix the best way to boost TV ratings was obvious.
The league, and more specifically HBO, would prefer for the team on the show to be a willing and helpful participant. I'm guessing none of the four have emerged as such, hence the delay.
Was reading the piece on Kenny Clark leading the D-line. I like the starters, and the rookies, but this is the NFL and injuries happen. Are you at all comfortable with the depth of that unit? Forget bringing in a veteran QB, can we get a veteran DL to stuff the run and eat up blocks for our ILBs?
I'm sure the Packers would love to add one, but anyone who could help is not available for at or near the veteran minimum. It's the same situation at QB and WR. The Packers are getting their cap in order, and when their depth is tested at certain spots, it'll be young guys asked to hold up their end.
Are the Buffalo Bills ever going to get over the hump? Every year they're close, but someone else is better. A bit eerily similar to our last decade...
They've still got time, and their quarterback just turned 27 two weeks ago. But that AFC is loaded with young QB talent.
Hope the air in your neck of the woods is okay. Here in Brooklyn it's pretty bad. Air is a sickly yellow, and smells of woodsmoke.
Stay safe and healthy out there, folks. Please. Happy Thursday. Insider Inbox
Join Packers.com writers as they answer the fans' questions in Insider Inbox