GREEN BAY – Packers cornerback Tramon Williams, tackle Bryan Bulaga and kicker Mason Crosby have been named the 2019 Tom Mulhern Stand-Up Guy Award winners by the Green Bay chapter of the Professional Football Writers of America.
The annual award is presented to the Packers players voted to have best helped reporters covering the team to do their jobs effectively. Previous winners include defensive tackle Kenny Clark, receiver Davante Adams and left tackle David Bakhtiari.
Williams, the first two-time recipient of the Mulhern Award after first being honored in 2014, played in all 16 games for the ninth time in his 13-year NFL career, recording 39 tackles, eight passes defensed and two interceptions as the Packers' nickel cornerback.
His 159 appearances in a possible 160 regular-season games in his two stints with the Packers are third most among defensive backs in franchise history behind only LeRoy Butler (181) and Willie Wood (166).
"I see everybody as a human being first. I always have," said Williams upon receiving the award. "I understand everybody has a job to do. We all have to provide for our families and the whole nine. Whatever I can do to help that, I try to do it. That's just always been me."
Bulaga started all 16 games for the Packers in 2019. A first-round pick in 2010, the 6-foot-5, 314-pound right tackle has started 111 regular-season games for Green Bay and is the second-longest tenured offensive player on Green Bay's roster.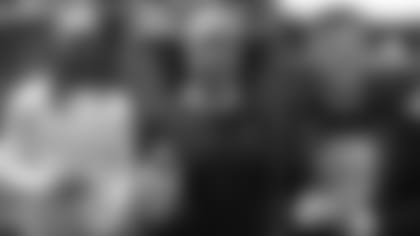 "I think every guy has a story to tell in here," Bulaga said. "I think every guy has a different personality, has gone through different things. Whenever fans, or maybe not even fans of football, see interviews and see guys speak, you get to know them a little better, I think that's a positive."
Crosby, who has appeared in 208 consecutive regular-season games for Green Bay, tied Jan Stenerud's single-season franchise record for accuracy in 2019, converting on 22 of 24 field-goal attempts.
Off the field, Crosby and his family overcame a lot of personal adversity this year after his wife, Molly, was treated for a cancerous tumor in her lung during training camp. Three months later, Crosby's sister-in-law, Brittany, passed away at the age of 30 following a three-year battle with ovarian cancer.
While private by nature, Mason and Molly felt it important to get their message out and offer support to others who have been affected by cancer.
"We have an amazing platform here," Crosby said. "I appreciate y'all for allowing us to kind of put some of our personal stuff out there in that platform to reach fans, and tell our fans that they're not alone, and that we appreciate the support, as well. For me, I am somewhat of a private guy with some of our family stuff but it meant a lot to me to be able to share our story and feel that support."
The Stand-Up Guy Award is named after the late Tom Mulhern, a former Packers and Wisconsin Badgers beat writer for the Wisconsin State Journal and Milwaukee Journal-Sentinel who passed away at age 56 in October 2014.