ATLANTA – The Packers built a 12-point lead in the second half Sunday at Mercedes-Benz Stadium but couldn't hold it and dropped a 25-24 decision to the Falcons on Sunday.
The loss drops the Packers to 1-1 on the young season. Atlanta is 2-0.
Green Bay could not get a single first down on offense on three possessions in the fourth quarter, and the Packers' defense couldn't stop the Falcons. Atlanta climbed back into the game drive by drive and eventually took the lead on a chip-shot field goal with 57 seconds left.
RB Bijan Robinson finished with 124 yards on 19 carries, and RB Tyler Allgeier added 48 yards on 16 attempts. QB Desmond Ridder was 19-of-32 for 237 yards with one TD, one INT and a 79.8 rating, adding 39 rushing yards on 10 attempts. WR Drake London had six catches for 67 yards and a TD, and WR Mack Hollins had three catches for 60 yards.
For the Packers, QB Jordan Love was 14-of-25 for 151 yards with three TDs and no INTs for a 113.5 rating. RB AJ Dillon had 15 carries for 55 yards, and Love added 23 yards rushing on two scrambles.
Rookie WR Jayden Reed had four catches for 37 yards and two TDs, and fellow rookie WR Dontayvion Wicks had two catches for 40 yards and a TD.
Here's a recap of all the action: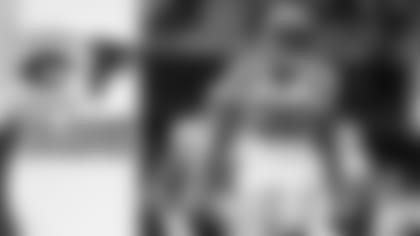 Falcons lead Packers 3-0 after first quarter
The Packers ran a flea flicker on their first offensive snap, with AJ Dillon tosses the ball back to Jordan Love. Dontayvion Wicks got behind Atlanta's secondary, forcing an A.J. Terrell defensive pass interference penalty for a 44-yard gain to the Falcons' 31.
The Packers struggled to move the ball from there, though. Walker was flagged for a false start and Love's third-down screen was knocked down. Green Bay initially tried for a 51-yard field goal but sent out its punt team instead after a delay of game penalty. Atlanta took over at its 20.
With Kenny Clark bearing down on him, Desmond Ridder threw his first career interception on 134 pass attempts when Rasul Douglas picked him off deep.
It was Douglas' 10th INT as a member of the Packers. He's one of three players with 10-plus interceptions since 2021 (Trevon Diggs and Justin Simmons).
The Packers went three-and-out, with Love being sacked on third-and-11. The Falcons took over at their 27 after a 45-yard Daniel Whelan punt.
Atlanta worked the ball down to the Green Bay 1-yard line but came up short on three attempts at the end zone. The Falcons initially lined up to go for it on fourth-and-goal but chose to kick the field goal after Matthew Bergeron's false start.
Trailing 3-0 after Younghoe Koo's 24-yard field goal, the Packers found some offensive momentum with a 15-yard slant to Romeo Doubs. Green Bay then crossed midfield on a 17-yard pass from Love to Luke Musgrave on a pass to the flat off a third-and-1 rollout.
Love then scrambled for a career-long 24 yards on third-and-10.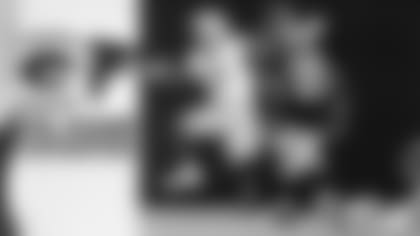 Packers lead Falcons 10-9 at halftime
The second quarter began with an 8-yard slant to Musgrave. Dillon got the inside handoff but initially was ruled down a yard short of the first down. However, Head Coach Matt LaFleur challenged the spot of the ball and it was respotted at the Atlanta 9, good enough for the first down.
Jayden Reed scored his first NFL touchdown on 9-yard push pass from Love on the next play, putting the Packers ahead 7-3 with 13:33 left in the first half.
Green Bay had Atlanta in third-and-15 thanks to Kenny Clark forcing an illegal hands to face penalty on Jake Matthews and Lukas Van Ness dropping Tyler Allgeier for a two-yard loss. However, the Falcons picked up the first down with a 22-yard pass to Drake London.
Quay Walker stopped Bijan Robinson for no gain on a short screen on first down and Preston Smith forced Ridder out of bounds 41 to set up fourth-and-4 at the Green Bay 41.
Ridder telegraphed a pass to London that Alexander nearly picked off but still caused the turnover on downs.
Royce Newman replaced Elgton Jenkins at left guard, with Jenkins (knee) questionable to return. The Packers opened the series with six offensive linemen.
Green Bay picked up eight yards with a short pass to Dillon on first down. Dillon then gained 13 yards on two carries before Dontayvion Wicks caught his first NFL pass for eight yards and a first down.
The Packers moved into the red zone after an Emanuel Wilson 7-yard run and a 4-yard pass to Josiah Deguara. Green Bay pushed ahead 10-3 with a little more than three minutes left in the half following an Anders Carlson 33-yard field goal.
Robinson's 14-yard run moved the Falcons back into Green Bay territory. The Packers held off Atlanta on Ridder's third-and-1 sneak, but Robinson gained 13 on a fourth-down pitch.
Ridder connected with Jonnu Smith on a 10-yard pass to the Green Bay 3 and scored on a 3-yard TD to London, but the Falcons still trailed 10-9 at halftime after Koo's missed extra point.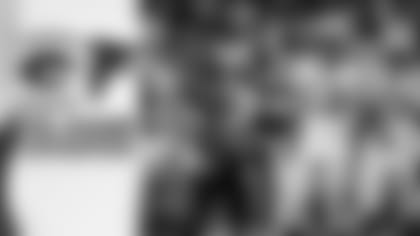 Packers lead Falcons 24-12 after three
The second half began with Jenkins being ruled out with a knee injury. The Packers had two great chances at interceptions, Rudy Ford on second down and Quay Walker on third, but couldn't haul them in.
Atlanta, which started with an illegal man downfield penalty, went three-and-out and punted to the Green Bay 35.
The Packers got the initial first down with a Dillon 3-yard run and a 7-yard pass to Samori Toure on an out. Love then pushed the ball to the Atlanta 38 after a 16-yard pass off a rollout to Doubs near the sideline.
The Packers gained another first down after a holding penalty on Ta'Quon Graham. On the next play, Wicks motioned and came across the middle for a 32-yard touchdown after shaking the DB.
Wicks' first career touchdown extended Green Bay's lead to 17-9 with 10:31 left in the third quarter.
The Falcons responded with a run-heavy series, including four straight handoffs to Tyler Allgeier for 22 yards. Robinson then busted a 11-yard run to the Green Bay 11.
Ridder rolled out on a play-action on first-and-10 and hit Mack Hollins in the back of the end zone. It was initially ruled a touchdown but overturned upon further review.
Allgeier was stopped for a two-yard loss on second down and then Rashan Gary and Clark combined on a sack of Ridder on third-and-12. Koo made a 33-yard field goal to cut Green Bay's lead to 17-12 with 3:07 left in the third quarter.
The Packers picked up 43 yards on Love's first pass of the next series when Tre Flowers was called for defensive pass interference against Doubs. Love connected with Reed on a 10-yard out to set up first-and-goal from the Atlanta 10 with 1:01 left in the quarter.
Coming out of a timeout, Love hit Reed for a 10-yard touchdown to push the Packers' lead to 24-12 with 56 seconds left in the third quarter. Reed is the second Packers player to have multiple receiving touchdowns in a game in his first two games as a pro since the NFL-AFL merger in 1970, joining James Lofton (1978).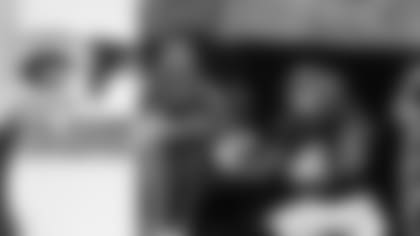 Falcons rally in the fourth, beat Packers 25-24
The Falcons got a big play to open the fourth quarter, with Ridder completing a 45-yard pass to Hollins to the Green Bay 12.
The Packers contained Allgeier and Robinson to 1-yard gains on first and second down and had Atlanta in fourth-and-4 after a 4-yard pass to London on third down.
However, Ridder squirmed free on a fourth-and-4 keeper to bring Atlanta back within five, 24-19, with 11:48 remaining.
The Packers were unable to add to their total on the next series, going three-and-out after Love's pass to Malik Heath fell incomplete on third-and-8.
After two 4-yard Allgeier runs, Ridder scrambled for four yards to convert on third-and-2. Robinson then came free on a pass for 29 yards down the sideline to the Green Bay 24.
Karl Brooks tackled Robinson for a 2-yard loss on first down to pull some momentum back. Douglas ripped out a third-and-7 slant to Mack Hollins, leading to a Koo 39-yard field goal that made it 24-22 with 8:10 remaining.
The Packers gained six yards on first down with Dillon but came up short on the next two carries. Green Bay tried to sneak it but false-started on fourth-and-1. The Packers punted with 6:07 left.
London gained 24 yards on a deep ball to the Green Bay 49. Facing third-and-3, Ridder connected with Robinson for 10 yards on a slant. Off a read-option, Ridder was ruled down one yard short of the first down on a third-and-3.
Falcons coach Arthur Smith challenged the spot of the ball but the ruling on the field stands and Atlanta chose to go for it. Ridder pitched the ball to Robinson, who picked up seven yards right.
Robinson ran it again on third-and-6 but was tackled a yard short of the first down. Atlanta let the clock run down to 1 minute before calling timeout. The Falcons took the lead, 25-24, on Koo's 25-yard field goal with 57 seconds remaining.
The Packers took over at their own 25 after a touchback. Facing fourth-and-10 after three incompletions, Love appeared to hit Toure across the middle for a first down but it was ruled incomplete upon further review to end the game.