All I want for Christmas is a 75-yard TD pass to Davante Adams on the first play from scrimmage. Too much to ask?
That certainly would be a memorable way for Aaron Rodgers to take his place in Packers history.
Bob from Saint Germain, WI
We won and accomplished goal No. 1. Does it feel like we still have much to clean up though before facing the best of the best? Your thoughts.
The Packers have stuff to clean up but so does every other team in the playoff hunt. New England, Arizona and Tampa Bay all went from the belles of the ball two weeks ago to having to answer tough questions today. As Spoff (via Adrian Amos) pointed out, that's just life in the NFL. Consistency is king. The Packers keep making strides, though. As much as Green Bay has struggled on special teams, the players and coaches are still working at it. You saw Rasul Douglas on kickoff coverage and Chandon Sullivan catching punts.
Michael from Berrien Springs, MI
It was nice to hear Aikman and Buck talk several times about the long overdue recognition LaFleur deserves. I saw Bradshaw on Fox say, "Yeah, let's see how La Fleur does after Rodgers moves on and then we can talk about COY." As great as Aaron is, I think it does a disservice to ML to not recognize what he has done to shape his staff and this team...and even Aaron Rodgers. Do you believe he should have strong consideration for COY?
I don't know if LaFleur will ever get the respect he deserves for what he's achieved, and he probably doesn't care, but the numbers are staggering. He's now 37-9 as the Packers' head coach, just one behind George Seifert for the most in a coach's first three seasons (and there are still three regular-season games on the schedule). What's more, LaFleur, Jim Harbaugh and Chuck Pagano are the only coaches in NFL history to win at least 11 games in each of their first three seasons as a head coach. LaFleur is more than worthy.
Jim from Tempe's comment about how this is NOT a championship team, on a day we were the first to clinch our division, first to clinch a playoff spot, and stand alone as the team most likely to earn the bye got to me. All I can say is wow!
Spoff and I had a wonderful real-world conversation with Gretchen from Dousman and her sister, Dorothy from Parts Unknown, on Monday. It made my day. At the end of the conversation, we talked about how you need to enjoy those moments in your fandom. Not because I say so, but because this is what you should want as a fan. You come to random training camp practices in August with the hope of cheering your hardest in December and January. The Packers will win a Super Bowl title or they won't. You'll be able to discuss either scenario at length this offseason. But if you don't enjoy today for what it is, you're going to miss out on some of the best memories. Enjoy football however you want to enjoy it but be sure you look at the scenery occasionally and not just the ETA. Also, Jim picked an odd day to make that argument considering what happened to contenders across the league on Sunday.
I sure hope our luck can hold out, and a screw-up doesn't cost us a game in the playoffs.
Brad from Solon Springs, WI
Wes, Mason Crosby and Co. produced seven points toward the win, or Big Dog with some key receptions and bulldozing, which one made you happier?
Those were some big kicks Crosby made that ultimately decided the game but watching Marcedes Lewis plowing through would-be tacklers at 37 years old is hard to top.
We will be there Saturday to watch the record go down! (fingers crossed) Our prediction is Marcedes Lewis for a short pass and the crowd goes crazy! Would there be a better way, at home, to get the record? He's top notch and our crew loves him! And it seems he has been closer to the end zone every week.
If Lewis catches it, I think Lambeau will come unglued.
I love all us older guys who want to throw around absolutes about performance, but none of those old dynasties existed in the era of COVID-19. The past two years give a whole new meaning to "survival of the fittest."
Availability has always been the best ability and that's especially true in these times. For better or worse, you play with the team you put on the field. Fortunately, the Packers have weathered injuries, illnesses, and circumstances out of their control to get to 11 wins. Just keep pushing.
Dave from Lake Zurich, IL
Everyone is hurt this time of year. Bad teams make excuses. Good teams win.
To the untrained eye, I have to believe Kenny Clark's absence on Sunday made a huge difference in our defense.
It did because Kenny Clark is one of the best three defensive tackles in football. There's no replacing that dude, but I felt like the Packers did a decent job up the middle. I saw Tyler Lancaster and Abdullah Anderson were among Green Bay's highest-graded defenders by PFF against Baltimore, which was my hunch coming out of the game. The biggest issue the Packers had was when they lost containment on Tyler Huntley and he made plays with his feet. Green Bay needs to straighten that out with potential rematches with Kyler Murray, Taysom Hill and Taylor Heinicke on the horizon.
Ignacio from Madrid, Spain
Good morning Wes. I was surprised when yesterday nobody mentioned that low pass to MVS for 25-30 yards in the second quarter. He wasn't open at all, he had three defenders on him and the window was pretty small. Beautiful throw and beautiful catch but can anyone explain to me why AR12 saw an opportunity there? Is that trust, confidence or insanity?
There's a fine line between genius and insanity, right? That play was a combination of Rodgers' incredible arm talent, accuracy and trust that Marquez Valdes-Scantling would make a play on the ball. Marquez Valdes-Scantling was brilliant in that game. He's no longer just a deep target. He can run the route tree.
I had to double-take when Tyler Davis caught a pass. I thought for sure the announcers had a wrong jersey number. Tell us what you know about him and will he get more snaps and targets now?
Davis has impressed me. All the guy has done is maximize every rep he's taken with the offense since the injuries to Robert Tonyan and Dominique Dafney. He has some size, too. That 22-yard catch in the seam was the second-most impressive catch of the day behind MVS'.
Derek from Eau Claire, WI
John Harbaugh gives the Packers a rest with a timeout and then only makes them cover half the field on the game's most important play. That's a better gift than the Jelly of the Month Club!
I've always viewed two-point conversions as roulette and just because it hits red on the first spin doesn't mean it's going to be black on the next one. Hindsight is 20/20 but I didn't like the call, especially with a backup QB in there. Either way, the Packers still had 40-plus seconds, one timeout and a red-hot Rodgers under center.
Charles from Spring Lake, NC
Wes, I've been doing math (outside the Inbox so it's okay, I think). Wouldn't it have been better for the Ravens to go for two on the first touchdown knowing they were playing to win? This way you get a second attempt if you fail. If you succeed on the first two-point conversion, you can simply kick the extra point for the win on the second touchdown.
Honestly, and I'm not trying to be a smart(butt)…I don't care. The Ravens did what the Ravens did and the Packers won, end of story. Maybe there's an Edgar-Allan-Raven-Box out there where you can explore these ideas.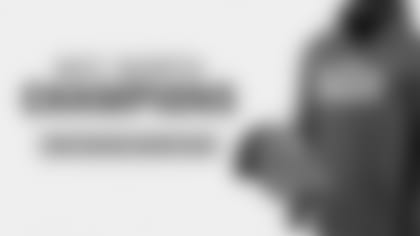 Shop NFC North Championship gear!
Browse the division championship hat, shirts, and collectibles!
When the Packers got the ball back Sunday with four-ish minutes to go, I feel like that's a spot where they've really leaned on AJ Dillon to get a first down and bleed the clock. If I remember correctly, they ran it once with him and then passed two times, one was incomplete and the other a sack. How much of that decision to pass is about all the injuries to the O-line?
I think it had more to do with Baltimore having the NFL's top-ranked run defense. The Packers established the run enough to win but I wasn't banking on Jones and Dillon combining for 30 carries in this game.
Before this game, I had not heard of Tyler Huntley, but watching this young man, I was impressed. He made a lot of good throws into tight coverage, and he actually looked more accurate than Lamar Jackson. Did he just put himself on the map?
Huntley wasn't perfect, but he's a solid backup. He threw a few flutter balls and a couple passes behind the intended target, but Huntley gave his team a chance to win. I knew he could play going in but came away even more impressed by what I saw from him Sunday. What a find Huntley was for the Ravens as an undrafted free agent last year. He's under team control at the base minimum for two more seasons, too.
With how close the NFC top teams are, with COVID and injuries, I think that bye week is huge, much more important even than home field. Which teams do you see wrapping up those wild-card slots?
It's something else how Kansas City has risen from the dead to retake the top spot in the AFC at the moment. The Packers and Chiefs are my two favorites, especially now that Green Bay is one up on the conference with three to go.
Yesterday it was discussed that the MVP race seems to be between Jonathan Taylor and Aaron Rodgers. I'm curious, since the award is voted upon by sportswriters and media people, how much does the tumultuous media year that Rodgers has had affect his ability to win the award? I know it shouldn't matter and the award should just be decided based on each player's on-field performance, but surely Rodgers has put himself in a position where he will lose votes due to off-the-field things. Thoughts?
I don't know, but the NFL Most Valuable Player is supposed to recognize the player who is considered the most valuable in the National Football League during the regular season. Through 14 games, that sure sounds like Rodgers to me.
Jonathan Taylor 100%! To take Tom Brady out of that conversation is crazy! How quickly we forget that we lost 38-3 to the same team!
If it's not Rodgers, then it's Taylor. The only reason I lean Rodgers is because he's been the focal point of Green Bay's offense all season. There was a time not so long ago Frank Reich was calling up 27 straight pass plays when he had Taylor available.
The play where the Packers were penalized for taking out a blocker with a low hit didn't seem that low to me. Can you clarify what the rule states?
It's actually pretty simple. Defenders no longer can go low to eliminate a blocker from the play, in pursuit of the ball carrier. It's a recent player-safety emphasis.
Scott from Eau Claire, WI
On the Ravens' third TD, you could tell right away something was missing on the DL – no edge rusher on the right side. Even the TV announcers were counting players after the score and thought GB only had 10 guys out there. If that's accurate, how does the sideline not see that and call timeout? And who was supposed to be out there?
The Packers only had one timeout remaining and LaFleur didn't want to burn it there. It was inexcusable to only have 10 players on the field, but LaFleur made the right decision to keep the timeout in his pocket in case the offense needed it to set up a game-winning field goal.
Good morning from a friendly in enemy territory, what do yesterday's losses from Tampa and Arizona mean for Dallas in the NFC?
It means the Cowboys are suddenly the nearest team on Green Bay's heels. Dallas has the best record of anyone right now in the NFC at 8-1, the primary tiebreaker if there are several teams with the same record at the end of the regular season. The Packers just need to keep winning but the Bucs and Cards have their work cut out for them the next few weeks after disappointing losses Sunday.
Mark from Westminster, CO
"You want a toe? I can get you a toe, believe me. There are ways, dude. You don't wanna know about it, believe me." Do you think AR12 has entertained this idea?
Oh, he's entertained this, all right…several times.
Rats! I broke my streak of not having my submissions selected!
Here's to the start of a new streak, David.
Margeaux from Tallahassee, FL
Dar's post on Saturday was hilarious, gratifying (considering my past) and less than accurate. I don't know about Lori but the only time I tried to make cookies (candy canes) they turned out looking like Santa Claus's. You will find me by the grill where the brats yesterday tasted one point better than they otherwise would have.
"One-point better" brats has a nice ring to it. I'm with you on the baking, which is embarrassing considering I'm the grandson of a baker. But I leave that to the Mrs.
Wes, is it safe to say the Packers are no longer flying under the radar? The team is being watched as closely as Santa and his reindeer.
From written off, to being under the radar and now back in the crosshairs…what a wild eight months it's been.
While the Packers were playing Sunday I was unfortunately and unexpectedly on my way to St. Jude's in Memphis as my 5-year-old son was diagnosed with leukemia on Friday. He'll be getting treatment, over Christmas and for the next eight weeks, away from his younger brother and sister, family and friends. To offer some perspective for fans from a shareholder myself, let the professionals who play the game handle the results and try to relax and enjoy it.
All the best to you, your son and the rest of your family this holiday season, Ben.