Good morning. The fans in Kansas City had barely stopping booing the commissioner when some of the network talking heads were already discussing who was winning the first round of the NFL Draft. Are we really in need of this much instant analysis?
No. I'm less concerned about wins in April than who reigns in February. The Packers' offense got better Friday night.
Is it just me or does Jayden Reed have Cobbie written all over him!
I don't want to get into the comparison game before ever seeing Reed in-person, but boy am I excited about this kid. He has an inspiring backstory, ironclad resolve and unique tools that could make him a focal point in this offense. Like Cobb, Reed's versatility and penchant for special teams will make him a candidate to play right away. He's also a high-character kid with a certain energy about him. You can just tell there's something special about this kid and I can't wait to see it.
I am very excited about the Jayden Reed pick. I watched most games he played at Michigan State and he has great quickness, speed, catches tough contested balls, great runner on the jet sweep, outstanding punt returner. The best Spartan receiver and return man since Andre Rison.
I felt Larry McCarren said it perfectly after we shot our "Three Things" episode on Friday – Reed is like a basketball player going up for a loose ball. He just keeps fighting and will not be denied. Keisean Nixon clearly sees it, too. He's already tweeting about how excited he is to compete in 1-on-1 periods this summer.
And then there's the question of whether Wes is famous or infamous (see: asparagus). Moving on … I think Luke Musgrave from Oregon State has the tools and a high ceiling. He should be a good jar on the shelf while he develops to the NFL level.
Musgrave was entrenched as one of top four guys at a loaded tight end position. While Gutekunst traded back twice from No. 45, you can tell he didn't want to mess around and miss out on Musgrave at 42. The knee injury caused Musgrave to drop, but his size (6-5, 253) and athleticism (fastest 10-yard split at the combine among tight ends) are unrivaled.
Loved BG moving back in the second twice and still getting Reed. Nice surprise pick with Kraft. Is there anyone better to make the guest announcements?
LeRoy is the best. You could tell he's having a good time in Kansas City. Kraft is an interesting guy. He goes 6-5, 254 and possesses a basketball background. Two things caught my eye about Kraft – his knack for getting a hat on defenders in space and how many draft experts, including NFL.com's Lance Zierlein, believe he could function well in offenses that use a lot of "12" personnel like the Packers do.
With two new draftees, tight-end fever is running hot. That said, it's tough to project such a hybrid position. Sometimes these guys act as linemen, sometimes receivers, and on occasion, a few line up in the backfield. While the Pack has had some noteworthy TE coaches (e.g., Andy Reid) to help synthesize these skills, how much time do TE players spend with other position coaches, like OL or WR coaches, to learn their craft? What does a TE workload look like?
The tight ends often work with the offensive line, especially during combo blocking periods. It's important for those two positions to develop chemistry and cohesion. Gutekunst touched on the willingness of both Musgrave and Kraft to do the dirty work in the blocking game, which is half the battle with incoming rookies. It'll take time, but the Packers have added two strong prospects to the tight end pipeline.
Michael from Grovetown, GA
The picks fill needs, but I'm more than concerned that all of the Day 2 picks have injury history. How concerned are you about this?
Teams have to do their research during the draft process to determine whether an injury is a red flag or just subterfuge. The Packers and their medical staff are among the best in the business at differentiating between the two, so I'm not too worried and neither is Brian Gutekunst. In Luke Musgrave's case, he had surgery for a torn medial collateral ligament. Not that you ever want to suffer a knee injury but that's usually the preferred one. He should be fine. I'm even less concerned about Tucker Kraft, who was sidelined by an ankle injury for a handful of games.
I am impressed. It isn't all that often you see a GM take one pick and turn it into three overall picks while still getting three players in the top 50. Our second fifth-round pick just got better, and we now have two picks in the sixth round after having none before this week. Today is a good day for the Packers. Well…technically it is night, but they're all just called days on the calendar so I'm getting away with it.
Green Bay enters Day 3 with nine draft choices. If Gutekunst drafts nine players and finishes with 13 total, that would represent the Packers' largest draft haul since Ron Wolf selected 13 in 2000. That year, Wolf landed two Packers Hall of Famers in Rounds 4-7: Kabeer Gbaja-Biamila (fifth round) and Mark Tauscher (seventh).
Kevin from Tinton Falls, NJ
Why do you think Darnell Washington was picked so late?
It sounds like there might have been some medical concerns. That's the part of the draft process we, the public, are most blind to. I'm wishing the young man well, though. He's a heck of a talent.
Day 3 will be big. Nine picks are surely enough for at least three more Lukes. Who will they be?
Indiana tackle Luke Haggard, Ohio State center Luke Wypler and Arkansas linebacker Bumper Pool, whose name isn't Lucas (it really is Bumper)…but he's from Lucas, Texas, which is good enough for me.
Lukas Van Ness is only 21. Our second-longest tenured player, Kenny Clark, already has eight years of experience. I sorted our roster and apparently, he's still younger than 15 others currently listed. How much does youth matter to BG? Being competitive at a younger age or just being older entering the draft has got to at least be a tiebreaker, right?
I mean, it's a young man's game, right? I don't know whether Brian Gutekunst values young prospects any more than the next GM, but obviously Van Ness' age plays into the linebacker's high ceiling as a player. In Clark's case, he didn't turn 21 until he was a month into his rookie season. Clark started out as a rotational piece on the defensive front, but by the time he was 22, he was well on his way to becoming an impact player.
Hello guys, I can't help but wonder why so many of my home-state Hawkeyes get picked/signed by teams such as the Packers/New England. Would this be something where similar values align and prospects from a "good program" could be considered safer bets for organizations who also value team above all?
Gutekunst was asked that very same question Thursday night. His reply was, "They have a really solid program. Coach (Kirk) Ferentz does a great job out there, those guys learn how to work. They've got to earn it there, which is something that is important. They have a very good process of the players they select, and they train them very well." The character and stability of Iowa's program speaks for itself. The Hawkeyes have produced a good line of Packers players, including Aaron Kampman, Bryan Bulaga, Mike Daniels and Micah Hyde. I've heard nothing but good things about Van Ness so far. It sounds like the Packers drafted a man of high character and limitless potential.
OK guys, eight No. 1 picks on our defense. I try to control expectations, but it isn't too much to ask for a top 10 defense at least. Do you agree?
As Spoff wrote Friday night (or maybe it was already Saturday morning by then), Brian Gutekunst and the Packers aren't shying away from defensive expectations. Green Bay has first-round picks at every defensive position, including multiple at edge rusher and cornerback. The Packers need that unit to set the tone, and continue setting the tone, next season, especially once Gary and Eric Stokes get back on the field.
Tom from West Palm Beach voiced oft-heard criticism that BG's heavy investment with R-1 picks has not lifted our D to an elite level. Among my several slants defending his attempts is, look at all the chatter going on among some of the better pundits, detailing the tremendous advantage gained Thursday by that swap to 13th. Just two picks higher. Just TWO! Think of difficulties he's usually faced picking in the 20s, trying to get a leg up over so many foes picking a couple dozen in front of him.
That's an important distinction to make. Furthermore, fans also must consider that Gutekunst is getting the most bang for his buck with these selections. Quarterback, cornerback, and edge rusher are premium positions that often command the largest contracts on your roster. Jaire Alexander and Gary were bargains on their rookie deals prior to having their fifth-year options exercised. Those are also the players you want to invest long-term contracts in, as well, because you know them, and they know you. It's a much more attractive partnership than signing a free agent with potential blind spots.
People are aware that having a good defense makes life easier for your offense, right? Once Rashan Gary comes back from his injury, having him and Preston Smith and Van Ness and Enagbare could really give opposing offenses fits. Like the man said: Defense wins championships! Plus, it's not like the draft is over; they WILL pick up a few TEs and WRs. People need to chill out a little...or a lot.
Many of those skeptics were the same ones questioning the decision to pick Gary in 2019. You can't win 'em all. Whether the pick came on Day 1 or 2, the Packers needed help at edge rusher. You can't count on a Whitney Mercilus or Justin Hollins being available midseason to ease the burden in the wake of injuries. Even when Gary is back, Green Bay can still line up Van Ness inside next to Clark on passing downs.
Dean from Leavenworth, IN
No. 91 in a black-and-gold uniform. LVN looks like he could be a younger Watt brother, although he reminds me more of a younger J.J. than T.J. Am I overreaching here?
Personally, I see Kevin Greene in a Pittsburgh Steelers uniform when watching Van Ness' Iowa tape. His bull rush of 11th-overall pick Peter Skoronski caught my attention the most. If you listen closely, you can hear the cash register ringing as Van Ness plowed through Skoronski and into the quarterback.
Of all his impressive attributes as a football player, I am most intrigued by Lukas Van Ness' hockey background. The ability to focus on the dynamic and rapidly changing relationships between nine other skaters and a puck, to anticipate how the play will evolve and how to best position oneself to be most effective, all seem relevant for the edge position. Do you think that background influenced Gutey's decision and gave Van Ness an "edge" on other candidates?
I don't know how much it influenced Gutekunst's decision, but Van Ness is clearly a prospect with untapped potential. Because of his love for hockey, Van Ness really only went all-in on football the last five years. The commonality between the two sports is toughness. I covered hockey extensively at the Press-Gazette and I'll be the first to say it takes a special type of human to excel in that sport. You need speed, physicality, and fast-twitch muscle fibers to succeed. That sure sounds a lot like optimum traits for a pass rusher to me.
While I sympathize with the desire to draft a stud sometimes, they just are not there. This draft had talent but not the high-upside, can't-miss prospects of other years. Last year, Watson was a second-round pick. This year, I think he would have been the top WR hands down.
I agree. Quentin Johnston goes 6-3, 208, had a double-digit drop rate at TCU and ran a 4.52 40 at the combine. Yet, he was picked 21st overall by the Los Angeles Chargers. Watson is the same size but runs in the mid-4.3s. The Packers got their man in the second round last year and it made all the difference. With Watson and Doubs in the fold, Gutekunst can work on building out the rest of the room.
Derek from Eau Claire, WI
I get that it was no risk for the Bears, but doesn't that basically imply it was no reward for the Eagles? If the Bears are willing to take the deal, that should be enough to know that the deal doesn't actually need to be struck. The whole thing left me abso-tootle-lutely laughing!
They might have risked another team jumping up to draft Jalen Carter in front of them, though. For example, the Pittsburgh Steelers traded up to No. 14 to get Broderick Jones, one spot ahead of the tackle-needy Jets. If there's a player you covet, go get the player. I don't think an NFL team can ever go wrong in that scenario.
Gary from Cross Plains, WI
I find all these war room look-ins so odd. They show all the people sitting around the conference room doing nothing for two minutes and then all start clapping and jumping around when they turn their pick in. What I want to see is the reaction when the pick before them is turned around. If it's anything like my fantasy draft, they'd have to blur some things out when the pick they really wanted was just taken in front of them. That would be entertaining.
Spoff and I joked on Thursday night how, just one time, we want ESPN to cue to a draft room and see a GM and head coach having to be separated after a pick is made. Every pick is the best pick, and every player is destined for the Hall of Fame, and I totally get it. It's important to send the right message to both your locker room and fanbase.
Nicholas from Baltimore, MD
I keep hearing people say the "board held up well." Well…what does that actually mean?
It means the draft buffet is open and the Packers have plenty of room on their plate. Let's eat. Insider Inbox
Join Packers.com writers as they answer the fans' questions in Insider Inbox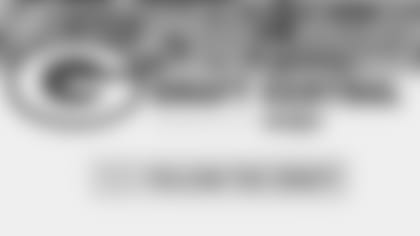 Packers Draft Central | Recap the 2023 NFL Draft
Follow packers.com's coverage of the 2023 NFL Draft