Mike, do you wear the parachute pants while humming?
It's been some week around here, hasn't it?
Richard from Lake Geneva, WI
Dean from Leavenworth, IN
Thursday's Primer Prospect. Your best timing ever Mike?
We actually posted him on Monday. But I did put him in the final week close to draft day because he made a lot of sense for the Packers as soon as I started researching potential selections in the middle of the first round.
Love the pick, get the big men early. I was sure we'd trade back like 2020 but I'm happy we didn't get receiver fever. Does this look like a rotational guy or do you think he'll be looking at a starting role right away? Can you tell me how he plays against the run?
Van Ness will have a good chance to be on the field right away with the timing of Rashan Gary's return uncertain. He started at Iowa rotating on the interior and then moved outside, so he's got plenty of run-stopper in him. As Larry pointed out in our Instant Reax video, his biggest area of growth is probably developing more pass rush moves in addition to his powerful bull rush.
Gents, does my memory serve me correct from the Prospect Primer that our first-round pick never started a game at Iowa?
The Hawkeyes have a tradition of starting older, veteran players, and they had two fifth-year seniors in his position group in 2022. Van Ness only played as a redshirt freshman and sophomore and turned pro. He logged more total snaps than anyone on Iowa's defensive front last year, I believe.
Tom from West Palm Beach, FL
I don't hate the LVN pick, but at what point does Gute become accountable for not having an ELITE defense, given the draft resources used there during his tenure?
The personnel department can't develop the picks. That's on the coaches and players themselves. Jackson and Burks in '18 were early-round misses, I'll grant that. Darnell Savage got benched in Year 4 and has a lot to prove once again. Other circumstances were nobody's fault. Jaire Alexander got hurt in '21, Gary and Eric Stokes went down in '22. Walker and Devonte Wyatt were rookies last year so they're just getting started. The defensive draft misses in '15 and '17 should not be held against Gutekunst. Those weren't his picks. I can appreciate Packers fans' frustrations here, and I don't have a great answer for you, just trying to widen the lens to look at everything involved.
OK, can I guess what your Inbox looked like this morning? I assume we have already lost the next 10 Super Bowls because we didn't draft a wide receiver in the first round?
I'm sorry. There is no way any competent front office looks at that group of receivers and doesn't take the best WR prospect in the draft. I know the fan base is outraged. Please make sense of this.
The college game churns out receivers more rapidly and frequently than any other position in the game. The Packers have 10 more picks, including three tonight. It's never about getting "the best" at a particular position in the draft. The players are evaluated and ranked based on who and what they might become, not strictly how they compare to others in the draft class at a specific position.
Kelly from Kimballton, IA
Dear Gutey-Claus, I want a Day 2 two wide receiver that runs sexy routes, has sticky mitts, and throws pancake blocks.
A tight end in that mold would work nicely, too.
I'm a bit at a loss. Did we gain anything trading 15 for 13? Was Van Ness not going to be available at 15?
There's no way to know. There's never any way to know. The move up two spots gave the Packers more choices, including possible trade options. I suspect the Jets regret moving back two spots because the top four offensive tackles were gone, the last one when the Steelers jumped up to 14 right in front of them. I think the Jets really wanted one of those top four tackles. Just my speculation.
Kevin from Tinton Falls, NJ
I don't know anything about anything when it comes to college football but it always seems like the Packers draft a development prospect who will help the team in three years or so. That may have been relative to where they were typically drafting in the first round (and it often worked out in that time frame). My question is, is Van Ness a similar type of pick? 13 seems mighty early to take a development prospect.
He's young and projected to be much better in a few years than he is now. Those are the types of prospects targeted by Gutekunst, wherever he is in the first round. He took Gary at 12, got universally panned for it, and it has turned out to be a darn good pick, last year's unfortunate injury notwithstanding. Players who come to the NFL and become no better than they were in college, even if they were truly elite college players, don't last in this league. Any success they have is short-lived. Players have to grow and develop, and Gutekunst prefers to invest in players who have the most room to do so.
Good morning, Mike. When the Bears traded down one spot from 9 to 10, do you suppose they got a guarantee from Philadelphia to not take the player they wanted? Thanks.
Ha, no. That's not how it works. My best guess is the Bears pegged the Eagles to be going defense, and/or Chicago would've been fine with Wright, Skoronski or Jones on the offensive line, so it was a no-risk move for them.
All I can do as this first round unfolds is wonder if any of Will Levis's teammates came to his birthday party.
You and several others were all over this reference. Nicely done. This crowd made Wes proud.
What's the biggest first-round surprise for you?
There were several. The Alabama RB (Gibbs) going at 12 to the Lions, the Mississippi State corner (Forbes) going before the Oregon one (Gonzalez), …
I know there is no gambling at Bushwood but what was the over/under that two running backs would be selected before a wide receiver?
Before a tight end, too. And then four receivers went right in a row. It's a funny business.
Another defensive player in Round 1. Were you at all surprised that they didn't select a stud WR or OL?
I said multiple times on our "Unscripted" draft preview episodes I felt the most likely possibilities were edge rusher or offensive lineman. I figured options would be there and those spots track with how the Packers generally approach this. I would've been a little taken aback with anything else.
And now for a last batch of pre-draft questions …
Ibrahim from San Ramon, CA
What do you make of the fact that both Favre and Rodgers ended their careers in GB with a game-ending interception?
That storybook endings are the exception, not the rule.
Looking ahead to opening week, what would you be most interested in seeing as the Packers' opening game? In terms of ratings, I'm thinking Monday night at home versus Detroit or maybe Love vs. Herbert and the Chargers. Or even Monday night on the road at Carolina versus Bryce Young.
Regardless of opponents, I wonder if a Week 1 MNF doubleheader will have the Jets in one game and the Packers in the other.
Jeff from Spring Lake, MI
In the three years, 2022-2024, it looks like the Packers will have nine picks in the first two rounds, all potentially top 50. Is it too simplistic to say five years from now the Packers' success or lack thereof will largely rest on those nine picks?
On them and the quarterback. Most of those nine will need to become core players who earn second contracts for the Packers to be where they want to be, but a lot will still hinge on QB play.
Non-draft question: From what you've seen thus far, what do you think Jordan Love's QB personality will be? With Favre, it was all emotion and suspense. Any given pass could be a miracle or an interception. Rodgers was all brains, method and control. What will we get in Love?
The two traits that stick out to me the most from his limited game action are his calmness and courage, through both the ups and downs. For anything else, I haven't seen enough to know.
Zak from Huntington Beach, CA
Do you think the league will ever change the current structure of the draft? For example, could you see them ever transitioning to a snake draft, or involving some form of a lottery system? The addition of a lottery would create new content they can monetize, so I assume the owners would be for it.
Until there's credible proof of teams tanking for draft position, I'm not sure the structure will ever change.
Josh from Philadelphia, PA
As humble Wisconsinites, I trust celebrity is of little importance to you. However, you must be recognized many places you go in Packer nation. Do you enjoy the recognition? And if Brad Pitt is an "A" celebrity, where do you see Wes and Mike in the alphabet of stardom?
Y. As in Y would anybody consider us celebrities?
It's weird as hell to see Aaron Rodgers' name in the Inbox sans hypertext.
Every year when I put together the new record book section in the Packers Yearbook, the current players in the charts are in bold. Last year it was strange un-bolding all the Davante Adams mentions. Now this year Rodgers gets unbolded. That'll be a strange day.
I understand AR signed a revised contract before the trade became official. Did this have any impact on our dead money cap hit?
Not to my knowledge. It appears it was a procedural matter that all the cap gurus had already included in their calculations.
"And one way or another, the Packers will go into next year's draft with three picks in the first two rounds again." I saw on Twitter (yeah, I know, consider the source) that the Packers would have that situation next year plus $50 million in extra cap room. I figure that claim has to be exaggerated, but extra cap room would be nice. Some of it would go to extending No. 10 if he pans out as hoped, but who else might benefit via an extended contract?
It's not that exaggerated, but a lot can happen between now and then so we'll have to see. Gary, AJ Dillon and Jon Runyan are three rather prominent players in the last year of their current contracts in 2023.
Please do the math for me. Assuming Rodgers plays all snaps on offense, what game on the schedule will AR-12 hit the 65% agreed upon level to assure the second becomes a first? Thank you!
Roughly 11 full games would hit the mark.
How much does the perceived strengths or weaknesses of next year's draft affect the selections made this year? Will a GM target a position this year that may be weak next year? Or perhaps not make a selection and get a stopgap FA for a strong position next year? Thanks.
I don't think they look at it that way. That sounds like a method for outsmarting yourself and making mistakes. Build the board for this year, trust it, and stay true to it.
Keith from Bakersfield, CA
As exhausting as it is to cover the draft, at least you're not on the hook to answer submissions to Insider Inbucks right now.
It's tough to see such an entertaining season end that way, but sports fans in Wisconsin should be plenty hardened to it by now. An NBA playoff series is a different sort of heartbreak, though, than the one-and-done drama of the NFL. When a series gives a team multiple chances to get up off the mat and it just can't turn the tide, it's harder to answer the "why." Giannis' introspection after such a maddening loss was tremendous. I hope he never leaves our great state.
Karen from South Beloit, IL
"Abso-tootle-lutely?" A little too much root beer in anticipation of draft night?
Wes can get a little fired up at these times. He'll be on one tonight I'm sure. Happy Friday. Insider Inbox
Join Packers.com writers as they answer the fans' questions in Insider Inbox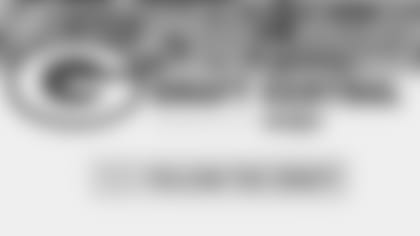 Packers Draft Central | Recap the 2023 NFL Draft
Follow packers.com's coverage of the 2023 NFL Draft