Hey everybody, thanks for logging on. Merry Christmas to all. Let's get started.
How much do other teams defend the Packers differently with/without Marquez Valdes-Scantling?
They don't do much differently, really, because the coverages are more predicated on Davante Adams. What the Ravens did this past game was really something, and MVS made them pay. That's what has to continue to happen if teams are hell-bent on limiting Adams.
I haven't watched much of the Browns so what is one advantage the Pack could have on offense and defense?
I haven't watched them much either, but they have been prone to turning the ball over at times. I think the Packers can win that battle. But the Browns can run the football when they stick to it, so Chubb will be a handful. And if Garrett plays, he's a huge challenge with protecting Rodgers.
Merry Christmas and Happy New Year Mike! Last Ask Vic published today. Do you have any comment on Vic's 50 year career in journalism?
There isn't enough space here, but I will say it was a treat to work with him and get to know him. He changed things around here over his five years, for the better, and I'll be forever grateful for the different perspectives he gave me about this game and this job. I wish him the best. He's one of a kind.
LaFleur said yesterday neither of those two guys would be playing Saturday.
Do you think Bakhtiari and/or Alexander will play before the end of the season? If they don't, does having them back for the first time in the playoffs concern you?
I think the hope is to get them back before the end of the regular season, but if it's the playoffs, then it's the playoffs. We're not talking about just any guys here. These are two of the best at their craft, at premier positions. Whenever they're ready to go, they'll improve this team. That's the bottom line.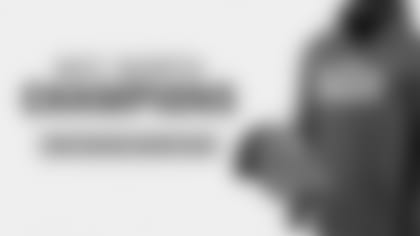 Shop NFC North Championship gear!
Browse the division championship hat, shirts, and collectibles!
Who has to step up the last three weeks for the Packers to get home field throughout the playoffs?
I don't think it's any one individual. If the Packers stay hot on offense, limit the explosives on defense, and clean up the special teams, I think they'll be fine. They're in command of this thing and have to keep it.
Hey Mike, Vic announced today that this was his last Ask Vic column, after 20 years. Can you share some of your memories?
I'll just never forget coming back from the Arizona playoff loss in '15 (Jan. '16), which was Vic's last game in a press box. I had grabbed the little card with his name from his press box seat, to be able to give him when he officially departed. Anyway, our middle-of-the-night flight home was going through a major storm, and at one point the plane felt like it slammed into something. Never felt turbulence quite like that. It made us all jump out of our seats and look at each other, freaked out to no end. Vic just looked at me and said, "Well Mike, maybe this really is it." Classic Vic.
Do you think we will see more of Darnell Savage on TEs after the Baltimore game? He was quite outmatched by a much bigger opponent.
Andrews was clearly a bad matchup for the Packers, but I've also seen Savage cover guys like that much better. That's a weekly decision based on the other team's entire offense/scheme.
I don't suppose we can know if MVS is vaccinated?
He is, because he's done press conferences in person since the switch with Aaron Rodgers.
Is there a new protocol for players on the COVID reserve list? Could MVS still play Saturday?
He could if he's not showing any symptoms and can test negative. That's my understanding anyway.
Dear Mike, Do we have to run the football the next two weeks to be successful?
I think the Packers have to run the ball every week to be successful. When the Packers have balance on offense, Rodgers has the defense in the palm of his hand. This offense is always at its best when it uses the running backs to carry the ball and catch it.
Hi Mike! With all the outbreaks going on recently, I have to think that whatever team is healthiest going into the playoffs has the best chance. In a year where there seems to be more parity than usually, it really feels like anyone has a chance...
Yeah, I said it earlier this week in Inbox that no team is screaming out "team to beat." The Packers have the best record at 11-3, but they're literally four plays from being 7-7. They've pulled out a lot of close games, and that's to their credit because that's how this league goes, but the best record these days means a lot less than how you're playing, and how healthy you are, in January. The Packers still haven't played their best football yet on both sides of the ball, in my opinion. The Rams game was the closest I've seen to what would be a peak game.
Amari Rodgers got hurt, but even before that it seems like his role is diminishing. Losing snaps to Taylor and Juwann Winfree, and punt returns to multiple others. Is it concerning that a 3rd round pick doesnt seem to be where he should be by week 16?
The Packers had higher expectations, but they still believe in him and his story isn't written. I'm sure he wanted to have a bigger impact as a rookie, too, but sometimes it doesn't work out that way. He was drafted in the third round because he's talented and has loads of potential. The Packers will do everything they can to get that out of him.
Would you rather cover a game on Christmas Day or Christmas Eve? Does the NFL ever schedule Christmas Eve games anymore?
It always depends on what day of the week Christmas falls. This type of work schedule forces you to work family plans around football regardless, so it doesn't really matter to me.
According to the information I found, the Packers are currently one game behind the Bears in all time wins. If they win on Saturday, they will tie them. Does this have any significance? I think it does.
Sure, but it's not a focus because there are bigger fish to fry right now.
If the Packers win the coin toss should they take the ball? I feel like Cleveland is battling for their playoff lives and will feed off getting players back. A long scoring drive to open the game could take away some of the Browns energy early
With Rodgers not practicing, opening drives haven't been all that great for the Packers, but they've used that opening drive of the second half to do some damage pretty regularly. I'd stick with deferring.
Morning Mike, thanks for chatting today. All I want for Christmas is a first round bye, but I'll settle with just beating the Browns for now. How do the Browns make it a tight game like last week, and how do the Packers blow them out of the water to prevent another game like last week?
Well, the Packers can't turn it over, which they didn't do last week. They also have to stop the run with Chubb, and keep Baker Mayfield (assuming he plays) in the pocket. Don't let him run around and make plays outside the pocket. That's where Huntley hurt them, and I don't think he would have led Baltimore on those last 2 scoring drives if the Packers had just kept him hemmed in and made him throw it from the pocket.
Realistically what do the Packers have to do on special teams to begin to turn things around?
At this point, they just have to relax and play smart. The miscues are mostly mental. Settle down, keep your head about you, and just focus on your responsibility.
Merry Christmas! My work network is down so I've been waiting for this! Hate to keep kicking this dead horse, do you see anything changes regarding rewarding innacurate QB underthrows with pass interfering penalties?
It's not going to change. The only thing defenders can do is play the ball, not play the man. If the defender knows where the ball is and is in good position, the officials will let minor contact go. If they don't know where the ball is, even if it's a terrible throw, they don't get the benefit of the doubt. That's just the way it's called most of the time, fair or unfair.
Before calling me spoiled, I will say how much I am loving this season and could not be more impressed with the improved defense. With that being said, I am so afraid this special teams will cost us a game vs a good team in the playoffs. Is there anything GB can do at this point? Or are we just going to be closing our eyes each ST play?
They need one really good play to get a boost of confidence, and then hopefully things will settle down.
Just so we don't leave anyone out, any word on Myers? I thought he was most likely to return by now
A long time ago there was a grumpy old guy who wrote the Inbox. Think I saw him write at least 100 times "it's not plays, it's players", you and Wes might have also written that a few times? MLF does a great job on scheme and plays. So, has your opinion changed at all?
The way the game is played now, it's about matching up the plays to what those players do best. That's where I think LaFleur excels, and other coaches like him. You can have the greatest play in the world, but if it's a route or concept the receiver doesn't run well or a throw the QB doesn't make very well, it doesn't matter. Conversely, getting the most out of a great player requires calling on him to do what he does best, and scheming it up to increase the chances that play will work. That's how I see it these days.
Do you think Vic will finally tell you where the thing is?
Kind of lost in the shuffle has been the Packers' record against teams with winning records. We're 6-1 against them, 4-1 on the road, 2-0 at home. Bodes well for the playoffs. We're not just beating a bunch of ground squirrels
We knew going into the season the Packers had a beast of a schedule, and it's played out that way. They'll be battle-tested for the postseason, there's no doubt in my mind about that.
Does this year's team seem to be enjoying the season and each other more than previous years?
It's so hard for me to say because we haven't been in the locker room for two years. By we I mean the media. We see a lot less of the players than we used to.
Without looking ahead, theoretically, Packers could play Cowboys in playoffs. Who do you think would be more motivated, Rodgers or McCarthy?
I don't think there'd be a motivational edge one way or the other.
Hi Mike - Given the large outbreaks, are there any new COVID protocols for the players in team facilities? It seems like it would make sense for everyone (even vaccinated players) to wear masks whenever possible to minimize exposure/spread?
That was one of the protocol changes made last week, to my understanding. Regardless of vaccination status, players are wearing masks at all times in the facility and any meetings are conducted virtually or with proper social distancing.
I know the game is on Christmas day, but wouldn't it be incredible if Favre were in attendance to see Rodgers break his record (with a pass to the Big dog!!).
If it were any other day than Christmas, Favre probably would be coming. But it's understandable if he doesn't.
Vic tried to get Packer fans to enjoy the now and not complain about winning. As fans we need to enjoy winning the division and seeing players evolve, how do you look at fans being so negative when the team is winning?
I understand it with this fan base because the Packers have come so close for a decade now without winning another championship. Fans want another Super Bowl, period, and I get it. There have been plenty of double-digit win seasons and playoff runs, but they've all come up short, some agonizingly so. The angst is all about getting over the hump.
It's December. Time to run the ball. Is our O-line up to the task?
Even with all the changes, I think it has proven to be. Last week's performance with the run vs. Baltimore, the best rush defense in the league, was pretty darn good. I loved the way the Packers ran the ball in that game. They have the backs and the players to do it, and if defenses gear up to stop it, Rodgers can see that and adjust. It's one of many things he does so well.
I feel like we are on more experienced pass rusher in the rotation away from being elite. The Packers best three game run on defense seemed to lose a lot of steam after we lost Mercilus. Hoping we get Z back so we can see what that rotation would look like.
The fact that Z. Smith hasn't practiced yet doesn't bode well. Preston Smith and Rashan Gary have had great seasons, and they have to keep it up, while the reserves at edge rusher need to provide more. Losing Whitney Mercilus was a tough blow. He was going to be that third guy amongst the edge rushers and he was just starting to settle in here when he got hurt.
I was surprised to see your snap count re Rasul Douglas on ST. Is this going to be an issue? Or these guys can cover this well?
As I said before, it's all about when you use them on special teams in relation to their down-after-down, line-of-scrimmage duties. Just be smart about it and they can handle it.
Do you think there actually IS a mental let down when a team plays a lesser rival? I'm wondering if that accounts for some of the slow starts on both sides of the ball?
The players are human, but I think it's unfair to say a whole team has a mental letdown. Because it's such a team game. All it can take is one or two guys not having a good day, and everything can look terrible. It happens to everyone. The better teams can snap out of funks and still win most of their games to give themselves a chance in the playoffs. Once you get there, no such thing as a mental letdown.
What does the team's schedule look like for the rest of this short, holiday week?
Well, today is like a Thursday, except instead of practicing in pads they're just doing a couple of walk-throughs. Then tomorrow is like Friday, with a short practice, and then Friday is the usual meetings and walk-through day before the game. There's less physical work and a lot more mental work in a week like this, especially this late in the season. The reward is a day off Sunday and extra time to rest up before the following week's game.
Hey Mike, are we pulling for the Rams or the Vikings this week? I don't want to see MN in the playoffs, but the Rams are only one loss behind GB.
I was just writing tomorrow's Path to the Playoffs before I logged on here. I think it would be most beneficial to the Packers for the Rams to lose another game, but if GB fans would rather not see the Vikings in the playoffs, that makes sense to me, too.
I'm looking forward to (hopefully) receiving Cliff Christl's Packers history tomes under the Christmas tree. Any tips for how to read them (chronologically or otherwise)?
Every chapter covers a full decade, so it's really up to the reader. If you don't want to go chronologically and dive into all the Lombardi success right away, go for it. Or if you'd rather get the misery of the '50s, '70s or '80s out of the way first, up to you.
49ers vs. Titans, Colts vs. Cardinals, Rams vs. Vikings, WFT vs. Cowboys, Bills vs. Patriots. Which game intrigues you most this weekend? Any upset predictions?
The only results amongst those I would consider upsets are if the Vikes beat the Rams or if WFT beats Dallas. The others are all coin flips to me, and very intriguing. I think the 49ers could be dangerous if they get in the playoffs and get hot, so Tennessee is an interesting test for them right now (with the caveat that Thursday night games are never a great barometer regardless). The Colts and Cardinals are currently going opposite directions, so that's interesting, too. And Buffalo still having a shot in the AFC East will draw a lot of eyeballs to that game with NE. Lots of good stuff.
Two GB wins and one Dallas loss, and the Packers are guaranteed the 1 seed. Doesn't matter what the Bucs do. However Packers fans may feel about Mike McCarthy, we have to keep rooting against him now.
Yeah, the Cowboys are the big threat right now, and one loss by them really puts the Packers in the catbird seat of catbird seats.
What does your gut tell you about D Bak suiting up for any remaining games or the playoffs?
I really don't know. I can't get a read on the situation. He hasn't spoken to the media, understandably, and the coaches are saying very little. It's all wait and see.
Wins for the 49ers, Colts, Rams, WFT, Patriots, and Packers. Santa told me!
Mike, what's cooking for Christmas? Merry Christmas to you and your loved ones already!
Merry Christmas to everyone out there. Thanks for the kind wishes. With that I'll sign off. Talk again next week. Cheers, Mike