GREEN BAY – Thirteen feels like anything but an unlucky number for the Packers, at least this year.
Much can be accomplished with a 13-player draft class, which ties for Green Bay's largest in the seven-round era, so what follows is a list sketching out just what the Packers achieved over the last three days.
1. They added six perimeter weapons – three receivers, two tight ends and a running back – who all will have a chance to make their mark on the offensive depth chart as the unit transitions to Jordan Love at quarterback.
The Packers know Christian Watson and Romeo Doubs are their top two receivers at this point, but second-rounder Jayden Reed might even be considered the favorite for the No. 3 job already. Meanwhile Day 3 choices Dontayvion Wicks of Virginia and Grant DuBose from Charlotte, at better than 6-foot and 200 pounds, both have the look and build of classic Green Bay receiver selections.
And with Aaron Jones and AJ Dillon the bell cows at running back but minimal experience behind them, seventh-rounder Lew Nichols from Central Michigan brings a feature-back pedigree into the mix for the third spot.
"We've just got to find out what works best," Head Coach Matt LaFleur said of getting so many young players up to speed to then find out what they can do. "Certainly, having a lot of youth is exciting because you really don't know until you get these guys in here and start to work with them. I do think we've got some talented players to work with and we'll see what they can handle."
2. They boosted a pass rush that lagged late last season in the absence of Rashan Gary with three additions to the defensive front, all with track records of getting after quarterbacks.
First-rounder Lukas Van Ness from Iowa fits Green Bay's prototypical mold for an outside linebacker, and he's just 21 years old with a ton of growth in front of him. Fourth-rounder Colby Wooden of Auburn and sixth-rounder Karl Brooks from Bowling Green are disrupters as interior linemen who made a lot of plays in the backfield during productive college careers.
"Pass rushers, right?" GM Brian Gutekunst said of what he focused on up front. "They're able to go up and down the line of scrimmage and rush the passer."
3. They set up instant battles for the kicker and backup quarterback spots.
Gutekunst said he'd never close the door on bringing back the unsigned Mason Crosby, but the sixth-round selection of Auburn's Anders Carlson to compete with an undrafted prospect in Parker White signals the Packers will find out if it's time to move on from the franchise's all-time leading scorer.
Since taking over as the Packers' special teams coordinator last year, Rich Bisaccia has highly influenced the team's acquisitions in that phase, and this counts as another one. Bisaccia has known Carlson for a long time, having coached his All-Pro older brother Daniel with the Raiders.
The younger Carlson has dealt with multiple injuries that have prevented him from replicating a strong 2020 season, but the belief is the talent is there to get back on the right track.
"We felt really good about where he was headed," Gutekunst said of Carlson. "Rich has a long track record and a very successful one, and I felt really good about how he felt about Anders."
At quarterback, fifth-rounder Sean Clifford from Penn State will match up with Danny Etling to decide the No. 2 job behind Love, and the indication is the possibility of bringing in a veteran QB could be on hold until the Packers see how this goes.
As with most of the third-day selections, Clifford visited Green Bay during the pre-draft process and appeared to be a strong culture fit for the type of QB room the Packers seek.
"We went through the meetings with him and were impressed by his football acumen and his overall intelligence," LaFleur said.
Added Gutekunst: "We just really liked the makeup of the person. All those guys need reps."
4. They found another candidate for an open starting spot at safety that LaFleur termed a "fluid" situation.
As with Crosby, Gutekunst isn't ruling out bringing back unsigned veteran Adrian Amos, but seventh-rounder Anthony Johnson Jr. made an impression with a smooth and seamless conversion from cornerback to safety during his fifth year at Iowa State, along with reports from there of his "football character" being off the charts.
Taken as a whole, the draft accounts for plenty of offseason work over its three days. With 13 total picks, the workload was even greater than normal.
"It's going to create great competition," Gutekunst said of his largest draft class. "I think we have great opportunity on our roster."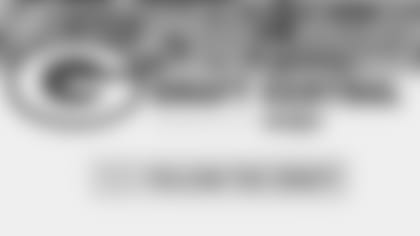 Packers Draft Central | Recap the 2023 NFL Draft
Follow packers.com's coverage of the 2023 NFL Draft