And now, the burning question on everyone's mind: "What is in those gorgeous blue SiriusXM travel tumblers during 'Packers Unscripted'?"
Wes's probably still has that pumpkin spice whatever stuff from last year.
Wes's answer to Steve in Iowa was spot on. This year has been all about enjoying and making memories! Packer games have been a highlight to our weeks, and watching with my five kids and wife have been a blessing. We even visited Green Bay this summer for the kids to see the stadium and enjoy a family vacation on the bay. Enjoy the season, wherever it leads us. As for a question, what do we need to do to stop the Browns?
Block Myles Garrett (if he plays) and tackle Nick Chubb. That's what this game comes down to for me.
How does Monday's heartbreaking loss to the Raiders, and the subsequent drop to last place in their division, affect the Browns coming into Saturday?
It's a tough loss to get over I'm sure, and not a lot of time to get over it. But the bottom line the Browns sit one game out of a playoff spot with three to play. They have everything to play for, and if they get some of their guys back this week, particularly Baker Mayfield at QB, it's bound to energize them.
I know he has a lot of input in the matter, since he will be throwing the ball, but if it were his choice, who do you think Aaron Rodgers would choose to catch the record-breaking TD pass?
I think the obvious answer is Davante Adams, with Big Dog a preference as well. If Randall Cobb weren't injured, it might be a tougher call.
Adam from Great Meadows, NJ
Will Brett Favre be in attendance to watch Rodgers break his record? I was born a Packers fan in '92 and have seen nothing but Favre and Rodgers at QB and couldn't be happier (and more spoiled). I'd love to see Favre there, especially considering how the two QBs have developed a great relationship off the field.
A popular question this week. I'm not aware of Favre coming to Lambeau on Saturday. I heard one radio interview he did Monday, and he didn't mention it. That said, I wouldn't put it past him, but it's also Christmas Day and I would imagine he's got family plans.
Wes and Spoff, with Cleveland's top-five ranked defense, we may be in for another dramatic finish Saturday. Of the nine games the Packers have played on Christmas Eve or Christmas Day, do you have a favorite? I'll never forget watching the 1995 division-clinching win vs. Pittsburgh from an army base in Germany. Yancey's gift drop amid the snowflakes is the enduring image, but my all my buddies commented on Favre's toughness after taking that goal-line hit.
That one was a doozy. Christmas Eve 2004 and clinching the division in a 34-31 thriller at the Metrodome was pretty special, too. Driver's game-tying TD catch late in the fourth quarter on fourth-and-goal was the definition of clutch.
Mike from Toronto, Canada
On Monday, Mike said that Sunday's game knocked Brady out of MVP contention, and now the race is between Taylor and Aaron Rodgers. If Sunday's game disqualifies Brady, how can Rodgers be in the race after that Week 1 game?
Because, fair or unfair, performances this time of year count more with so much on the line. December is "winning time" in the NFL when teams have defined themselves. Look, Brady isn't actually out of the race as far as many observers are concerned, and that's fine. But right now (and obviously with three more games, things can still change), I think Rodgers is the pick at QB, unless the virus/media mess from earlier is held against him. Brady lost his offensive weapons to injury and couldn't score a point at home against a .500 club when he only needed 10 points to win. Rodgers didn't have Adams, MVS or Lazard and beat a (then) undefeated Arizona team on the road in prime time, 24-21. I think that's a strong argument, among many, for Rodgers. If not a QB, then it's Jonathan Taylor. That's why I said what I said.
Who had the better tablet throw? Rodgers in 2015 vs. the Panthers? Or Brady on Sunday night vs. the Saints?
I'm sure Microsoft loves the publicity either way.
In all the conversations about our coach not getting the proper credit for coach of the year, one argument is always that LaFleur has Aaron Rodgers. I don't recall ever hearing the argument turned the other way, that Rodgers has benefited from having ML as a coach. Yes, Rodgers is very talented (I know, a big understatement) but much of Rodgers' recent success, I believe, is directly due to the schemes and coaching and hiring of assistants done by LaFleur.
Look at Favre's stats in 2005 and then again two years later in '07. Similarly, Rodgers in '18, then '20. I think it's fair to say both Hall of Fame QBs benefited in these latter stages of their careers from not just coaching changes, but regime changes. The all-in-one Sherman became Thompson/McCarthy, and then Thompson/McCarthy became Gutekunst/LaFleur. The franchise took dips and then rose again with the same QBs taking snaps. It was a multi-step/year process both times, but it took hold. Leadership changes were major factors, and that's not to take anything away from what those leaders accomplished previously. Parse the credit however you want but the timelines and facts tell the stories.
Gabor from Budapest, Hungary
Mike, are head coaches who miss a game credited with the win/loss?
I believe so. If they're employed as the head coach, the record is theirs.
Looking back on the game I also counted 10 players on the field for the extra-point attempt after the defense gave up the score with only 10 on the field. Having the correct number of players on the field has to be one of the simple things of football. What's it going to take to fix these miscommunications?
Mistakes like those, which as LaFleur said are "inexcusable," tend to sharpen up the simple, to use your word. It shouldn't take that, but if it's going to happen, better now than a month from now.
Wes said we had Rasul Douglas on kickoff coverage and Chandon Sullivan catching punts. I think I saw Eric Stokes across from their gunner on punt returns. Did I miss any other starters now contributing to special teams?
Not including linemen, here are the special-teams snap counts for offensive/defensive regulars from the game (keeping in mind the "hands" team was in for the last two Baltimore kickoffs): Adams 2, Aaron Jones 2, Allen Lazard 4, Josiah Deguara 5, AJ Dillon 7, Douglas 6, Darnell Savage 2, Adrian Amos 2, Stokes 1, Sullivan 3, Krys Barnes 3, Kevin King 6.
Mike from Palm Beach Gardens, FL
You guys are good with information, education, and comic relief in demanding times. GB coaching staff should not be having learning lessons about having defense out of position, not set for snaps, and 10 men on field in Week 15 of season. Kicking team woes are laughable to rest of league and they just keep happening. Wouldn't it be refreshing if ML just stated, "We are not improving as needed and personnel changes are imminent."
That might make fans feel good for a day, but those would just be words. Short of gutting the bottom third of the roster or having starters handle all the duties in the kicking game, it's not happening. If by personnel, you mean coaching, that would create way more problems than it would solve. I agree that basic game-management miscues this late in the season make you scratch your head, but they certainly guarantee no complacency will be setting in from here on out.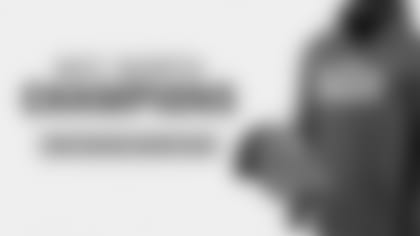 Shop NFC North Championship gear!
Browse the division championship hat, shirts, and collectibles!
With all the injuries and turnover on defense, particularly at cornerback, I've become quite appreciative of Chandon Sullivan. He might be one of the least talked about players on the team, but watching them play it seems he's become the kind of steady veteran presence that Tramon was a couple years back. What do you guys see from him?
Exactly what you said, steadiness. He doesn't have the pelts on the wall Tramon did, but the coaching staff and his teammates view him as reliable and trustworthy, and that goes a long way.
Besides the obvious things like getting some big names back on D or cleaning up special teams, what is an under-the-radar thing that II sees as playing a big role in a deep playoff run? For me, I think getting more big-game production from guys not named Davante will have a massive impact on what GB can do week to week. It was awesome to see MVS with a big game last week – here's hoping for more of the same!
Those kinds of performances always make a difference. For me, the running backs need to remain busy and productive, and the defense has to get back to containing mobile QBs like it did vs. Murray, Mahomes and Wilson, not the way it played vs. Heinicke, Fields and Huntley.
Nathan from Philadelphia, PA
We have rematches with Taylor Heinicke and Taysom Hill coming? That's news to me... Actually, I would be pleased to meet either of them in the playoffs, since that would probably mean the Vikings are watching from home.
Wes was obviously just talking possibilities, but I'm sure your sentiments are shared by many.
Chris from Eau Claire, WI
That bye week might be important based on who claims that No. 7 seed. The two NFC teams that already beat the Packers keep swapping that spot.
There are a handful of teams in contention for it still, though. Long way to go.
Steven from Sauk Rapids, MN
You mentioned the low block on Green Bay's defense on Sunday. How about the low block called on the Bears when the guy dove under the lineman and made the tackle on a key third down only to be called for a 15-yard penalty? Doesn't seem right.
In that case, it was called correctly based on how the rule is written. Defenders can't go low to go through another player in order to make the tackle, which is what the Chicago player did. You can hate the rule, but it was applied properly. A lot of folks are asking what is meant by "low" with regard to the penalty called on the Packers in Baltimore. The league defines "low" as below the waist, so avoiding the knees by hitting in the thigh would still be considered low. Again, if you're going to hate anything, hate the rule.
Dave from Bentonville, AR
It seems that I remember at the start of the season the NFL stated they weren't going to reschedule games because of Covid outbreaks. Forfeits were a possibility if teams couldn't field a team. What gives now with all the reschedules this week?
Those who got all hot and bothered about this conveniently forgot the league specifically said forfeits would be on the table in the event of outbreaks involving unvaccinated players. That hasn't been the case regarding the teams that had games moved.
Miranda from Rochester, NY
Good morning all. Whatever teams end up winning that first-round bye, do you think the coaches will restrict where, if at all, players are allowed to go? I can't imagine the higher-ups being comfortable watching their players disperse into the country with the possibility of bringing back COVID during the playoffs.
That's a valid concern, and I'm sure it'll be a point of discussion. In my experience, players aren't as inclined to travel cross-country during a playoff bye compared to their regular-season one. The current situation with the virus may just nix any thoughts altogether.
Guys, the stretch run is upon us. Just beat the Browns.
Everything the Packers can accomplish in the regular season is theirs for the taking. It's up to them to keep it that way.
So, any big plans for Christmas?
I gotta work, but I'm OK with it. Happy Wednesday.