GREEN BAY – The Packers took care of business on Monday night, beating the LA Rams 24-12 on a chilly evening at Lambeau Field.
With the win, Green Bay's second straight, the Packers improved to 6-8 to stay in the NFC playoff hunt. The Rams fell to 4-10.
QB Aaron Rodgers was 22-of-30 for 229 yards with one TD, one INT and a 92.2 passer rating. RB Aaron Jones had 17 carries for 90 yards, plus four catches for 36 yards and a TD. RB AJ Dillon had 11 carries for 36 yards and two TDs, plus three receptions for 35 yards, before leaving for a concussion evaluation.
Rookie WR Romeo Doubs, playing for the first time in five games after coming back from an ankle injury, had five catches for 55 yards, and fellow rookie WR Christian Watson had four catches for 47 yards.
For the Rams, QB Baker Mayfield was 12-of-21 for 111 yards with one TD, one INT and a 67.8 rating. RB Cam Akers had 12 carries for 65 yards, plus three receptions for 35 yards.
CB Rasul Douglas had the interception for the Packers, and the defense also had five sacks, with LB Preston Smith getting two of them.
Here's a recap of all the action: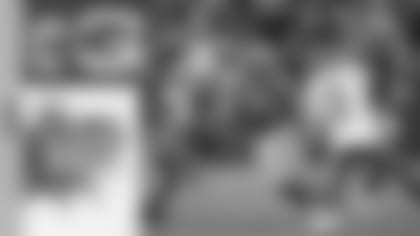 Packers lead Rams 3-0 after first quarter
The Packers won the coin toss and deferred. With the kickoff, Mason Crosby tied Brett Favre's franchise record of 255 consecutive games played. Innis Gaines tackled Brandon Powell at the Los Angeles 20.
Kenny Clark split two double-teams, including a two-yard tackle for a loss, on back-to-back run plays. Baker Mayfield completed a 17-yard pass to Van Jefferson to convert on third-and-15. Green Bay stopped the Rams on their next third down, though, with a Preston Smith sack for a loss of eight yards. Smith now has nine sacks in his last nine primetime games.
After starting on their own 32, the Packers converted their initial first down with an 11-yard completion to Romeo Doubs. The rookie fourth-round pick missed the past four games with an ankle injury. A 9-yard run by Aaron Jones and a 7-yard stretch run by AJ Dillon moved Green Bay into Los Angeles territory.
Another 11-yard pass to Doubs across the middle moved the ball to the LA 18. On his 10-yard carry, Jones surpassed John Brockington for third all-time in franchise history for rushing yards. The Packers took a 3-0 lead with Crosby's 34-yard field goal with 4 minutes, 25 seconds left in the first quarter. The 12-play, 52-yard drive lasted 6 minutes, 14 seconds.
Kingsley Enagbare registered his third sack of the season on first down, dropping Mayfield for a loss of one. He also broke up a third-and-11 screen for Tyler Higbee to force the three-and-out.
Taylor Rapp intercepted Rodgers with 28 seconds left in the first quarter.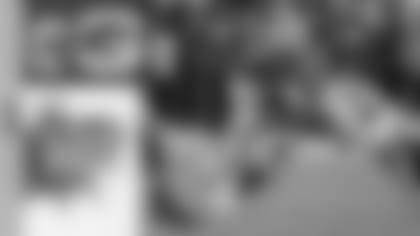 Packers lead Rams 10-6 at halftime
The Rams moved the ball down to the Green Bay 15 before Preston Smith pressured Mayfield into an incomplete pass that was nearly intercepted by Quay Walker. Matt Gay made a 33-yard field goal to tie the game at 3 with 10:41 left in the first half.
Aaron Rodgers got the Packers' third series going with a 12-yard pass to Randall Cobb on third-and-3 slant. A 17-yard pass to Dillon and 14-yard pass to Cobb moved Green Bay to the Rams' 24. Green Bay chose to go for it on fourth-and-3 from the LA 17 following a 6-yard pass to Cobb, with Dillon picking up the first down on a draw.
Dillon then plowed in for an 8-yard touchdown to put the Packers back up, 10-3, with 4:26 left in the first half. The third-year running back had 39 of the 74 total yards on the 11-play drive, which ate 6:15 off the clock.
A blitzing Quay Walker got a strip sack of Mayfield on the Rams' next series LA recovered but lost nine yards on the play. While a Mayfield 15-yard pass to Van Jefferson converted the first down, the Rams would have to settle for a 55-yard field goal by Gay after three consecutive incompletions.
Green Bay retook possession at its 13 with 37 seconds left in the halftime. Jones picked up six yards on a run and then another 23 yards off a screen play. Rodgers would be sacked on the attempted Hail Mary, though.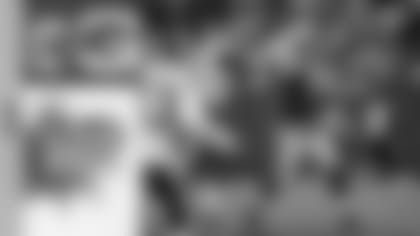 Packers lead Rams 24-12 after three
The second half began with Rodgers completing 10-yard passes to Doubs, on a slant, and Christian Watson, on a back-shoulder. Rodgers then avoided a blitzing Bobby Wagner and hit Dillon in the flat for 17 yards. On the next play, Rodgers connected with Watson in the middle of the field for 15 yards to the LA 13.
On third-and-6, Jalen Ramsey was flagged for illegal contact on Watson to set up first-and-goal from the Rams' 4. Two plays later, Dillon punched in a 1-yard TD to put the Packers up 17-6 with 8:04 left in the third quarter.
The Packers forced a three-and-out after Walker recorded a 2-yard tackle for a loss on first down. It was the rookie's team-leading 100th tackle of the season. LA was then called for a holding penalty and punted after a 7-yard checkdown to Akers on third-and-17.
The Rams netted just nine yards on their punt with Russ Yeast being called for a personal foul after Keisean Nixon's 17-yard return. Starting at the LA 35, the Packers called three straight Jones runs with the Pro Bowl running back picking up 14 yards. A 14-yard pass to Marcedes Lewis made it first-and-goal at the LA 7.
Jones followed a Watson block to the end zone on a 7-yard touchdown catch and run to extend Green Bay's lead to 24-6 with 2:31 left in the third quarter. It was Jones' receiving touchdown of the season, making him the first Packers running back to have at least 5 TD catches in back-to-back seasons since Dorsey Levens (1996-97).
The Rams charged back, beginning with a 18-yard pass to Brandon Powell. Akers later broke a season-long 19-yard run to the Green Bay 10. The six-play drive culminated in an 8-yard TD pass from Mayfield to Higbee with 22 seconds left in the quarter. Gay missed the extra point wide right, leaving the score at 24-12.
Nixon returned the kickoff 52 yards to the Rams' 48.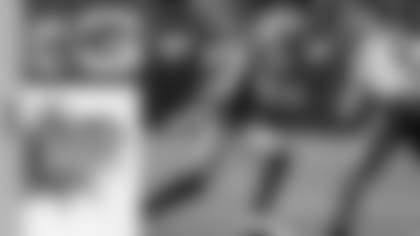 Packers turn back Rams, 24-12
The fourth quarter began with Watson drawing a 16-yard penalty for defensive pass interference on Troy Hill. The Packers were forced to punt for the first time Monday night after Rodgers was sacked for a 6-yard loss on third-and-10.
Former Ram Justin Hollins and rookie first-round pick Devonte Wyatt combined on a sack of Mayfield on second-and-10. Los Angeles then went no-huddle and Mayfield was intercepted by Rasul Douglas, who picked off Mayfield two times last year on Christmas at Lambeau Field. Douglas attempted to lateral the ball and Adrian Amos recovered at the Rams' 34.
LA got the ball back after Jones fumbled at the tail end of a 13-yard run. Jalen Ramsey recovered the ball and returned it 12 yards to the 30. The Rams were flagged for a facemask penalty after the fumble occurred, moving the beginning of their possession back to the LA 15 with 10:55 left in regulation.
Amos was flagged for defensive pass interference on a deep ball to Atwell, moving the ball to the Green Bay 41. Smith then registered his second sack of the night for a loss of six. On third-and-16, Kenny Clark drew a holding penalty from Rob Havenstein while flushing Mayfield from the pocket. The play resulted in a 1-yard scramble and the Rams punted with 9:09 remaining.
AJ Dillon left the game to be evaluated for a concussion. Stepping in for Dillon, second-year running back Patrick Taylor picked up a first down with a 5-yard run up on the middle on second-and-1. After a timeout, Doubs caught a 23-yard pass over the middle to the LA 49. After two Taylor runs for nine yards, Rodgers hit Watson on a 13-yard playaction rollout.
Jones picked up 14 yards to move the ball to the LA 12. Watson caught an 8-yard pass of another playaction pass to reach the two-minute warning. The Packers went for it on fourth-and-2 from the LA 4 and Jones powered through for a 3-yard gain on first down.