GREEN BAY – The Packers stayed alive in the NFC playoff chase with a 41-17 blowout of the Vikings on Sunday at Lambeau Field, and Green Bay now controls its postseason fate.
Coupled with Washington's loss earlier in the day to Cleveland, the Packers need to finish 9-8 to earn the No. 7 seed in the NFC and need no more help. With four straight wins, Green Bay is now 8-8 and hosts Detroit, also 8-8, next week in the regular-season finale on Sunday, Jan. 8, at 7:20 p.m. CT.
The Vikings, winners of the NFC North, fell to 12-4 and is still fighting for playoff seeding.
The Packers got their scoring started with Keisean Nixon's 105-yard kickoff return for a touchdown and seemingly never let up.
Green Bay's defense, after stopping Minnesota in goal-to-go from the 1-yard line following a blocked punt to force a field goal, generated four takeaways against Vikings QB Kirk Cousins – three interceptions and one fumble.
S Darnell Savage's interception off a deflection was returned for a touchdown for Green Bay's second score of the game. S Adrian Amos also had a deflected pick and S Rudy Ford intercepted a deep ball in the fourth quarter. DL Kenny Clark also had a sack-fumble that snuffed out a Vikings drive in the third period.
The Packers scored a total of 28 points off the turnovers, most in a game for Green Bay since 2005, and they led 41-3 before Minnesota scored twice late in the game.
For the Packers, QB Aaron Rodgers was 15-of-24 for 159 yards with one TD and a 95.7 passer rating before Jordan Love took over in relief. WR Allen Lazard had five catches for 59 yards, and TE Robert Tonyan had three grabs for 52 yards, including a 24-yard TD.
RB Aaron Jones had 111 yards on 14 carries to go over 1,000 rushing yards on the season, while RB AJ Dillon had 12 carries for 41 yards and a TD, his fifth straight game with a touchdown.
For the Vikings, Cousins was 18-of-31 for 205 yards with one TD, three INT and a 49.2 rating before being replaced late by Nick Mullens. WR Jailen Nailor had three catches for 89 yards, including a 47-yard TD. TE T.J. Hockenson and WR K.J. Osborn each had seven catches for 59 yards, with Osborn getting a TD.
Leading receiver Justin Jefferson was held to just one catch for 15 yards.
RB Alexander Mattison had eight carries for 38 yards, Cousins added 37 yards on three scrambles, and RB Dalvin Cook had just 27 yards on nine carries.
Here's a recap of all the action: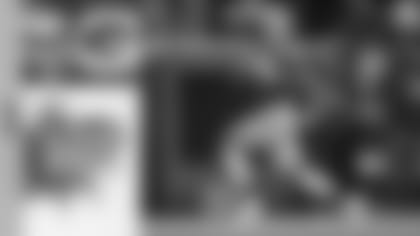 Packers lead Vikings 14-3 after first quarter
The Packers won opening coin toss and deferred. The Packers' defense forced the three-and-out after Kenny Clark's hit on Kirk Cousins forced an incompletion on third-and-3. Darnell Savage started at safety, with Innis Gaines playing nickel for the injured Keisean Nixon (groin).
The Packers also went three-and-out on their opening possession and Minnesota took over at the Green Bay 1 after Pat O'Donnell's punt was blocked. Cousins was incomplete on first down and Cook was topped for no gain. On third-and-goal, T.J. Slaton plowed through third-string center Chris Reed to help drop Cook for a 2-yard loss.
Minnesota took a 3-0 lead on a Greg Joseph 21-yard field goal with 10 minutes, 38 seconds left in the first quarter.
Keisean Nixon, who didn't practice this week due to a groin injury, lifted the Packers' special teams back up with a 105-yard kickoff return for a touchdown to put Green Bay up 7-3 with 10:25 left. It's the third longest kickoff return in team history.
The Packers' defense kept the pressure on Cousins, with Justin Hollins getting a hit on the quarterback's incomplete pass to T.J. Hockenson down the seam. Green Bay took over at its own 38 after Nixon's 10-yard return.
Aaron Jones picked 23 yards on his first two carries of the Packers' next drive, but Green Bay was stopped at the Vikings' 39. The Packers went for it on fourth-and-2, but Rodgers was sacked and Minnesota took over at the Green Bay 42.
The Vikings also faced a fourth-and-2 situation from the Green Bay 37 and opted to go for it. Rasul Douglas defended the pass intended for Hockenson, which Darnell Savage caught and returned for a 75-yard touchdown to put Green Bay up 14-3 with 5:17 left in the first quarter.
It's the first time since the Packers had a kickoff return for a TD and an interception returned for a TD in the same game since Oct. 30, 1967, at St. Louis.
Cousins scrambled for 19 yards on third-and-11 from the Minnesota 35 for the Vikings' first first down. Cook also caught a 16-yard screen to put Minnesota in scoring territory. Greg Joseph attempted a 46-yard field goal but pushed it wide right with 1:37 left in the first quarter.
The first quarter ended with Aaron Rodgers completing a 14-yard pass to Allen Lazard on third-and-10.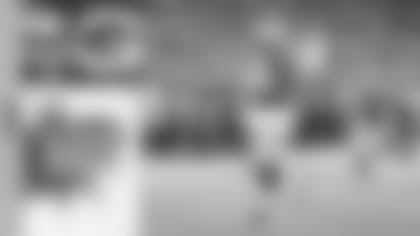 Packers lead Vikings 27-3 at halftime
Jones rushed for nine yards on second-and-4, giving him 1,000 rushing yards on the season. It's the third time Jones has eclipsed that mark in his six-yard NFL career. Jones gained another 18 yards on his next two carries to setup first-and-goal from the Minnesota 6.
Mason Crosby made a 26-yard field goal to extend the Packers' lead to 17-3 with 9:48 left in the first half. It also put Crosby over 1,900 career points for his career.
The Packers picked off Cousins a second time when Slaton batted another pass at the line of scrimmage. Adrian Amos picked the pass off and returned it 26 yards to the Green Bay 40.
The Packers moved the ball downfield with a six-yard AJ Dillon carry and a 31-yard stretch run by Aaron Jones behind Josiah Deguara's lead block. Green Bay pulled ahead 24-3 after a 21-yard touchdown pass from Aaron Rodgers to Robert Tonyan with 2:41 left in the first half.
Justin Hollins sacked Cousins for a 9-yard loss on second-and-5. Minnesota got seven yards back on a screen to Cook but Joseph missed a 50-yard field goal with 36 seconds left in the half.
Rodgers hit Lazard for 16 yards and then Tonyan for 19, as Mason Crosby's 56-yard field goal hit the crossbar and bounced in to put the Packers up 27-3 at halftime. That's Crosby's longest career field goal at Lambeau Field.
Packers maintain 27-3 lead over Vikings after three
Jones went over 100 rushing yards on the day with two carries for 15 yards, but the Packers then had three straight incompletions and punted. Minnesota took over at its own 16.
The Vikings drove the ball down to the Green Bay 15 before Kenny Clark had a strip sack of Cousins that the Pro Bowl defensive tackle recovered himself at the Packers' 23-yard line.
Minnesota only had 10 players on the field on third-and-10, which allowed Rodgers to connect with Cobb for an 11-yard completion. Christian Watson then caught his first pass of the day, an 11-yard stop route in the middle of the field.
Lazard then caught a 15-yard pass and Romeo Doubs picked up another 11 to the Minnesota 23 with a little more than two minutes left in the third quarter. On third-and-4, Rodgers caught Minnesota with 12 men on the field to get a fresh set of downs at the Vikings' 12.
Dillon rushed for 10 yards to make it first-and-goal at the 2 to end the third quarter.
Packers rout Vikings 41-17, improve to 8-8
The fourth quarter began with a 2-yard Dillon TD run to extend the Packers' lead to 33-3 with 14:54 left in regulation.
Rudy Ford picked off Cousins on a deep ball on the first play of Minnesota's next drive and returned the ball 19 yards to the Vikings' 45. Dillon had three straight carries for 11 yards and then Tonyan caught a 24-yard pass from Rodgers. The Packers faced third-and-2 at the Minnesota 2 following a 5-yard pass to Lazard.
Patrick Taylor picked up the blitzing defender and Rodgers scrambled for the 2-yard TD to extend Green Bay's lead to 41-3 with 9:25 remaining. Rodgers tied Clarke Hinkle for sixth all-time in team history with 35 rushing TDs.
The Packers pulled their starting secondary on the next defensive series. Cousins connected with Jalen Nailor for a 47-yard touchdown to cut Green Bay's lead to 41-10 with 7:36 left.
Jordan Love came into the game at quarterback on the next series. Rodgers finished the day 15 of 24 passing for 159 yards and a TD. Love completed his first pass to Doubs for five yards on third-and-5. The Packers eventually punted, with Minnesota taking over at its own 21 with 3:58 left.
Nick Mullens subbed in for Cousins and found an open Nailor for 37 yards. Mullens threw a 9-yard TD to K.J. Osburn to bring Green Bay's lead down to 41-17 with 21 seconds remaining.