"Through the Lens" will appear during the offseason. Packers team photographer Evan Siegle will deconstruct and give insight into some of his favorite images from the 2022 season. Each week will offer a new photo gallery of some of his best photos from the past season.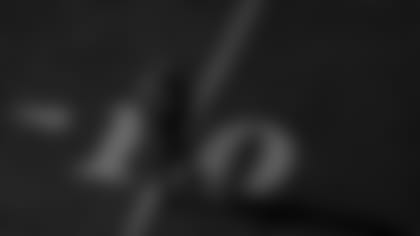 10 on the 10
I photograph a lot of practices throughout the course of the season and sometimes it's fun to change perspectives or look for feature or graphical images. From time to time, I will climb up the stairs and make my way across the catwalk, from inside the Don Hutson Center, to an overhead platform that overlooks Clarke Hinkle Field, where the team practices during the regular season. One practice in mid-October I noticed that the golden light was casting long shadows on the playing field, which was creating some cool abstract patterns, so I made the trek up top. I made some worthy images, but I love this composition of Jordan Love as he walked off the field, particularly the juxtaposition between Jordan Love's jersey number and the No.10 painted on the field. The under-exposed exposure added a nice contrast between the dark shadows and painted white lines, too. Everything came together to make this attempt worthwhile.
This image was shot with a Canon R3, 135mm lens (ISO = 100, Aperture = f2.2, Shutter = 1/8000th)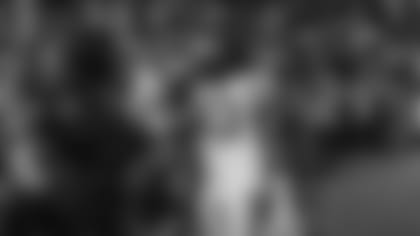 Brotherly love
I do consider myself a visual historian, through my camera and lenses, as I document this team and the players. A lot of those moments come from the play on the field, but one of the most gratifying feelings is capturing real authentic moments that happen off the playing field. Those moments might unfold behind closed doors or spontaneously happen in front of my eyes. You could say that my head is on a constant swivel, in search of priceless moments.
Aaron and Alvin Jones are two wonderful human beings. Their love for family, community, and football is so inspiring. Anytime I see Alvin along the lines, during pregame activities, I keep an eye on him. I know that Aaron will eventually find him, and I want to be there to document it. This moment happened during a Thursday night game against the Tennessee Titans in Week 11.
You can really feel the emotion and love in their clutched hands … family over everything.
This image was shot with a Canon 1DX Mark III, 85mm lens (ISO = 1000, Aperture = f1.2, Shutter = 1/8000th)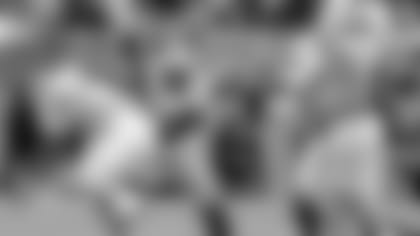 Move over
Defensive lineman Kenny Clark is simply a beast on the football field. I captured this image during the Christmas Day game, Week 16, against the Miami Dolphins at Hard Rock Stadium. During the game, I'm always hoping to capture solid action photos, both offensively and defensively. It's great getting sacks and touchdowns, but finding battle images is just as good. I just think this is a cool action photo that displays strength and intensity. I love the fact that Clark throws the Dolphins' offensive lineman in the opposite direction, with sheer power. His intense eyes are locked in on Dolphins quarterback Tua Tagovailoa too. I sure would hate to be on the opposite side of No. 97!
This image was shot with a Canon 1DX Mark III, 400mm lens (ISO = 1000, Aperture = f2.8, Shutter = 1/2500th)
Team photographer Evan Siegle shares his favorite photos from the 2022 Green Bay Packers season.