"Through the Lens" will appear during the offseason. Packers team photographer Evan Siegle will deconstruct and give insight into some of his favorite images from the 2022 season. Each week will offer a new photo gallery of some of his best photos from the past season.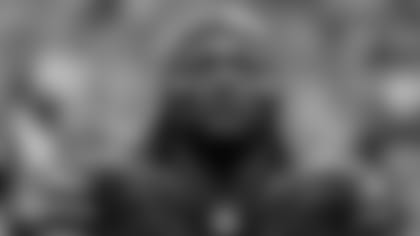 War paint
Pregame player portraits are one of my favorite things to photograph. Rule No. 1 (and pretty much the only rule) is no smiling. My goal is to try and find game faces, which I hope illustrates grit, intensity, and wrath. Most of these moments come during or after the player introductions, depending on whether it's a home or away game. I usually do a lot of observing, constantly looking at my surroundings, waiting to see what might unfold. With my access I'm able to get up-close and personal. The challenge is to not be a distraction, so I move in quickly to get the shot and then move out in hopes that I captured true authenticity. One of the players that exudes intensity is Packers outside linebacker Rashan Gary. Gary is simply a beast. He practices hard and plays hard too. It's all gas and no brake. I captured this image of Gary during Week 6 against the New York Jets. I love the eye black and the look in his eyes. I mean, who wouldn't want to go to battle with this guy. The shallow depth of field and bokeh takes it to the next level.
This image was shot with a Canon R3, 85mm lens (ISO = 100, Aperture = f1.2, Shutter = 1/4000th)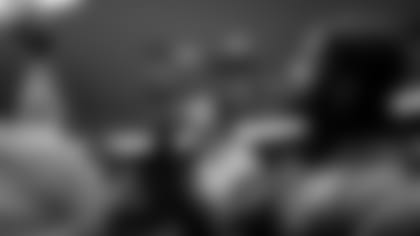 3 TD
Jubilation is simply the best. It can be reactions from the players after a score, an overtime win or even after a big play was made, but sometimes the best celebrations come from behind closed doors. My access allows me to share rare moments from inside the team's locker room, which I'm truly grateful for. For example, I captured this cool moment of Packers rookie wide receiver Christian Watson as his teammates show him some love after the Packers defeated the Cowboys in overtime during Week 10 at Lambeau Field. Watson had a breakout performance while scoring three touchdowns during the game. There were a lot of great moments of Watson from the game, from his catches to his on-field celebrations, but this moment really spoke to me. There is that famous saying "A picture is worth a thousand words" – it's so true because sometimes a still photograph doesn't even need words to describe the moment. Sometimes that photo can depict so much emotion, which gives it the beauty and power.
I really like the framing, the players holding up three fingers in reference to the touchdowns, and of course Watson's smile.
This image was shot with a Canon 1DX Mark III, 35mm lens (ISO = 4000, Aperture = f1.4, Shutter = 1/4000th)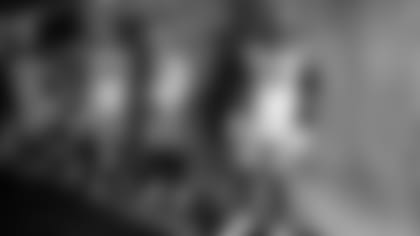 Ready for battle
At away games I tend to document the players as they gather inside the tunnel before the team gets the "OK" to run onto the field. I came across this great behind-the-scenes moment as Kenny Clark, Jordan Love, Tyler Davis, AJ Dillon and Patrick Taylor all stand in the tunnel before taking the field at Soldier Field in Chicago. I love that each player is doing something different as they patiently wait. Right away I noticed Kenny's eyes as he stared off into the distance, out at the field. He looks like he's ready for battle! I also love how Love takes a moment for himself, which displays a cool demeanor, as he stares down at the ground. Davis' body language adds a nice touch, too. I also like how Dillon and Taylor adjust their gloves, as if they are preparing to go to war. All these little details within the photo made for a great composition and moment.
This image was shot with a Canon 1DX Mark III, 35mm lens (ISO = 3200, Aperture = f1.4, Shutter = 1/1600th)
Team photographer Evan Siegle shares his favorite photos from the 2022 Green Bay Packers season.