'Through the Lens' will appear once per week during the offseason. Packers team photographer Evan Siegle will deconstruct and give insight to some of his favorite images from the 2021 season. Each week will offer a new photo gallery of some of his best photos from the past season.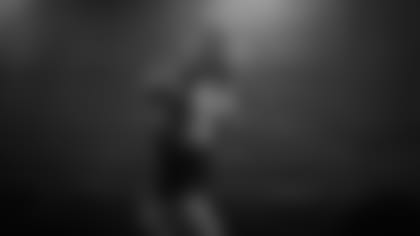 Touch of Love
Preparation and planning are everything to me when covering the team. Sometimes the best moments are unplanned but there is always value in being prepared. Knowing that Packers quarterback Jordan Love was robbed of his preseason in 2020 due to the pandemic I wanted to make certain that I documented his first start against the Houston Texans. One of the images that I wanted to document was his walk from the locker room to the field. I'm very familiar with the Packers' tunnel but I still scoped it out for the perfect shooting spot. Halfway down the tunnel I found a position where I had a clean background and a couple wall lights to help set the mood. Once Love made his way from the locker room I scrambled to my spot. I waited for him to walk into the frame and then out of the frame. I was very happy with the results. I love the textures on the wall, the soft light and Jordan's body language. Luckily, I had a little touch of love, literally, from Jordan as he adjusted his helmet as he slowly strolled towards the field.
This image was shot with a 35mm lens (ISO = 4000, Aperture = f1.4, Shutter = 1/800th)
Silent Savage
I love looking for these quiet moments before the game. Every player has a different routine as he prepares for the game. Before warmups Darnell Savage usually throws the football, or sometimes a tennis ball, around with teammate Jaire Alexander. Before the two met up on the field during Week 1 in Jacksonville, I found this tranquil moment of Savage as he soaked up the Florida sunshine while listening to music. Documenting this moment was a process for me. I started taking pictures from a farther distance away and slowly made my way closer. I tried using the white lines to add a nice abstract pattern. I also adjusted my perspective and shot slightly above him, giving the photo a nice flow. The best part was Darnell's white shirt, as it acted like a fill card as it illuminated the sides of his face, causing more pronounced highlights. Savage's eyes being closed and his folded hands gave the image a quaint feel.
This image was shot with an 85mm lens (ISO = 100, Aperture = f1.2, Shutter = 1/5000th)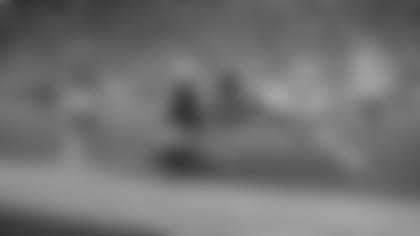 Sideline View
Most sports photographers cover a game using three cameras with a 400mm, 24-70mm and 70-200mm lens combination. I'm a little unorthodox from a typical sports photographer because I use three camera bodies, but my lens choice is a 400mm (f2.8), 135mm (f2) and a 35mm (f1.4). I also keep an 85mm (f1.2) and a 50mm (f1.2) nearby. I just love how prime lenses look and feel when using them to create images, especially on the football field. I choose to shoot games from the back of the end zone, near the Packers' sideline. I shoot this way for all my games but sometimes I like to mix it up a bit and roam with just two cameras, mainly with a 400mm and 50mm. The decision to roam might be because the officials are blocking my view, the score of the game is changing, or I just want a different perspective. During the Packers-Steelers game I ended up roaming a bit. I kneeled near the pylon in the end zone and sure enough I had a little luck on my side because Aaron Rodgers threw a touchdown pass to Randall Cobb right in front of me. It was the perfect sideline view.
This image was shot with a 50mm lens (ISO = 1600, Aperture = f2, Shutter = 1/6400th)
Team photographer Evan Siegle shares his favorite photos from the 2021 Green Bay Packers season.