'Through the Lens' will appear once per week during the offseason. Packers team photographer Evan Siegle will deconstruct and give in-sight to some of his favorite images from the 2021 season. Each week will offer a new photo gallery of some of his best photos from the past season.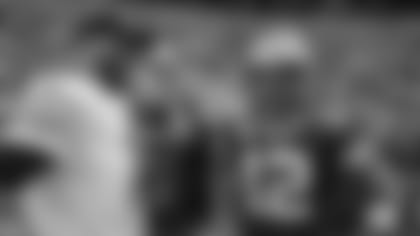 QB Greatness
On gamedays, I always find time to capture life moments between former teammates and friends. The NFL is like a brotherhood and it's awesome seeing these guys bond before or after the game. It's crazy how they compete against each other on the gridiron (filled with blood, sweat and tears) for four quarters and then come together after the game for smiles and hugs, and of course pictures. Now and then I'll get a request from a player, asking me if I could grab a photo after the game. Sometimes that picture might be a bunch of players who all played at the same college/university or they could be childhood friends. There are jersey exchanges, too. After every game I tend to listen for my name being called while I make the rounds amongst the players and coaches. Most of these opportunities are done on the fly but at times, from my point of view, there might be an opposing player who is worthy of a photo or two. Last season, I was excited to see the Pittsburgh Steelers and Ben Roethlisberger coming back to Lambeau Field. It's rare having the opportunity to document two legendary quarterbacks in one game. Not only was I looking forward to documenting him in action, but I was also eager to grab some candid moments between him and Aaron Rodgers. Knowing that the moment would happen quickly I kept eyes on Rodgers when he stepped foot onto the field. Sure enough the two met up in the back of the end zone. I captured this friendly moment of the two as they visited during warmups before the game – the smiles say it all.
This image was shot with a 35mm lens (ISO = 400, Aperture = f2, Shutter = 1/2500th)
Raining on Purple
Not every game creates worthy action images. So, when you get a chance to capture a diving catch, sack, INT, or any other big play it's a great feeling. During last November's game at U.S. Bank Stadium, I was lucky enough to document some great action. One of my favorite captures came in the third quarter. Packers defenders Preston Smith and Kenny Clark came raining down on Vikings quarterback Kirk Cousins. I made a nice frame of Smith knocking the ball out of Cousins' hand for a fumble, which was eventually recovered by the Vikings. I really like how the ball is floating in midair as Smith lays out the hit.
This image was shot with an 400mm lens (ISO = 1600, Aperture = f2.8, Shutter = 1/2500th)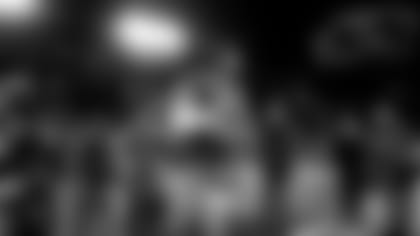 Mutual Love
Christmas Day at Lambeau Field was a memorable one. Maybe it was because the game was on Dec. 25 and the holiday spirit was at the highest of highs. The game was filled with great action and moments, records were broken, and the Packers went on to defeat the Browns, 24-22. But I think the best moments were from the fans and the frozen tundra ambiance. I can still hear the "M-V-P!" chants after Aaron Rodgers surpassed Brett Favre to become Green Bay's all-time leader in touchdown passes and the roar of the crowd after Rasul Douglas made his second interception of the game. Knowing this day was a milestone for Aaron I made sure I documented him as he walked off the field. It seemed like I was walking backwards for miles, as I kept snapping off frames. The crowd was electric as they chanted "M-V-P!" once again. This was my favorite frame from the walk-off. I love the way Rodgers is looking at the crowd, with his hands over his heart. It was an emotional and wonderful moment, a remarkable way to end Christmas Day.
This image was shot with a 35mm lens (ISO = 1000, Aperture = f1.4, Shutter = 1/3200th)
Team photographer Evan Siegle shares his favorite photos from the 2021 Green Bay Packers season.