"Through the Lens" will appear during the offseason. Packers team photographer Evan Siegle will deconstruct and give insight into some of his favorite images from the 2022 season. Each week will offer a new photo gallery of some of his best photos from the past season.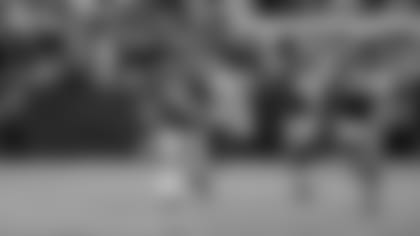 Run Keisean, run!
I think one of the highlights this past season was seeing Keisean Nixon emerge as a legit returner, which was a huge spark to our special-teams unit. It made kickoffs so much fun to photograph. Whenever I photograph kickoffs or punt returns, I always make sure that I'm back in the end zone. Sometimes I will gamble and shoot from the sideline but that's more if I'm trying to concentrate on a feature type photo on a certain player, like the punter or a tight shot of the return man. I do prefer sitting in the back of the end zone because it allows me to show the blocking and entire sequence, if the returner breaks away for a long run, and I always want to be in that location for the celebration shot because there is nothing better than documenting players in pure jubilation! A long kickoff or punt return is rare, so you always need to be ready for when it does happen. This past season I had the chance to document some close returns for touchdowns. It finally happened during Week 17 against the Minnesota Vikings. This is one of my favorite action frames of Nixon as he broke loose for a 105-yard kick-off return at Lambeau Field. It was amazing to watch unfold and to document.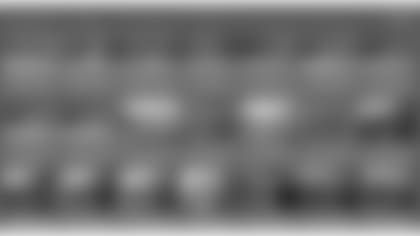 Here is a condensed version of the entire sequence from busting through the hole to celebration.
This image was shot with a Canon 1DX Mark III, 400mm lens (ISO = 1250, Aperture = f2.8, Shutter = 1/2500th).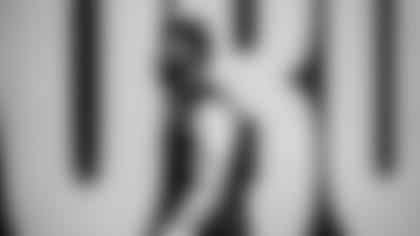 Deguara + B&W
Abstract patterns, lettering, colors, textures, and other objects/layers can all be a photographer's best friend, by making an image so much more visual. I'm not a big fan of photographing games inside Raymond James Stadium in Tampa, mainly because those dang cannons scare the crap out of me when they go off and it's usually hot and humid there, but the giant "GO BUCS" lettering plastered on a padded wall just outside the tunnel is fantastic to use in compositions. In the end, my favorite image was this shot of tight end Josiah Deguara. I think his body position against the letters works well, I also like the look on his face ... focused and ready.
This image was shot with a Sony Alpha 1, 35mm lens (ISO = 50, Aperture = f1.6, Shutter = 1/10000th).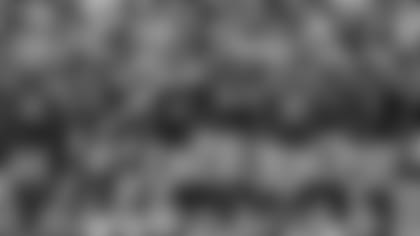 'Celebrate good time…'
Taking pictures of defensive takeaways is the best because it can be a defining moment of the game or total momentum changer, but the only problem is "where will they celebrate?" This past season it seemed like after every takeaway they would celebrate in the opposite end zone or other side of the field. I love documenting the players as they celebrate together. They'll usually all run to the back of the end zone, acknowledge the crowd and pose for the cameras. Sometimes they even have something planned. During Week 4 against the New England Patriots, I captured this image of Rashan Gary as he confidently raised the football after making a sack, caused a fumble and recovered the ball all on the same play. I love how his teammates are displayed with smiles as they celebrate with Rashan.
This image was shot with a Sony Alpha 1, 400mm lens (ISO = 800, Aperture = f2.8, Shutter = 1/4000th).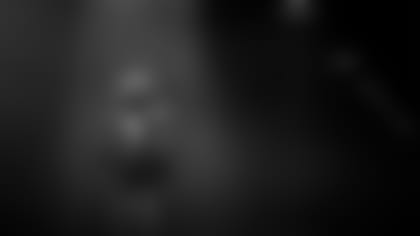 Let there be light!
If only people could hear the voices in my head. I don't mean for that to sound like I'm crazy but often I find myself saying to myself "please move into that light" or "please don't walk into the frame" and other stuff along those lines. I never stage photos because I want them to be authentic moments (always stuck to those journalistic ethical values when taking pictures). One of those moments happened while I was documenting the players during introductions. Our game presentation inside the tunnel is top notch. It has everything from smoke, dramatic lighting, spotlights, rows of lights, vivid colors, etc. The challenge is trying to get all the aesthetics to come together. So, during Week 18 there I was inside the tunnel kneeling along the side wall staring at a perfect beam of light shining down from the ceiling. My wishful thinking came true because offensive lineman David Bakhtiari stepped perfectly into the light and stood there. He took a deep breath and then raced out onto the field. The composition worked out perfectly, with no voices at all.
This image was shot with a Canon 1DX Mark III, 35mm lens (ISO = 1250, Aperture = f1.4, Shutter = 1/2000th).
Team photographer Evan Siegle shares his favorite photos from the 2022 Green Bay Packers season.