"Through the Lens" will appear during the offseason. Packers team photographer Evan Siegle will deconstruct and give insight into some of his favorite images from the 2022 season. Each week will offer a new photo gallery of some of his best photos from the past season.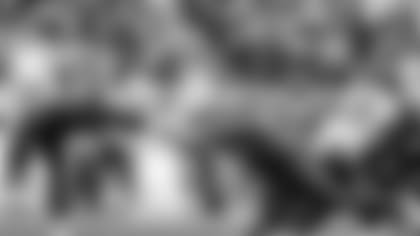 A stuffed Jet
Documenting a block punt is tough because it doesn't happen a lot, it's like seeing a shooting star or winning the lottery! For instance, the last time I photographed a blocked punt, since being named the team photographer in 2016, was by Josh Jackson back in 2018. I think the anticipated moment is always on my mind when the punt team takes the field, but it rarely pans out. Before the snap is even taken, I tend to look over my camera to see what is unfolding. I first concentrate on what Packers players might make a big break off the line of scrimmage or have a chance to make the block, then my focus will quickly shift to the punter's foot as he kicks the football, or at least the area where the block could take place. If there is no blocked ball, I quickly change my concentration to the returner, in hopes for a runback or big play. Everything happens so fast, so it's always important to be fast and accurate. Luckily, this past season I was able to capture a blocked punt by Green Bay Packers linebacker Eric Wilson. During Week 6 against the New York Jets, Wilson flew right up the middle and dove to block Braden Mann's punt. I was lucky to get the shot because Wilson snuck his way up the middle, in between a cluster of players, which you can see in my contact sheet. This time I stayed right on Wilson instead of finding the punter's foot, mainly because he looked like he was going to dive and make a play. In a perfect world, the ball would've been closer to the actual hit, but I'll take it because it was a big play. Wilson's reaction after the play was priceless, too. Let's hope I don't have to wait another four years to capture another one.
This image was shot with a Canon 1DX Mark III, 400mm lens (ISO = 800, Aperture = f2.8, Shutter = 1/2000th)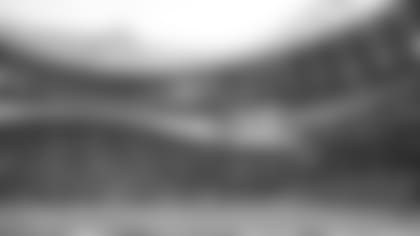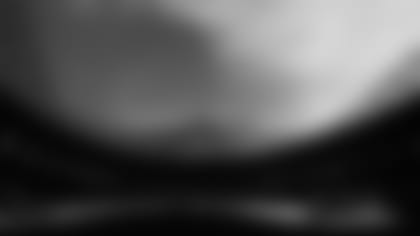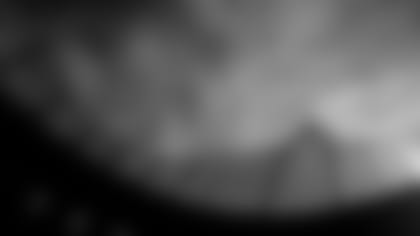 A London view
Before this season, I have never covered an international NFL game before, so I was very happy to know that we'd be playing in London, England. A lot of photo planning went into covering the game between the Packers and Giants, from transmission, shooting restrictions, venue layout, etc.
Now I'm a big soccer (sorry, futbol) fan, so covering a game at Tottenham Hotspur Stadium was tremendously epic, and I probably felt, and looked, like someone coming to Lambeau Field for the first time. During my time there, I made sure that I captured some scenic/ambiance worthy images of the stadium. The cool abstract architecture and a huge golden cockerel, the one on the Spurs' crest, perched on top of the stadium, was cool to photograph. These were some of my favorite scenic/interior images of the stadium, from the field. London was a blast and I hope we get to go back sometime.
This image (with players) was shot with a Sony Alpha 1, 35mm lens (ISO = 500, Aperture = f1.8, Shutter = 1/8000th)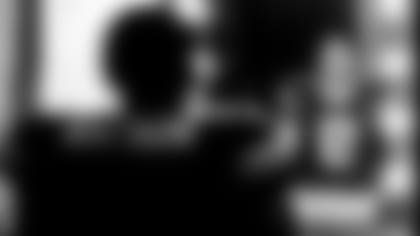 Man in the Mirror
I captured this rare moment of Packers rookie receiver Christian Watson as he casually waited his turn to get photographed during our player portrait session this past August. Every season, usually during the first two weeks of training camp, we dedicate a couple days to take player portraits. You probably recognize these portraits because they are shown during the NFL broadcasted games on various networks. The day is filled with rapid shooting and lots of waiting, due to practice and meetings. It's pretty much organized chaos! This past year, I was lucky enough to have our photo intern, Mikayla Schmidt, help with the shoot. We took turns photographing players. When one of us was shooting, the other was assisting with props, direction, etc. Our workflow was fast and efficient. Our main goal was to not have players waiting around and wasting time. Our location for the shoot was inside one of the old (not used anymore) racquetball courts in football operations. It's a cool location because it has all white walls and high ceilings, which is perfect for this type of shoot. Just outside the court is a barber chair set-up. Players will use this spot to make sure their uniform looks good, and hair is looking right. While Mikayla was photographing another player, I grabbed this image of Watson reflected in the mirror. I thought it was a cool behind-the-scenes image. It's not every day you see a professional NFL football player, in full uniform, in this type of setting with a showbiz feel.
This image was shot with a Canon 1DX Mark III, 85mm lens (ISO = 2500, Aperture = f2, Shutter = 1/1250th)
Team photographer Evan Siegle shares his favorite photos from the 2022 Green Bay Packers season.