"Through the Lens" will appear during the offseason. Packers team photographer Evan Siegle will deconstruct and give insight into some of his favorite images from the 2022 season. Each week will offer a new photo gallery of some of his best photos from the past season.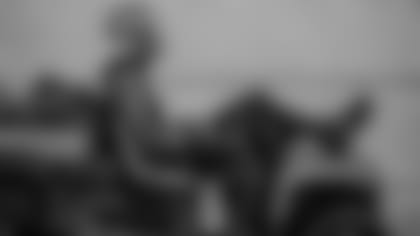 Monochromatic mood
Unexpected moments are truly the best moments, and you could say that I was elated when I saw this moment unfold. Gamedays, practices and other everyday routines can become so redundant, so it's very refreshing when you come across something worthy and unique. When players (and coaches) say, "I can't believe you caught that moment," I know I was doing my job. Sometimes those wonderful moments come during unplanned times, so I'm constantly keeping eyes on everyone. My head is on a constant swivel, I want to see stuff that is about to play out and then try and put myself in the best possible position.
This image of Aaron Rodgers is probably one of my all-time favorite off-the-field moments of the quarterback.
So, how did it play out? Some of the best shooting times are when players transition from team periods to drills, etc. It so happened that our we-fense (special teams) unit was going on the field for a longer period. During that time, I saw Aaron make his way to the sideline. During the last transition he chatted with some teammates, but this time he grabbed a seat on our equipment staff's John Deere Gator. It was a rare moment that I didn't want to miss or get too close to ruin the mood, so I quickly grabbed my long lens (400mm), so that I wouldn't be a distraction. The composition was perfect, his hands folded in his front pouch of his hoodie, his leg up with that laidback body language and his facial expression that depicts confidence and peacefulness. The moment played out perfectly.
This image was shot with a Sony Alpha 1, 400mm lens (ISO = 200, Aperture = f2.8, Shutter = 1/1000th).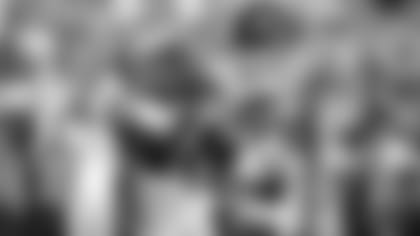 Into the light
A typical sound action shot. The art of sports photography is solid timing, anticipation, preparation and luck, amongst other things. Preparation was key to making this image of Romeo Doubs worthy. One of the biggest challenges when documenting a game is the sunlight. That might sound odd because the sunlight can be your best friend, but it can be your worst nightmare when you are dealing with sunspots and dark shadows on the field. Whenever the sun starts to set it can cause a lot of challenges due to creating shadows as it moves behind certain parts of the stadium. Setting your camera up with quick action (function buttons) is key, especially when you change environments in a blink of an eye. On this play, in the first preseason game in San Francisco, Doubs started his route in complete shade. Knowing that the field was in part sun and part shade I set my camera up for the possibility of two different exposures. The worst feeling is having an over-exposed or under-exposed image, so it's always important to know your surroundings and be prepared.
This image was shot with a Canon EOS 1DX Mark III, 400mm lens (ISO = 400, Aperture = f2.8, Shutter = 1/8000th).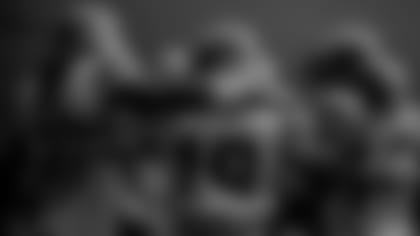 Together as one
Sometimes I can get emotionally caught up in those player speeches and pep talks that occur before the game is even played. Those moments can happen in the locker room, tunnel or even on the field. Those moments can be very powerful in pictures, too. One of my favorite moments before the game is when the returners leave the locker room and walk to the field. They always stop in the tunnel and huddle up, just before they race out onto the field for warmups. The teammates stand arm in arm while a player speaks insightful and powerful words. Words that can pump a player up with intensity and words that let them know they are all loved and bonded by brotherhood. What I love about this image are the players' hands and arms, as they are wrapped around each other, Christian Watson extending his arm for a close-by teammate and the saturation from the cool marine blue walls.
This image was shot with a Canon EOS 1DX Mark III, 35mm lens (ISO = 1600, Aperture = f1.4, Shutter = 1/3200th).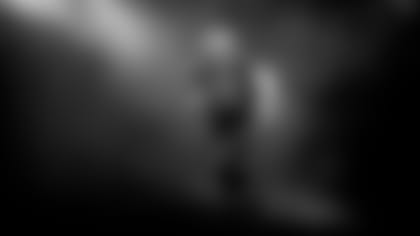 In the spotlight
If you have read this series over the past years, you'd know that the tunnel is my mecca. Player introductions before the game are a gold mine for me because I get to be creative due to the dramatic lighting, spotlights, color schemes, fog/smoke, and intensity. This past season we had eight home games, which means the offensive players were introduced four times and the defensive players four times. So, I basically get four attempts to photograph a player being introduced throughout the season, four times to create unique and creative moments. The challenge is that the opportunity lasts anywhere from five to 10 seconds before the composition is over.
I tend to do most of my shooting inside the tunnel, mainly to utilize the concrete floor, "G" logo spotlight and the row of can lights that adds a nice graphical element. I tend to try and mix up the compositions throughout the course of the season, sometimes in the tunnel. Other times I might be on the field looking at the outside of the tunnel with long glass. Each focal point or compositions has its positives. The last game of the season I decided to shoot just outside the tunnel with wider glass. Knowing that it was going to be a night game I really wanted to take advantage of the spotlights and incorporate them into the composition. I knew that the smoke and lights would pop against the dark tunnel, the only challenge was making sure the exposure was literally spot on and getting Rodgers centered in the frame. The latter issue was my biggest hurdle because I had no idea when he'd come out of the smoke after his name was announced. Thank goodness for a continuous shutter and pre-focusing. I really like the results from the attempt.
This image was shot with a Canon EOS 1DX Mark III, 35mm lens (ISO = 640, Aperture = f1.4, Shutter = 1/8000th).
Team photographer Evan Siegle shares his favorite photos from the 2022 Green Bay Packers season.