'Through the Lens' will appear once per week during the offseason. Packers team photographer Evan Siegle will deconstruct and give insight to some of his favorite images from the 2021 season. Each week will offer a new photo gallery of some of his best photos from the past season.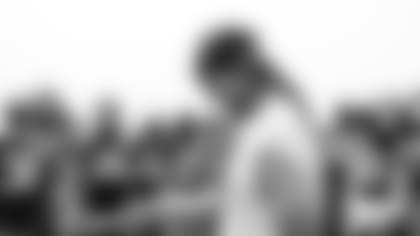 Leader of the Pack
Access is everything; it gives me the capability to be close, which is paramount to getting that illustrious moment or unique composition. There are times when maybe the right lens might be a 400mm one from afar, but then there are times when I need to be up-close and personal, with maybe using a shorter prime lens. That access and lens choice can totally change the mood, feel and emotion to an image. That access also gives a rare look where others might not be able to go, and I always try to bring back the unexpected moments too. After the first day of training camp came to an end Coach LaFleur gave the floor to Aaron Rodgers. Rodgers was welcomed with cheers and smiles as he walked to the middle of the huddle. I captured this moment of Aaron as he displayed his appreciation for his teammates. It was a genuine and authentic moment and an image that I would not have been able to make from the back of the pack.
This image was shot with a 35mm lens (ISO = 100, Aperture = f2, Shutter = 1/4000th)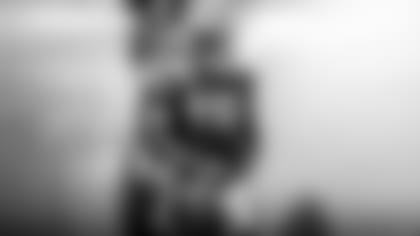 Here I Come
I sound like a broken record, but Chicago is one of my favorite road trips. Maybe it's because I've been to the stadium so many times and I know the layout and what areas make great backgrounds, amongst other things. One area that I love to make pictures is right outside the Packers' locker room. There is a long hallway with white concrete walls, which gives the composition a nice clean look. In 2021, the Packers didn't wear their typical white away jersey, instead they sported the green ones due to the Bears wearing their white 1936 classic uniform. This image of Randall Cobb was one of my favorite pregame shots. I love the contrast between the jersey and the white walls. I also love the focus that Randall displays, from his eyes to pulling his football gloves on as he heads to the field. The Chicago trip never disappoints.
This image was shot with an 35mm lens (ISO = 2500, Aperture = f1.4, Shutter = 1/1250th)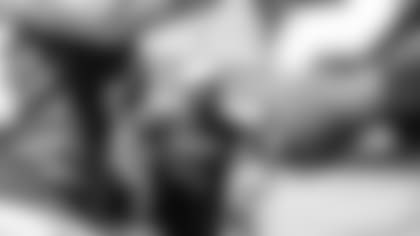 Legend
Ten days before the Packers played their first regular-season game, they had a special visitor show up to practice. The one and only Charles Woodson, former defensive back for the Green Bay Packers and Super Bowl XLV champion, stopped by to visit and say a few words to the team. The presence of Woodson, who was in town to be inducted into the Green Bay Packers Hall of Fame, could be felt by everyone on that practice field. When Woodson spoke, everyone listened. The moment created some great imagery. One of my favorite pictures was this moment of Woodson as he huddled up with the Packers' current defensive backs. He again spoke some inspirational words ... It's only fitting that Woodson's shirt displays the word, "Legend," because he's truly one of the greatest to play his position. Now this image might be basic but sometimes just the subject alone can make the image so worthy.
This image was shot with a 50mm lens (ISO = 100, Aperture = f1.2, Shutter = 1/8000th)
Team photographer Evan Siegle shares his favorite photos from the 2021 Green Bay Packers season.