"Through the Lens" will appear during the offseason. Packers team photographer Evan Siegle will deconstruct and give insight into some of his favorite images from the 2022 season. Each week will offer a new photo gallery of some of his best photos from the past season.
Showtyme
As I said before in this series, I love photographing player introductions. Night games are even better because of the contrast between the lights, smoke, and dark tunnel. Preparation is important and making sure technical aspects from the camera and composition are ready, but sometimes the "make-or-break" of the photo solely depends on what the smoke/fog does. Sometimes there is not enough smoke and sometimes it completely washes out the player. The pattern of the smoke is key too. Some of my best images from recent attempts have had cool abstract smoke patterns, which is pure luck! I love this image of Packers running back Aaron Jones as the smoke dances across the top of the frame as he runs out of the dark tunnel. Everything came together and worked out perfectly, even the pounding of Jones' fist over his heart. I never really know how these compositions will turn out, but luck is a key ingredient.
This image was shot with a Canon 1DX Mark III, 400mm lens (ISO = 1000, Aperture = f2.8, Shutter = 1/1600th)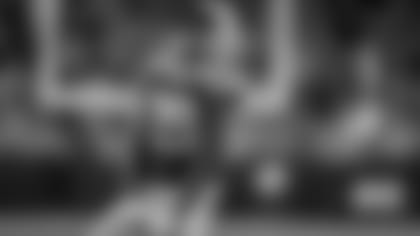 R-A-S-U-L
Emotion is a big part of sports, and it can be so powerful when documenting a game. Sometimes the reaction can even be better than the action. That's why I always keep shooting after the play is over. During Week 2 against the Chicago Bears, I captured this moment of Packers cornerback Rasul Douglas after he made a play, which depicts pure emotion. Douglas' scream, flex and body language made the photo so powerful. It was indeed a better frame than what was captured from the actual play.
This image was shot with a Canon 1DX Mark III, 400mm lens (ISO = 4000, Aperture = f2.8, Shutter = 1/3200th)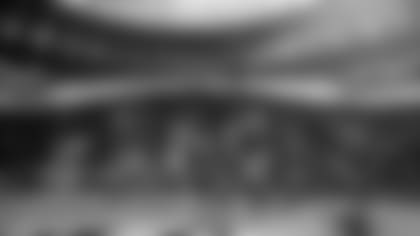 Jump shot
Celebrations (individual or group) are always fun to document. It seems like every season a player, or unit, might add a new move, dance, or gesture to their repertoire. This past season, the defensive unit busted out the perfect fade-away jump shot. The moment always happened right before the team drill during warm-ups. The defense huddled up before the start of the drill and then broke off into a fade-away jump shot in unison. The challenge was trying to get everyone perfectly in the air, which seemed impossible. I love this frame as the players jumped in the air inside Tottenham Hotspur Stadium in London. The back-light sunshine, players' shadows and unique architecture of the venue add a nice touch to the composition.
This image was shot with a Sony Alpha 1, 35mm lens (ISO = 100, Aperture = f1.4, Shutter = 1/4000th)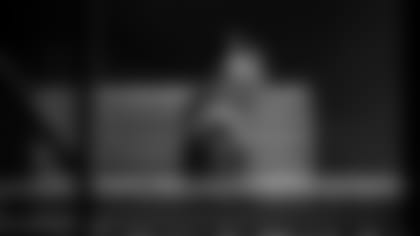 Framework
I always get asked, "What is your favorite stadium to take pictures at?" Besides Lambeau Field, I would say my favorite stadiums are the ones that offer great visual opportunities. The ones that have unique backgrounds, textures, and color schemes. Some of those stadiums are GEHA Field at Arrowhead Stadium and FedExField, mainly because of the red saturations from the interior settings. FedExField might be a dump, but the red interior concrete wall and metal vent are glorious. I always try and use that red saturated wall, metal texture from the vent and bleacher rails when the players walk in and out of tunnel. I snapped this photo of Packers quarterback Jordan Love as he headed to the field for early warm-ups. I love Jordan's demeanor as he walks to the field while wearing his headphones. It's a simple photo, but the background/textures are what makes this image visually successful.
This image was shot with a Canon R3, 85mm lens (ISO = 400, Aperture = f1.2, Shutter = 1/1600th)
Team photographer Evan Siegle shares his favorite photos from the 2022 Green Bay Packers season.