"Through the Lens" will appear once per week during the offseason. Packers team photographer Evan Siegle deconstructs some of his favorite images from the 2018 season. Each week will offer a new photo gallery of some of his best photos from the past season.
Leader of the Pack
Four minutes…that's pretty much how long I get to photograph the players before they race out onto the field during introductions. That's two minutes for the players to walk from the locker room to their location in the dramatically lit tunnel. The other two minutes are dedicated to them being introduced. It's the same routine every home game; the challenge is trying to capture something new or unexpected – which might be a different perspective, an unexpected moment or even a different lens choice. I try and photograph as much imagery as I can during that time frame, too. Sometimes a player's body language can make a photo stand out from the rest, or maybe I get lucky and capture a player perfectly in the spotlight. Week 14, against the Atlanta Falcons, presented me with a new composition. Usually one week the offensive starters are introduced and then it switches to the defensive unit the following home game. On Dec. 9 it was a different story because the entire team was going to be introduced as a group. The best part was that Aaron Rodgers was right smack in the middle at the front of the pack, ready to lead his squad onto the field. He just stood there with a dead-focused stare. Knowing that I didn't have a lot of time I quickly centered myself and shot the image from a low angle. It was a rare and cool moment. This image was shot with a 35mm lens (ISO = 2500, Aperture = f2, Shutter = 1/500th)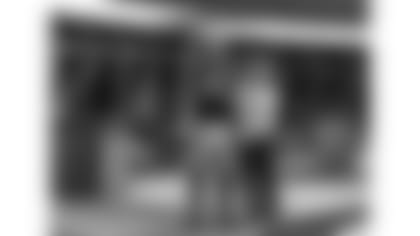 Preparing for battle
During every home game I spend some time in the locker room as the players get ready to take the field. It's a behind-the-scenes look at the players as they go through their pregame preparation. The opportunities usually consist of players getting their uniforms on, stretching or just chilling at their locker. I try and document as much as I can but I always gravitate towards the "game face" imagery, which I think has a raw feel. What I love about this image is the size differential between Gordon "Red" Batty, equipment manager, and Packers tight end Jimmy Graham's massive body. The look of intensity on Jimmy's face adds another layer to the image, too. It's as if Red were preparing Graham for battle. This image was shot with a 85mm lens (ISO = 2500, Aperture = f2, Shutter = 1/640th)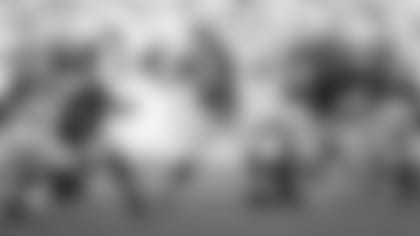 Going deep
I really like the composition of this photo. Nothing too fancy but I think it's an image you can just stare at and study. I like how the offensive linemen are battling on the gridiron, giving their quarterback enough time to get the ball off. Then you notice Aaron's focus and body language, which is framed perfectly between the play. The best thing about this image is it has meaning. On this play, Rodgers threw a 24-yard touchdown pass to teammate Randall Cobb. The throw gave Rodgers 359 consecutive attempts without an interception to break the league record previously held by New England Patriot's Tom Brady.
This image was shot with a 400mm lens (ISO = 800, Aperture = f2.8, Shutter = 1/2500th)
Team photographer Evan Siegle shares some of his favorite images of the 2018 season.